KoBo Touch EReader review!
I was not compensated for this post, however I did receive a Kobo Touch EReader for purpose of review, all opinions expressed in this post are 100% my own.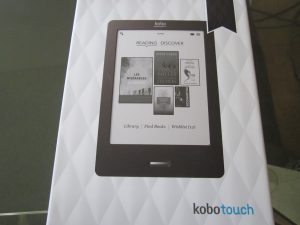 When I was given the opportunity to review a KoBo Touch EReader I was so happy. As an avid reader I enjoy sitting back in my bed or on my couch reading a good book. Kobo has been one of the leading EReader devices since they launched their brand.
I just knew that their competitor Amazon Kindle would be one of the number one brands for EReaders but with Kobo's affordable price and outstanding unique features in my opinion, the Amazon Kindle can't touch them.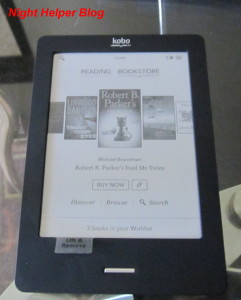 It appears that KoBo EReader has managed to stay afloat from all the other Brands like Barns and Noble and Amazon devices. Even though at first to me they all appeared to look alike. Each of them had the slim look the touch screen and physical keyboard but the Kobo EReader is no doubt smaller than all of them.
With its 0.7 inch thin and and narrow design, you are sure to be able to slip your Kobo EReader in your pocket with ease.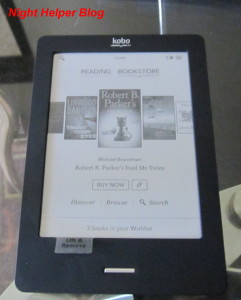 I would say that was one of their designing goals, making sure their customers would be able to carry the device with ease. I would say that's definitely a plus for them in selling their devices.
The EReader also is very easy to hold in my opinion, I like the grip feeling when your holding it. Plus the soft cushion back base appears to protect your reader extremely well, no scratching up your device.
The Kobo EReader has a storage of 2GB and it comes with a USB Port, Home Button, On//Off Slider Touch screen and Micro SD card slot. The Kobo EReader has a speed of  800 MHZ Freescale i.MX508 processor, I think that is enough speed to flick through you pages. With the Wi-Fi ability you know you will be able to enjoy your KoBo EReader anywhere you go that has Wi-Fi capability!
I love my Kobo EReader even more so now because this summer we will be traveling and with the Kobo EReader I can download a few books for me and the kids to enjoy. I can remember when we traveled how I would include at least three-four books in my luggage. Now since Kobo has designed such a cool EReader those worries about adding those books are no longer a thought.
It is so cool when you are using the KoBo Touch EReader, you can hold a certain section down with your finger and it will highlight that area, once you have it highlighted you can even save that section if you wish, you can browse the web also.
There are so many categories like the New York Times Bestseller, Oprah Book Club picks and free ebooks. Just grab a latte, a good place to sit with your Kobo Touch EReader and surf until you find that great book to read.
Overall I really like the Kobo Touch EReader, I find no faults at all with this product and I know the Kobo Touch EReader will make every customer happy with its easy accessible technology and content.
We all know reading is fundamental but its even better with the Kobo Touch EReader.
Visit their website today to order your Kobo Touch EReader and also connect with them via social network. Facebook, Twitter and Pinterest
Don't forget you can also subscribe to Kobo Channel via YOUTUBE