Keep Warm & Cozy With NewAir's Outdoor Heaters Collection, Models: NOH32WBK00 & NOH17GBK00!
Although everyone enjoys being outside, the chilly winter days may be incredibly unpleasant. You need an outdoor heater if you want to spend time with loved ones on the patio, or in your garage on chilly days or if you decide to host guests outside. Heaters may enhance the mood by bringing warmth and comfort to your outdoor gathering areas. Even on the chilliest nights, they are excellent for holding evening events and keeping your guests warm and comfortable.
I don't know about anyone else, but my husband and kids have been spending a lot of time in the garage ever since we moved into our new home. The garage has been renovated by the addition of a small bar, a small TV, some chairs, and a few other items. In order to entertain outside, they have really converted our garage into a small outdoor man cave.
Before I saw my son's garage and the numerous family members and friends who had also converted half of their garage into an entertainment space, I had no idea that it was possible to turn your garage into a lovely place to party. To be honest, it's very cool, and some of these garages are "SWEET." That indicates really attractive, lol!
There is no denying that it can be challenging to have events in your garage or on your patio on a chilly, rainy days, but NewAir's collection of outdoor heaters can change all of that. Heck, with all their outdoor heaters, Newair even have the ability to turn the rainiest days into comfortable, warm days.
Outdoor heaters come in a variety of sizes and designs, with each one having a different set of functions and a different heating output. We've collected two of our top outdoor heaters for 2022 so you can make the best decision possible. These heaters are quite adaptable in terms of positioning, so you may set them up however suits you best.
How does an infrared heater work?
An electric heating element in the form of a bar is heated by a patio infrared heater, which then emits infrared radiation to warm the area around it.
Now, Newair offers a pretty fantastic collection of outdoor infrared heaters, and today I'll be sharing two of them with you—two outdoor heaters.
Let's get started, first we have the Newair Outdoor Electric Infrared Wall Patio Space Heater, 1500 Watts (Model: NOH32WBK00),
You can continue the celebration or that outdoor meal even as the temperature starts to fall thanks to the Newair Outdoor Electric Infrared Wall Heater(Model: NOH32WBK00 ). This rose gold infrared heating tube effectively warms up to 15 square feet. That means you won't need to snuggle up next to a gas flame to stay warm throughout the evening with your guests. This outdoor heater mounts to both wood and concrete walls for long-term outside use and is resistant to dust and water.
It's 15 square feet of private space is heated by 1,500 watts of infrared radiation; everyone will be comfy and warm!
It has a great rugged designed created to endure outside temperatures and it's IP55 rating means that it's water- and dust-resistant, so you don't have to worry about the weather getting in the way of its operation. You won't ever have to worry about tripping over a gas heater or arranging your furniture around a fire pit again thanks to the stylish, sleek design's ability to save space.
It has a remote control that will allow you to control this electric infrared heater from anywhere on your patio or in your garage. To change the heat level or set a timer for up to two hours of comfortable outdoor warmth, simply point and click. There's no easier way to put it than that!
You also have a turn on and off switch on the side of this heater, it weighs 4.9 pounds, heats up to 15 sq. ft., puts out 1500 watts of heat, it's black so, it will accent any patio decor and last you can find it here on Newair website.
Newair has also created a 10% Discount Code: NIGHT_10
Let's keep it moving, here is our next selected Infrared heater from the Newair brand. It's called: Newair Outdoor Electric Infrared Ceiling Patio Space Heater, Model: (NOH17GBK00).
If you prefer the look and feel of a hanging heater, this fantastic outdoor heater would be great to add to your backyard patio! This Newair Outdoor Electric Infrared Ceiling Patio Space Heater is the best! Prepare to host gatherings all year long on your patio? You can provide heat and light to your preferred outdoor seating area all year long with the Newair Outdoor Electric Infrared Ceiling Patio Heater Model: (NOH17GBK00)
The clear halogen tube instantly emits infrared heat that warms people and objects. To enjoy additional warmth in an area up to 15 square feet, simply hang the durable, fashionable heater from the ceiling like a decorative lamp.
It is the best electric heater for outside use because of its heavy-duty steel structure and IP24 water resistance rating. Additionally, an LED light is included. I really like this one for a variety of reasons, including the fact that it can't be knocked over by children, the fact that it can be hung on your deck, the fact that it can be placed anyplace up high, and the fact that it has 1,500 watts of infrared heating which can heat a space up to 15 square feet in size.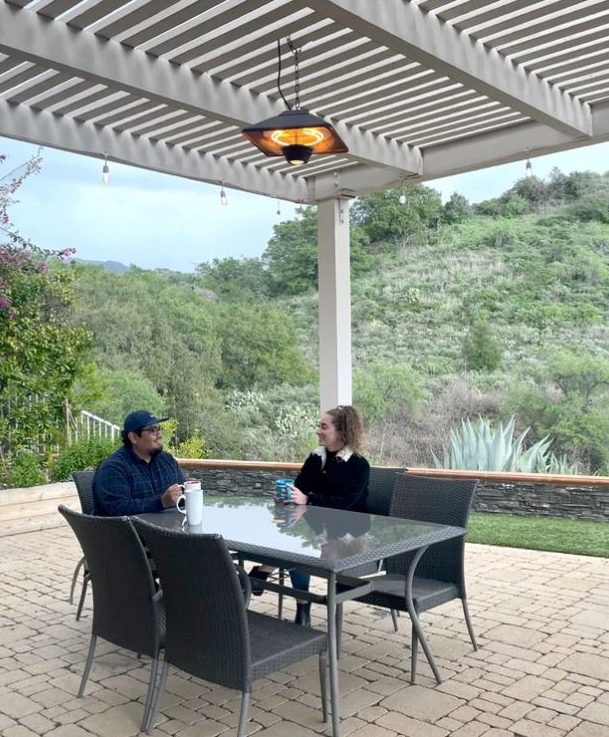 The IP24-rated water resistance and heavy-duty steel construction make it the ideal electric heater for outdoor use. It also incorporates an LED light.
What Comes With It? This heater can be controlled by a single remote control, and it can also be changed between all settings by tapping a touch switch underneath and a timer is also provided for convenience.
It weighs 7.7 lbs, which is not at all heavy, the power cable length is 6 ", it is constructed of steel, can be hung anyplace outside, and has a wattage of 1500. Of course, you have the mounting hardware to hang from the ceiling.
Do Patio Heaters Operate During the Winter?
Yes, patio heaters are intended to be used outdoors in cold weather in places like patios.
However, caution should be exercised to avoid exposing the heater to moisture, such as from snow or rain, since this will result in significant damage, especially if you have an electricity-powered patio heater.
So, you see these two infrared Newair heaters (Newair Outdoor Electric Infrared Wall Patio Space Heater, 1500 Watts (Model: NOH32WBK00 & Newair Outdoor Electric Infrared Ceiling Patio Heater Model: (NOH17GBK00) should be a must have to add to your home's outdoor area!
An infrared electric patio heater might be the answer if, as the weather starts to get chilly, you find yourself fleeing within while wanting to stay outside and enjoy your outside space.
These unique heaters create a soft, radiating heat that keeps the entire area warm and comfortable, making them ideal for outdoor living.
Newair has also created a 10% Discount Code: NIGHT_10 for this Newair Outdoor Electric Infrared Ceiling Patio Heater Model: (NOH17GBK00)
There you have it, two fantastic infrared Newair heaters that you ought to install in your outdoor space. Visit Newair for a moment to see these infrared heaters and a few others.
Don't forget to connect with them via social media: Facebook| Twitter| Instagram| and Pinterest to keep up with the latest about all products.
Disclosure: I was not compensated for this post. However, I did receive a product from the company, and I am disclosing this in accordance with the FTC guidelines.