Is SingleCare A Scam? No! SingleCare Rx Savings Card Helps You Save On Prescriptions. #singlecarepartner #sponsor #singlecare
Disclosure: Howdy everyone, I just wanted to inform you that this is a sponsor post and I was compensated. However, the opinions expressed in this post are mine. I am disclosing this in accordance with the FTC guidelines.
It's been a constant battle with my health lately. The cost of my medical bills and care has been overwhelming not only on my body but in my pocket too! This is where SingleCare can at least help to cushion the financial blow. 
Now let me make this clear, I do understand that prescription costs and medical healthcare is something we need but-why isn't the importance of investing in medicine and medical technology more important in America right now. Medicine should be more affordable for everyone! 
We shouldn't have to worry about our prescriptions or whether we can pay for medical care and bills! 
SingleCare is making an effort to help by offering savings on your prescriptions with their Rx savings card so people don't have to choose between paying for everyday expenses or their prescriptions.
You may be asking What is this SingleCare you speak of? 
SingleCare is a prescription savings card and mobile app that makes comparison shopping for prescriptions easy. With SingleCare direct pharmacy relationships and consistently lower prices, they can help more Americans feel good about getting what they need to feel better and save on prescriptions.
It's free to join and members can save money when they fill a prescription using their SingleCare card. With their direct pharmacy relationships and consistently lower prices, everyone is sure to gain from using the SingleCare Rx savings card.
I want to stress that SingleCare is not a Scam! As you read more below you will see where I actually used the service myself just to put my own mind at ease, and to see how I could save on my own prescriptions too. I was a little skeptical too until I used the card but trust me, the SingleCare Rx card is real and yes, you will save!
Their Rx pharmacy savings card is accepted nationwide at over 35,000 pharmacies including Walmart, Walgreens, CVS, Rite Aid, and Kroger's. Simply bring your SingleCare card to the pharmacy and ask the pharmacist to process your prescription using the BIN and PCN number found on your card.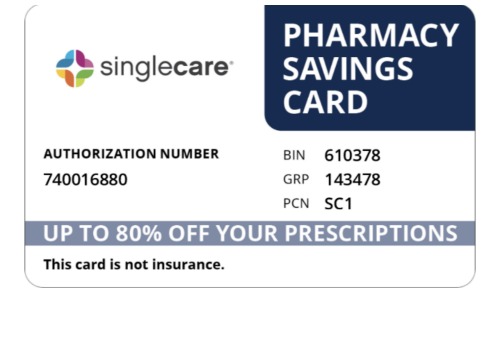 Accessing the information needed when using SingleCare couldn't be easier. You can now use the application on your phone as the app is offered free at the Apple Store as well as the Google Play Store. If you're more inclined to use computers, then their website can be found here. The great thing about the site is that it's quite easy to navigate. 
To get started just follow these simple steps:
Enter the name and dosage information for your prescription

Select the price you like and click the 'Get free coupon' button

Text, email or print the coupon

Bring your coupon to the selected pharmacy and pay the price you were shown
One other thing to keep in mind is SingleCare can be used whether you have health insurance or not. 
 The most important thing in life is your well-being and SingleCare gets it. Prescriptions aren't much fun. Doctors. Insurance companies. Crazy prices. And that's on top of whatever drove you to the pharmacy in the first place. No matter if it's a life-saving drug, a one-time antibiotic, or a monthly subscription you need to fill, SingleCare believes consumers should be able to compare the costs of their medication and not worry about networks, coverage limitations or deductibles. 
At SingleCare they believe that feeling better shouldn't be painful. their super-smart system and close relationships with the big pharmacies means they can set lower prices on tens of thousands of drugs. I can only imagine the amount of money someone could save especially if they have lots of prescriptions they need to be filled!
I wanted to see for myself about a prescription I'm taking which is Lisinopril 20MG~ 30 tablets, so I downloaded the SingleCare app just to compare prices.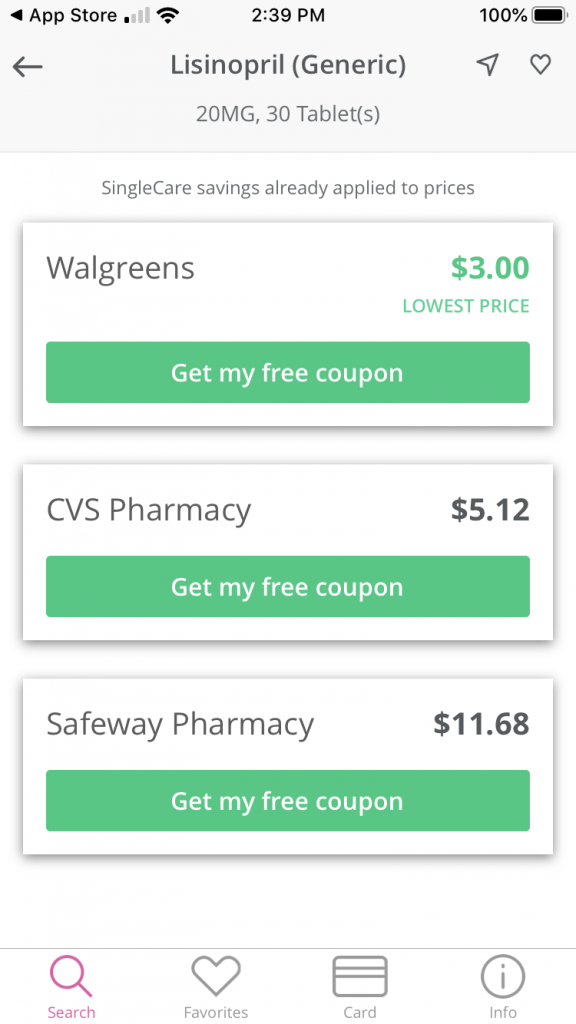 Well, the verdict is in, my out of pocket expense for this prescription is $13.54 every month. When I placed this drug into the SingleCare search bar it showed me not one, but three places where I could have been saving on this prescription all along. To be honest I'm shocked that I've never even considered checking out SingleCare.com.
I now intend to enter all my husbands and I medicines just to see where we can save thanks to the SingleCare app. I feel so much better knowing that even though we both have a few prescriptions due to our medical conditions there's still hope in lowering the cost all because of the SingleCare Rx savings card.
So, what do you think? Are you ready to take control? Are you ready to register online, and get your card in the mail? Then don't wait! Start saving now and put some of that money back into your wallet!
 Make sure to keep up with SingleCare via Facebook | Twitter | Instagram| and their website to keep up with the latest articles. Articles from allergies, to mixing alcohol with different medications, to prescription news, to antibiotics and more! 
SingleCare also has fun and engaging content that is social first, like supportive quotes, Wellness Wednesdays, and other social posts!
Disclosure: Howdy everyone, I just wanted to inform you that this is a sponsor post and I was compensated. However, the opinions expressed in this post are mine. I am disclosing this in accordance with the FTC guidelines.