Home remodelling while expecting – a simple guide moms-to-be should follow
Home remodeling while pregnant can be a nightmare, especially if you're not an organized person. Pregnancy itself implies plenty of preparation because you are getting ready to welcome a new member in your family. Planning a full house remodeling comes with its drawbacks and even risks so you have to ensure that you are paying attention to some recommendations. House remodeling is not a project for parents-to-be to handle, so you should hire professionals to help you. If your house was built before 1970, there are great chances to contain lead based paint, a product dangerous for pregnant women.
Here are some guidelines to help stay on track while remodeling your house.
Some projects worth the effort and some don't
When done right, house remodeling is a great investment. Real-estate experts state that you can get back around 60% of what you put into the renovation. Some projects worth more than others. Because you are not renovating your house to earn extra money on selling it, you should focus on the projects that will ease your life as new parents. It's not about money this time, it's about designing a space that suits your needs. The average homeowner spends around 12 years in the same house, so you should consider this aspect when remodeling your house. Plan ahead, the house should fit both a baby and a toddler.
An experienced contractor can offer great help in making decisions but it's advisable to present them the projects you want to handle. Make sure you establish the budget and have a clear idea of how you want the house to look before reaching an expert. When picking the project you should determine what you love and what you hate about your house. And do not forget about your needs on the long-term.
Stick to your plan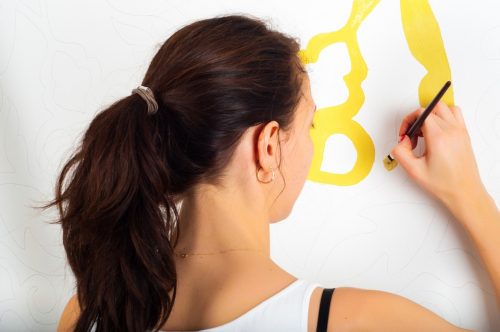 Make sure you have a plan before you start taking down walls and buying furniture. It doesn't matter if you want to remodel only the nursery or you want to redesign the entire house, starting from the living room and finishing with the kitchen, you must have everything planned in detail. The constructor determines the type of materials and tools they need to use according to your plan. It's advisable to hire a contractor who understands your view and shares it because you trust them your project and you expect them to deliver it flawlessly. The last thing you want while being pregnant is the constructor to ruin it. Plan and buy ahead the cabinets, hardwood floor, countertop and furniture items. If you want to install a fireplace, make sure you decide the model before designing the rest of the living room because this addition influences the overall look of the house. You should have everything picked, ordered, and at the site when the contractor starts remodeling the house because it will prevent awaits.
Your house should be safe and family friendly
When you hire a contractor, their experience is essential but they should also be sympathetic to the challenges of remodeling with homeowners who want to transform their house to welcome their baby. You shouldn't have second thoughts to ask the contractor what their safety practices are.
If you plan to stay in the house during the remodeling project, you should ask them to restore one room at a time and to remove the tools at end of the day. You should clear out everything you have in the garage and convert it into a storage area for them to place their tools and materials there. You can ask the contractor to install temporary walls to keep your kids away and to stop dust from spreading into the rooms you are using.
When purchasing primers and paints, you should choose the ones that are low in volatile organic compounds because they are safe for families with children. If you are feeling the urge to have the house ready before your baby arrives, you may want to paint by yourself. It's safe to do it as long as you use the right products. You will feel happy that at the end of the day you can contribute something to the process.
Control the costs
Once you hire a contractor, the fun part can begin. But you have to ensure that you consult your budget every time you make a purchase. During the entire process, you should discuss the costs and the value trade-off. For example, it's better to have a fireplace in the living room than large windows. Fireplace installation doesn't have to be expensive, but you need to research, decide the model of fireplace you want to install, and inform the provider what features you want. Installing a fireplace is one of the decisions that need to be made early in the remodeling process because it influences the entire design. And where do you count that late changes are more likely to kill your budget and to ruin the overall look of the house?
When it comes to establishing the budget, you have to get an estimate ahead. Ask the contractor to visit the site and to prove a rough estimate on what costs you should expect. It's always advisable to get quotes for multiple contractors and to compare them. In general, you should expect to spend around $25,000 on a kitchen remodeling, $7,000 for a bathroom renovation, and $30,000 for a living room remodel.
Lists are your best friend
Even if you think you have everything under control you should write everything down. The secret to a stress-free remodeling project is to make lists. You should make a "To-Do" list for each room of the house. Write down the materials and items you have to purchase, the estimated costs, and all the things you want to be changed. It allows you to monitor progress and to determine if you stay within your budget or you need to make some cuts. Breaking down everything keeps on track, especially on the days when you feel more pregnant than ever.