Holiday Gift Guide for Him Her House Home (Part 2)
Disclosure: Night Helper Blog did receive sample products from the companies to showcase in our Holiday Gift Guide. We're disclosing this in accordance with the FTC guidelines.
Welcome to our annual Holiday Gift Guide! Below you will see gifts listed for him, her, house, and home,  along with each brand's website so you can visit and see all their unique products.
Holiday Gift Guide 2021 Gifts for Him Her House Home (Part 2)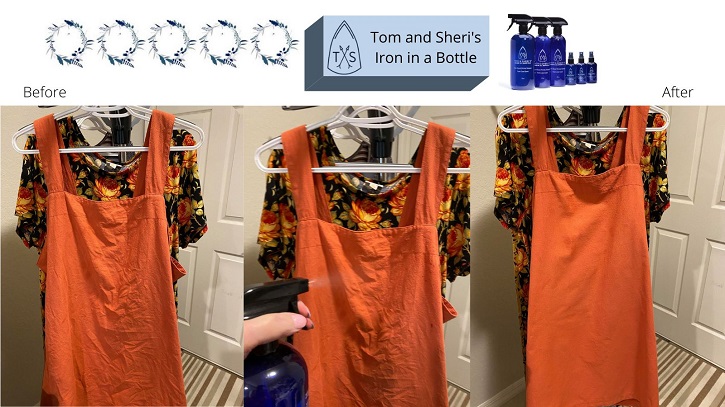 "Ironing's a bummer – introducing the plant-based wrinkle releaser spray for clothing! Family owned & inspired. Save time. Look your best. Give back. Made in America.
Our Standards:
Meaningful values so you can look good, feel good and have fun.
It's as easy as 1, 2, 3 Hang clothing on a hanger or lay it on a flat surface to start.
How it works:
A plant-based surfactant is the active ingredient in Tom & Sheri's Iron in a Bottle. We liken the surfactant to a hair conditioner, in that it relaxes the fibers of your clothing as a conditioner  would your hair. This allows them to be manipulated (aka straightened out), causing the wrinkles to release."
Products Featured:
Iron in a Bottle 16oz in Use
Iron in a Bottle The Ultimate Bundle: Include 3 – 30z Travel Bottles | 2 – 160z. Bottles  1 – 320z Bottle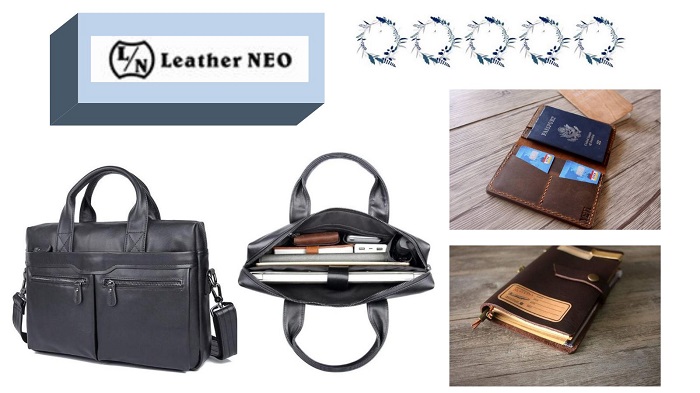 "LeatherNeo handmade leather MacBook cases, leather journals, photo albums, iPad cases, leather backpacks, surface laptop covers… from genuine full grain leather, rust-free brass accessories, waxed strong thread to offer you a long time leather companion. Designed in LeatherNeo studio, our products are all of the top quality and multifunctional design. They will be very helpful during your travel time!
LeatherNeo's handmade personalized leather goods are perfect as a birthday gift, anniversary gift, groomsmen gifts, Father's day gift, Mother's day gift, valentine gift, graduation gift, and the best christmas gift ideas.
LeatherNeo Studio is a middle size leather products supplier original established from a family handmade leather studio. We concentrate on quality and detail. We create our leather products with love and passion!"
Products Featured:
Website | Facebook | Twitter | Pinterest | YouTube
For Him and Her from 32 Degrees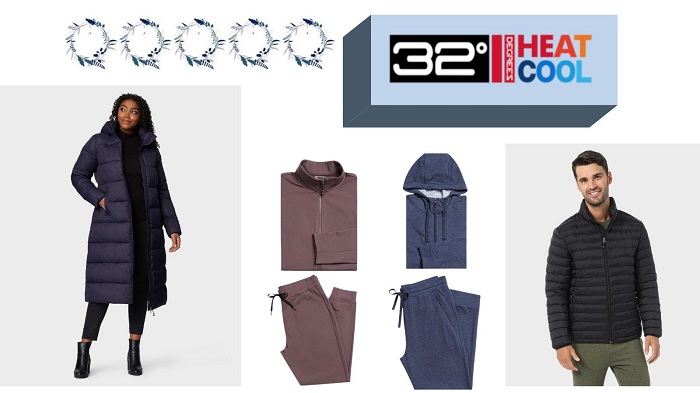 "At 32 Degrees, we believe in value and comfort by offering everyday basic items to fit everyone's wardrobe and wallet. 
32 Degrees Heat ™Fall/winter products such as baselayer, outerwear, hats, gloves, scarves, and cozy sweatshirts and joggers.
32 Degrees Cool ™Spring/summer and year-round basic products such as underwear, socks, t-shirts, leggings, sleepwear, casual bottoms, and polo shirts.
We have revolutionized the everyday basics by utilizing the latest warming and cooling technologies for all day comfort."
Products Featured:
Website | Facebook |Instagram | Pinterest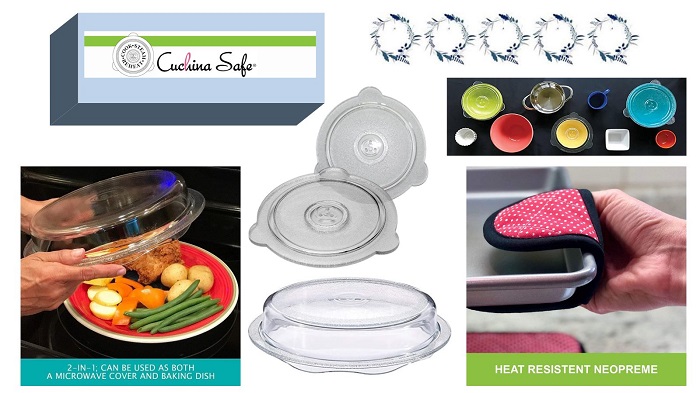 "Cuchina Safe Vented Glass Lid and Plate Cover are safer way to microwave. Cook, Steam and Reheat using clean, durable, reusable glass. See healthy recipes using the Safe Lid!
Cover 'n Cook named #1 "New Release" in AMAZON Launchpad Kitchen!"
Products Featured:
Website | Facebook | Instagram | YouTube | Amazon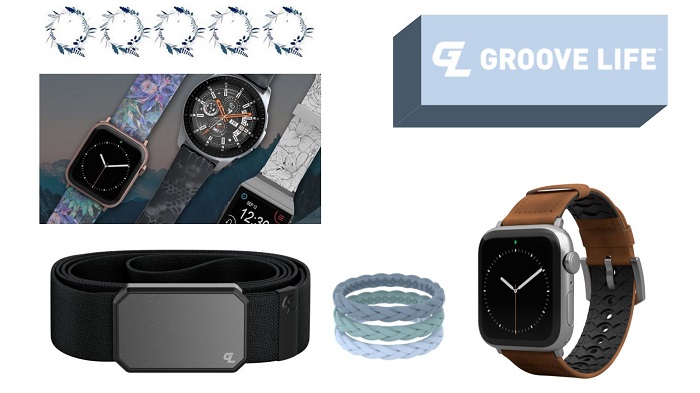 "BORN IN ALASKA. BUILT IN TENNESSEE.
Groove Life was born in the Alaskan wilderness. Husband, father, and Adventure Guide Peter Goodwin realized his lifestyle demanded gear that could keep up. After selling The General Lodge, a wilderness retreat that he had built with his own hands, and fueled by the desire to design premium, innovative products that were backed by unbelievable customer service, Groove Life was born.
Working in a freezing garage in Port Alsworth, AK, Peter worked relentlessly for six months trying to perfect the original Groove Ring. Having no idea what success this would eventually bring, his only focus was to somehow provide for his growing family.
A move to Tennessee and a few years later, Groove Life now employs over 170 people and produces adventure-inspired outdoor lifestyle product lines.
We serve people through our gear and inspire action through our adventures. We attempt to reflect God by being excellent at both."
Products Featured:
Website | Facebook | Twitter |Instagram | Pinterest | YouTube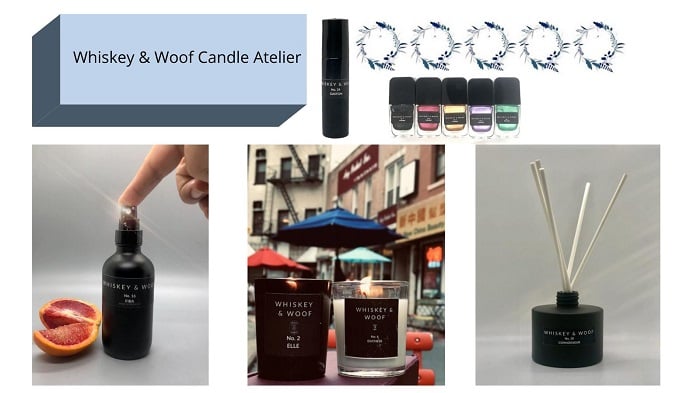 "Whiskey & Woof scented products are inspired by human's greatest companions – whiskey & dogs. Using scent as a storytelling vehicle, the resulting candles, reed diffusers, roll-on scents, & room sprays are here to elevate your spaces.
As feaured on Time.com, InTouch Weekly and OkMagazine, Whiskey & Woof is a Leaping Bunny Certified Cruelty Free company. Using a proprietary coconut wax blend to create memorable candle scents with IFFA approved fragrances..
Donations are made via proceeds from No. 23 Equality candle to various civil rights and animal causes.
Luxury candles inspired by human's greatest companions, Whiskey & Woof."
Products Featured:
Website | Facebook |  Instagram | Pinterest