Holiday Gift Guide @UpperBounce Trampoline

We have officially entered into the Holiday Season. Within the next few weeks we will be celebrating Thanksgiving and from then on everyone will be singing with joy, decorating their homes, and preparing for Christmas shopping.
Well, what if I told you we have the perfect gift idea for the entire family. Yes, Kids, Moms, Dads, Family, and Friends will be able to enjoy this gift.
This Christmas surprise your family with one of the ultimate gifts around called the Upper Bounce 9 feet Trampoline and Enclosure Set equipped with the New "EASY ASSEMBLE FEATURE"
I don't know if you are aware of this but, Upper Bounce is known to be one of the leading corporations in providing high-quality trampolines and a great number of Upper Bounce products.
This amazing Upper Bounce Trampoline and Enclosure Set is equipped with a top flex pole enclosure system that will offer your children stability and durability while they're jumping for joy this Holiday. You see, the Upper Bounce Trampoline will bring lots of fun and entertainment to everyone and is highly recommended as one of the Best Trampolines!
It's suitable for any size yard due to its 9 feet size. Get ready to bring the entire family together for a little jumping and flipping match. This 'Upper Bounce' trampoline will let you reach towards the sky and will guarantee maximum fun and fitness.
One of the great things about this fun trampoline is it's easy to assemble and disassemble once you're done with it. There is a weather cover available but, those are sold separately either way you can just take out your poles and store away without the worry of un-assembling any hardware!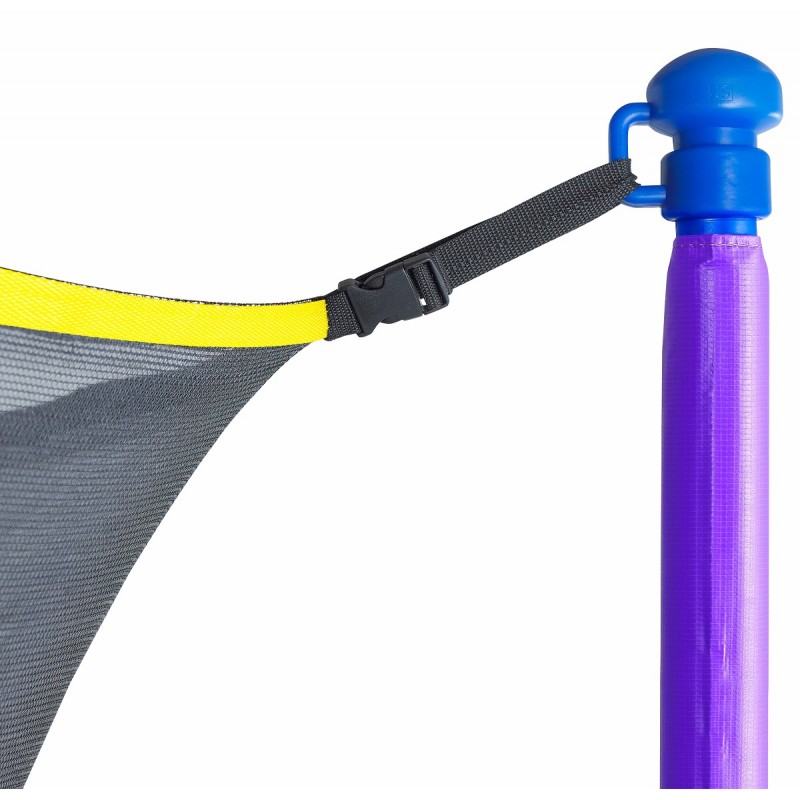 The Powder-Coated Frame is made up of steel legs on all Upper Bounce full-size trampolines and are treated with a special rust-resistant, durable, galvanized powder coating, for both beauty and unbeatable protection. The welded part for Enclosure Pole frame features a welded joint with an opening for the enclosure pole at each leg, as a result the poles will stand tall and firm whilst connected to the frame.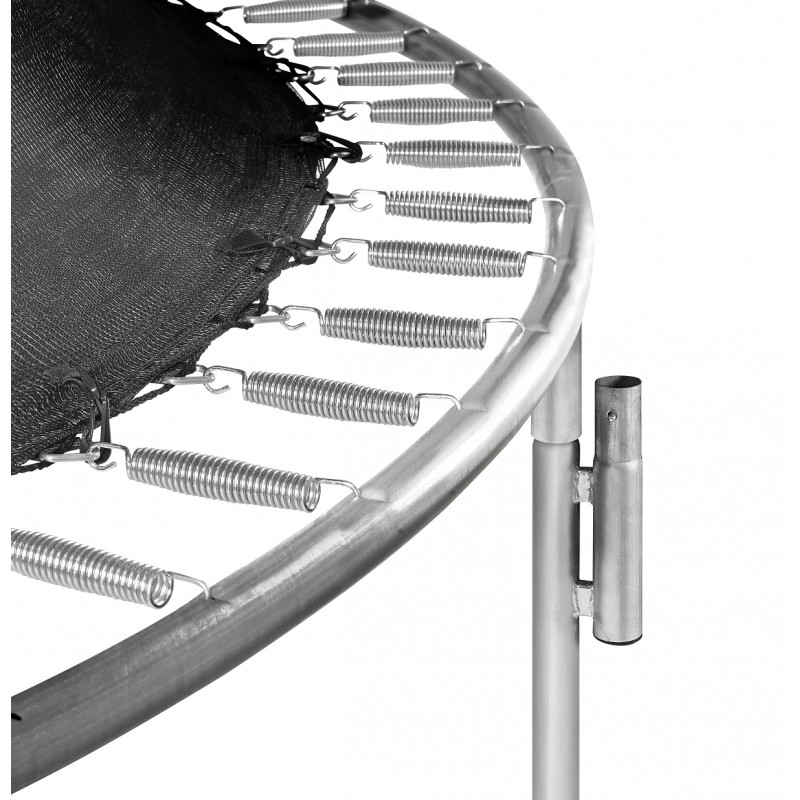 Another benefit I think is important to note is the Upper Bounce' Heavy-Duty Galvanized Springs are especially designed to increase bounce! It is Crack resistant and will not break from cold weather, which guarantees the springs to last long with no need to replace it often.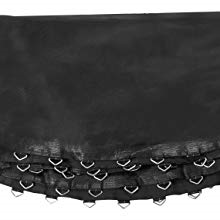 The Upper Bounce jumping mat feature ultra-durable construction through its premium polypropylene mesh material. 8-row stitching provides extra security, preventing the mat from tearing and guaranteed to bring many years of enjoyment. Premium Thick Foam Safety Pad (Spring Cover) that has double rubber ties for better protection and holds up tightly to the trampoline frame.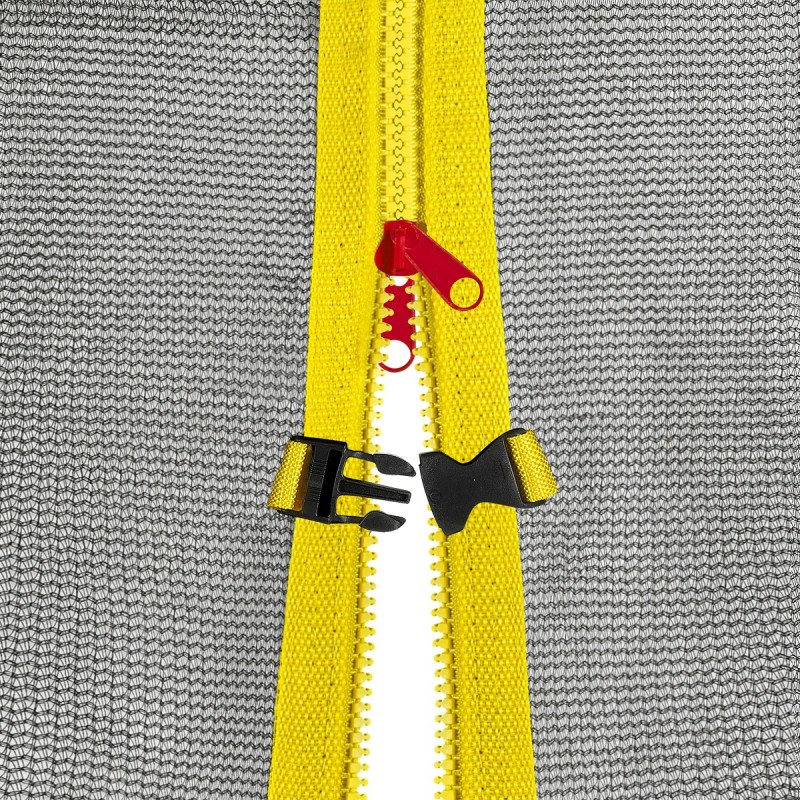 I also love that this Upper Bounce Trampoline has safety pads that will protect the jumper from falling on the steel frame or getting hurt from the springs. The safety pad is also strong and a high quality pad with 450g PVC on top, 310g PE on bottom and 3/4″ foam thickness EPE, contains the best shock absorbent, high density, closed-cell foam that will not absorb water, mildew or lose shape. The enclosure net installs inside the trampoline for maximum safety. The enclosure has the perfect height and dual closure entry with zipper and buckles which gives forth a 100% assurance that you're safe. Net features ultra-durability through its 100% premium Terylene, mesh material and extra security by its small and minimal gaps. Now everyone can enjoy their jumping experience knowing they are fully protected with this high-quality weather-proof enclosure net that will protect them from any accident!
I often wondered about those steel frames, as a parent we all know how excited kids can become when they are having fun on a trampoline. It's good to know Upper Bounce made sure to create a trampoline that is not only fun but safe also!
If you look at Upper Bounce design and features, you'll see that safety is an important factor with their Trampolines! Their goal of letting your children enjoy happy moments with an efficient trampoline has been accomplished with the  Upper Bounce 9 feet Trampoline and Enclosure Set equipped with the New "EASY ASSEMBLE FEATURE"
I don't know about you but, I feel this Upper Bounce 9 feet Trampoline and Enclosure Set equipped with the New "EASY ASSEMBLE FEATURE" will be the highlight Christmas morning! Just think, after eating all those delicious holiday meals the kids and you can now work off that food with a daily regimen of jumping for joy in their new Upper Bounce 9 feet Trampoline !
Take a moment to visit Upper Bounce website today so you can see this trampoline and many others. But wait, there's something else we didn't mention, its durability. This smart tool is a great option for long time usage. As we stated before, the trampoline is made from high-quality materials which will allow its usability under all weather conditions, even in winter!
Specifications:
Weight capacity
220Lbs.
Amount of springs
54
Spring size
5.5″
Amount of legs
3 W-shaped
Trampoline Height with enclosure:
90″
Frame height
25″
Mat size including V-loops
93.75″
Mat size excluding V-loops
91.75″
Upper Bounce

is offering a 15% holiday year-end discount, just use code: yearend18

Disclosure: We were not compensated for this post. However, I did receive sample products from the companies and the opinions expressed in this post are 100% my own. All samples will be donated to many families and we are disclosing this in accordance with the FTC guidelines.