From Elephants to Unicorns – Every Baby Needs a Cuddly Toy.
It's a nursery staple, so when your friend tells you she is expecting you can guarantee that when the little one arrives it will be greeted by one or more soft, cuddly toys. They are cute, they are huggable, and they make the perfect gift for a beautiful bouncing baby.
The Teddy Bear is Still a Popular Choice
Of all the soft toys in all the land (and there are more than a few), it has to be said that the traditional teddy bear is one of the most popular. In fact, teddy bears can go one further, they are not only the most popular of all soft toys, they are in the running to take the crown as the toy of toys. The toy that has stood the test of time and remains as popular today as it was around one hundred years ago (it's hard to believe teddy bears have been around quite that long)!
There have been other acclaimed toys along the way, once upon a time, children (and some adults) were consumed with the idea of swaying and twirling their hips in an attempt to keep a hula hoop from falling from their waist. We've also had the ups and downs of the yo-yo, fun with train sets, a chance to style the hair of Barbie and the educational stimulation of jigsaws (just where is that straight-edged piece featuring a dog's nose)? Through it all teddy bears have remained steadfast, ever-ready to provide comfort and joy to little ones, children, teens and adults.
Add to this the fog of gadgets and gizmos that have descended upon our young. Mobile phones, tablets, iPads, laptops, hand-held games, game consoles – there seems to be a new way to get online, game and interact with the digital world almost daily. Thank goodness babies do not get hooked on tech from the moment they can open their eyes, there's still time to show them the simplest pleasures and childhood games that the world has to offer. That's why it's important your baby finds delight in the humble soft toy. Teddy can be loved and cuddled, providing comfort and warmth to your little one.
Teddy Bear Alternatives
Move over ted, there's also room for other cute stuffed soft toys on the shelf, on the bed and in the overstuffed toy box. Teddy Bears are cute but you can pick up all manner of soft toys now for a bonny baby. The Baby GUND collectionhas a wide range of cute and loveable soft toys that would be perfect in a nursery or to accompany a child as they start out in life and take on the world. There's the Luna Unicorn, Flappy the Elephant, Spunky Dog, Flora the Bunny, My First Doll and the good old-fashioned teddy bear's too of course. All are beautifully soft and impressively cuddly and your little one should equally enjoy a snuggle with a bear, a dog (or a unicorn for that matter)!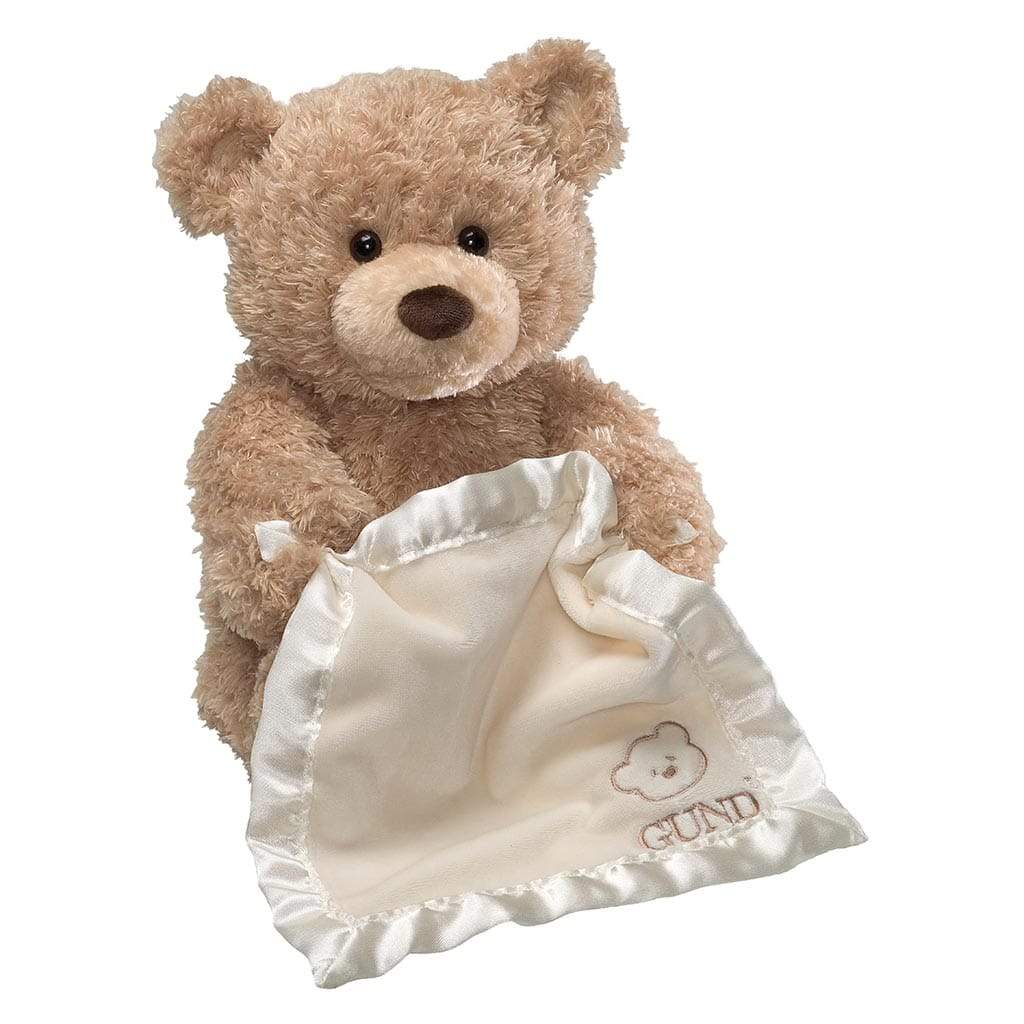 A Friend for Life
A baby can begin to focus on nearby shapes at one month old (objects further away can appear blurry at this age). As baby develops as does his or her eyesight, and at three months a baby can start to follow an object that's being moved around. He or she will also take more interest in the things around them (such as patterns, shapes and faces). You can introduce baby to their soft, cuddly friend early on, and as time passes, baby will become more familiar with it. A soft toy can be a friend for life, a confidant, a source of comfort and warmth, a buddy when you're feeling lonely and someone you can snuggle up to when you just need a hug.
As a toddler your little one might become quite attached to their friend (which can cause parents to experience a few anxious moments when a fluffy best friend gets left behind at a friend's house or dropped in a muddy puddle)! As a child the soft toy still plays an integral part in a child's life, it might not be dragged everywhere but the squashy pal will still provide a friendly ear and plenty of opportunities for a cuddle.
Even as teens and adults there's still room for soft, cuddly toys. The world is a cold place sometimes and just giving our soft toys a comforting hug can transport us back to our childhood, to happy times when life was oh so simple!