How To Dress For A Dance Party
Photo credit: Mitchel Orr
There is nothing more fun than going to a dance party. By the time we are in high school, we have some basic moves down. If you are more than a casual dancer you know, what you wear makes a big difference.
When you are out on the floor, and you have a wardrobe malfunction, it is embarrassing. People these days can grab a cell phone and get off a shot quicker than Wyatt Earp could draw his gun. If you are lucky, it only goes to your friends who are there with you. If you are unlucky, you could be the next viral video.
We are going to give you some tips on how to dress for a dance party to ensure you will be able to move freely and not have to worry about your clothes. Before you begin practicing for your party, you need to ensure that you have everything you need for dance.

Photo credit: Cam Morin
Why you need certain basics for any event
Whether your dance party is a party that includes your dance studio members, or your dance party is a holiday party, casual get together, or a formal event. You need a few pieces of professional dance clothing.
Dressing Hot, chic, and sexy
You want to look incredible. You want people to look at you and say, "Wow!" But the wow factor can end up looking like an X rated event if you do not have on an outfit that stays where it is put. If you purchase your accessories from a professional dance shop, they are made to keep you covered, against all odds.
Perhaps you want a top that has no back. Maybe a one sleeve top will look great with your little black skirt. You may like lace that gives the nude illusion or you prefer a shimmering fabric.  You have better odds of finding that hot top in the form of a leotard. The perfect top will stay put, and if your skirt moves when you are dancing or twirling the leotard has you covered. There is sex appeal with no fear of finding yourself half naked on YouTube.
If you are going to a dance party, we assume you are going to dance. The leotard supports the upper body and keeps "the girls" in place. They fit snuggly which helps you maintain your posture. By keeping your body in the proper position, you are less likely of hurting your back, neck, or shoulders.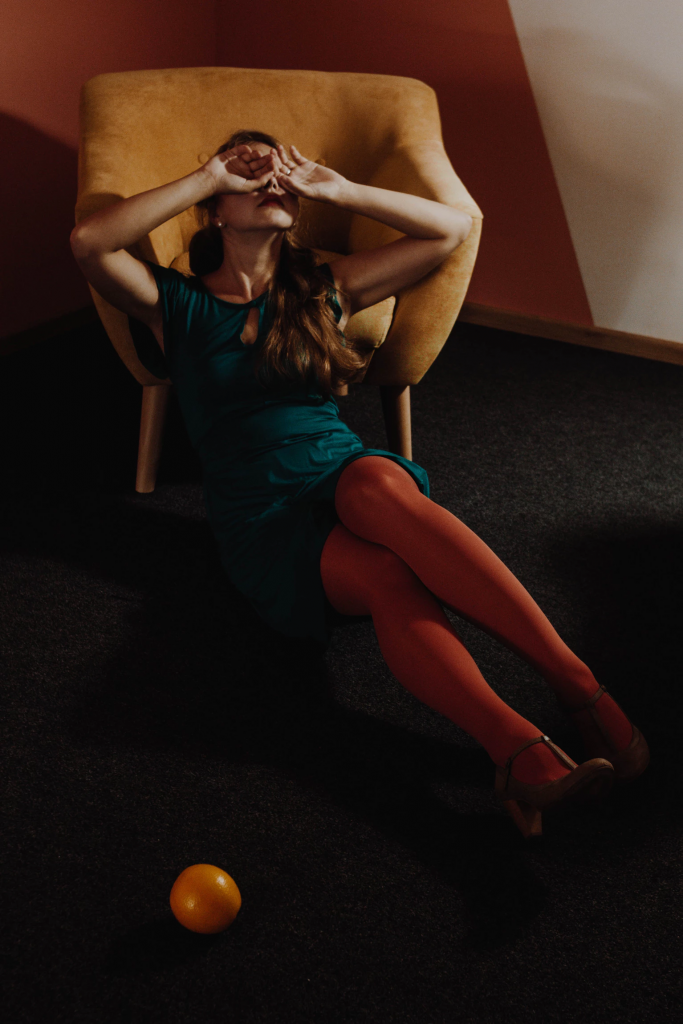 Photo credit: Hanna Postova
The next item you should have is tights. Why do professional dancers wear tights? There are a few reasons.
Tights help the dancer:
Stay dry
Tights are made of a material that absorbs perspiration
They provide coverage better than a leotard alone
They allow movement, and the dancer's moves, will be seen not just their body
If a dancer is wearing a short skirt or dress, the tights will help keep the lower body warm (enabling the dancer to wear a short skirt if she wants to on a cool evening)
They can be worn with or under anything
Shoes
If you ask any dance instructor what the most important thing in a dancers wardrobe is, they will probably say "Shoes." Dancing shoes come in all styles. There are ballroom shoes, dance sneakers for hip-hop, slippers, boots, and everything in between.
When a dancer hits the dance floor, the shoes are the only protection he or she has between her body and the floor. Street shoes are not made to move with you. They are made to protect your feet as you are walking on floors, concrete, earth, and stone. These shoes will do some serious damage to the dance floor. But worse, they can do some serious damage to your feet, legs, and back. If you are jumping, turning, hopping, or sliding in street shoes, the shoes may stick to the floor. Most shoes are made not to slip on the floor. If your body is in motion, but your feet stop, you will experience strain or even a fracture in your foot or ankle. The damage could travel up the spine as well.
You will be able to find some sexy shoes at the dance supplies stores. Or, you can slip a pair of dance slippers in your handbag and change when you are going to the floor. This means you have your sexy shoes when you are socializing, but proper shoes for dancing, and you can really dance at your best.
If you are looking for a costume that you will wear on stage, or accessories to wear to your party, you can order them online. You will soon ask yourself why you ever went dancing without the gear you needed. Once you have these pieces, you will never want to attend a dance party again, without them.