Disney Celebrates the Anniversary of Oliver and Company,The Sword In The Stone and Robin Hood!
Anytime Disney releases new movies or bring out their special movies from the fault, I'm like a new kid in a candy store. The great thing about Disney movies is it doesn't matter how old you are their movies will have everyone intrigued and ready to enjoy viewing for days to come.
Disney decided to bring back a few movies from out of their fault to celebrate their anniversaries and the kids and I are so excited. Since summer began we have had movie night almost every weekend by enjoying the new movies and old ones.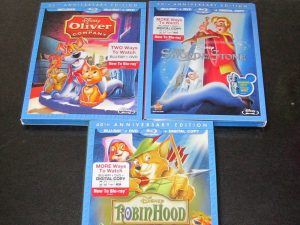 Disney shared with us Disney Oliver and Company Celebrating 25th Anniversary, The Sword In The Stone Celebrating its 50th Anniversary  and Robin Hood Celebrates 40th Anniversary all for the first time on Blu-ray and Hi Def available August 6,2013.
Synopsis:
Inspired by the timeless Charles Dickens novel, "Oliver Twist," Oliver & Company is the thrilling animated classic full of action, friendship, courage and heart that starts when Oliver, the orphaned kitten, is befriended by Dodger, the cool mutt from a New York pack of pickpocket pooches. Soon, Oliver is lovingly adopted by Jenny, a lonely little rich girl, until tough-guy Sykes and his Doberman sidekicks try to keep Jenny and Oliver apart. Now it's up to Oliver, Dodger, and all his colorful, street-smart canine pals to outwit the villains and rescue the girl – in an electrifying chase that will leave you breathless! Filled with laughter, loyalty and paw-tapping music by Billy Joel, Huey Lewis, and Bette Midler – Oliver & Company is family fun you'll love watching over and over again!
Run Time:74 minutes
2-Dic Blu-ray Combo Pack
Rating G
We have Disney The Sword in The Stone:
Synopsis:
Disney proudly presents the 50th anniversary edition of a spellbinding and beloved animated classic. Conjure up magical family fun with the humor, adventure, and Academy Award-nominated music (best score – adaptation or treatment, 1963) of The Sword In The Stone – on DVD and now on Blu-ray combo pack for the first time ever! Take an amazing journey with a young orphan named "Wart" and the extraordinary wizard Merlin. According to legend, only someone with the purest character and inner strength can pull the enchanted sword from the stone and claim the throne of England. Armed with newfound confidence and the power of friendship, Wart discovers his destiny and learns the best magic is the kind you find inside yourself!
Run Time: 79 minutes
2-Dic Blu-ray Combo Pack
Rating G
 Last is Robin Hood, this is one of my favorite Disney movies.
Synopsis:
To commemorate its 40th anniversary, Disney proudly presents the unforgettable animated classic Robin Hood on Blu-ray for the first time ever. Experience all the fun, thrills and celebrated music of this legendary adventure with perfect picture and sound! Join Robin Hood, his trusted companion Little John and his hilarious band of Merry Men as they outfox greedy Prince John to save the good people of Nottingham. Dashing from one daring deed to the next, Robin won't rest until he wins the hand of Maid Marian and restores King Richard to the throne. One of Disney's most beloved movies is even better on Blu-ray Combo Pack!
Run Time: 83 minutes
2-Dic Blu-ray Combo Pack
Rating G
Even though all these wonderful Disney Movies are available for the first time on Blu-ray Hi-Def 2-Disc Combo, I am sure it won't be long before Disney puts them back in the fault. So don't wait, purchase your Disney movies today and have them to your Disney Collection. I guarantee you, you and the kids will truly enjoy watching them.