Crayola's New Signature Series Are Shining Bright This Spring! @Crayola
As an artist I know the ever growing need to try new art mediums. I mean what artist doesn't collect art supplies when he or she can? Isn't that one of the many benefits?  Though when even I do try new things I tend to keep them close to my comfort zone: I know what I like and want to try for the most part. Plus there are certain mediums that fit my lifestyle more.  Moreover I am currently not a full time artist, and can not spend most of my earnings solely on my craft yet.
Under those circumstances I was ecstatic to hear about Crayola's Signature Series! Crayola has always been seen as the top art supplies in Elementary to middle school. You were the cool, artsy kid if you have the 64 pack of crayons. Thus why I wouldn't mind trying the more mature Signature Series.
As soon as I received them I went straight into swatching, blending, and mixing test. What I didn't know when receiving the Signature Series that I would get the pearlescent cream stick and acrylic paint. I'm usually very picky with glittery things in my work. I don't care for most metallic or glittery mediums. Most of those kind of items I do have are some forms of gold, white, or silver. I like to keep it simple.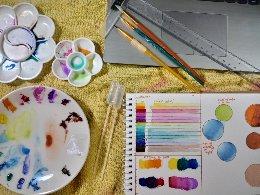 I was scared after seeing the saturated tubes and sticks with glitter everywhere. I honestly didn't think I would care for the outcome; however, I can actually see myself using these again after playing around with them. Maybe it's the color range that they choose that really spoke to me, or how the acrylic paints turned out when mixed with water. Nonetheless these really grew on me.  Now I will admit that the cream stick were something strikingly new to me. As you can see in my thumbnail sketches.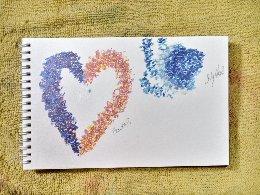 I found them similar to oil pastels. In contrast they are softer and creamer so don't use too a lot pressure when in use.  I found myself using up a lot of product in a short amount of time. If not that my first thumbnail I used too much black, and I didn't know how to really fix it.  I do recommend using oil pastels blending and coloring techniques, which I did in the next thumbnail. I would also use a small amount of water to help you blend as well. I found using too much will make the shimmer disappear.
The packaging does have instructions on how to use both the paints and cream sticks wet( with water) and dry. You can use them dry or wet to create your desired look. I found myself having an easier time using them wet: I am currently practicing water colors and using the same techniques. Using water prolongs the medium and mixes better in my eyes as well.
I found myself using the acrylic paints more than the cream sticks. I like the color range and how easily they blend and layer. I need to play around more with the cream sticks to understand how they work, but I can see someone who uses soft or oil pastels having-a-ball with them.
This lack of shimmer does not happen to the acrylic paints, but they are more pastel depending on the amount of water. They're more pastel but layering or a changing the water-to-paint ratio can change that. Overall I found myself enjoying Crayola's Signature Series! It was pretty fun to see what I can do with something so new. I  wonder what you will create?
Keep up with Crayola via Facebook and Twitter to see the latest products!
Disclosure: Howdy everyone, I wanted to inform you that I was not compensated for this post. However, I did receive a product from the company below and the opinions expressed in this post are 100% my own. I am disclosing this in accordance with the FTC guidelines.