Cravers Chicken Fries, the chicken snack for everyone!
 Cravers Chicken Fries are a great snack for everyone. No matter if your a kid or not I'm sure you will enjoy them.
For many years my children have eaten chicken nuggets. It has always been hard trying to convince them to eat other chicken snacks, all you would hear is Mom I want chicken nuggets. When I was given the opportunity to try Cravers new line of chicken I saw they had Cravers Chicken Fries.
I was excited to introduce the Cravers Chicken Fries to the kids. I didn't prepare a lot for them for I didn't want them to waste any if they didn't like them. Well, I was wrong, not only did they like them they ate them all throughout the day Saturday…lol
I made them with grapes on the side, then they wanted them just by themselves with ketchup, last they ask for a few fries and ranch.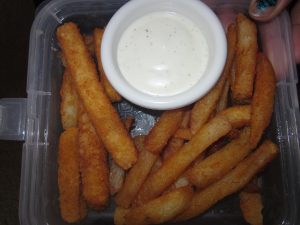 So there you have it, there's a new Chicken Sheriff in town called Cravers Chicken Fries. LOL!
You too can enjoy Cravers new line of chicken, visit your local Walmart or Winn Dixie store to grab one of their new chicken lines. They are easy to prepare, delicious, very tasty with their well blended seasoning, great for kids, can be cooked in the oven or micro-wave.
Great snack for after school, events, game and movie nights plus it only takes 15 minutes to cook.
Next I look forward to trying the Cravers Italian Style Chicken. I think I will do a small salad and make spaghetti to go along with this chicken. I can already say..MMM, MMM Good!
Well there you have it, Cravers Chicken Fries! Don't forget to come back next week to see other Cravers Chicken selections.
"Let March Madness Begin With Cravers Chicken"
You can always keep up with Cravers via social media to find out more about there new chicken line. Facebook, Twitter, Pinterest and Tumblr.
Remember, make sure all chicken is thoroughly cooked before eating!
Disclaimer Statement
I was not compensated for this post, however I did receive a product sample from Koch Foods. The opinions expressed in this post are 100% of my own and any product claim, statistic, quote or other representation about a product or service should be verified by the above mentioned store, PR,or product designer.