Why You Should Consider Building an Above-Ground Swimming Pool
When you think about building a swimming pool, with a decorative concrete St. Louis pool deck the first thing that might come to mind is that it should always be in-ground, you know, a couple of meters dug below the ground before an actual pool could actually take shape. Though the result gives your home a luxurious feel, the process itself is tedious and costly.
Still, that wouldn't discourage anyone who has the budget for it, especially if you live in a tropical country where the heat index tends to peak in the summer as if you're inside a giant oven. Whenever that happens, all you can think about is water and cool breeze—lots of it.
What better way is there to spend scorching summer days than to relax for hours in cool blue waters? Perhaps, a tall glass of mango shake could be a good consolation. Still, nothing beats plunging in a nice swimming pool.
You might have saved up funds for this project but in case there are ways you can cut back on potential costs, you'd be interested for sure. After all, many homeowners these days are becoming more mindful of their expenses, making wise choices that are reasonably priced without compromising the output quality. The answer? Build an above-ground pool.
Cost is Relatively Cheaper than In-ground Version
In-ground pools typically cost around $30,000-$70,000. This price includes the pool installation itself, the patio around it, landscaping, electrical hookup and other accessories that the homeowner deems necessary. There's a good reason though why the price is like this. Apparently, this version can last for decades.
However, if you're really looking for ways to cut back on potential costs, an above-ground pool is the way to go. The estimated costs could be somewhere between $4,000-$12,000. The installation of the deck around it isn't included in that price yet. Still, it's definitely relatively cheaper than the conventional installation style.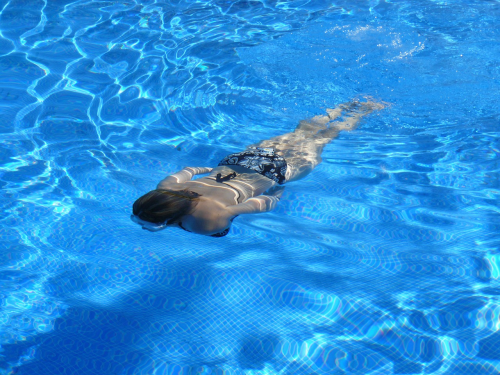 Installation is Super-Fast
The conventional method would take several weeks or even months before it's completed. Whereas, the installation of above-ground swimming pools could take as fast as 24 hours! Yes, folks, it's mind-blowing. Who would've thought you will be able to build it in just a day? And yet, it can be just as stunning as the usual underground version, depending on how it is designed and embellished.
Homeowners who are extra adventurous can even cut back on labor costs by doing the project themselves. You simply need to purchase a kit and build it on your own by following the detailed instructions given by the manufacturer or read this useful guide. Then, you can just hire professionals to work on your decking. So, how is that? Cool, right?
But that's not all. This type can be pretty portable. You can move it from one location to another. On the other hand, the location of an in-ground pool should be carefully planned as it will be permanently stationed there.
It's Safe
Because of its high entry point, it would be less likely that someone might accidentally fall off and plunge straight to the water. That said, you may not need to look out carefully for your guests in your home who might not know how to swim, just in case they slip and fell to the pool.
Variety of Layouts and Designs
Yes, you can be creative when thinking about the main concept of your home. Above-ground swimming pools can keep up with this. You'll never run short of a variety of layouts and designs available.
Ease of Maintenance
Because they generally have a smaller size than underground pools, you will be able to cut back costs on maintenance, too. Smaller versions would of course need fewer chemicals than bigger ones. Read more advice here: https://www.thespruce.com/tips-buying-owning-above-ground-pool-2736832
If you're looking for ways to lessen your expenses in building a swimming pool, opt for an above-ground version. It's easier to maintain. It offers portability—you may actually move it from one place to another. You can install it in as fast as 24 hours which is perfect if you're rushing this project for visiting relatives and friends. You'll never run out of design layouts, too!
No pressure though. Think of it as an investment. Choose one that's perfect for you.