Comfort Research, bringing comfort to any room!
I was not compensated for this post, however I did receive a product sample from Comfort Research for purpose of review, all opinions expressed in this post are 100% my own.
I was so excited when Comfort Research  allowed me the opportunity to review one of their FUF Chair's. I had never seen anything like this before. The size was just what my den room could use when you do a lot of entertaining or when the kids get to playing on their gaming consoles.
This awesome chair seats at least three people comfortably and can fit in any size room. When I say it is HUGE, huge indeed it is! I wanted extra seating so when the kids and their friends get together they would have a comfortable seating area where they can enjoy playing their games.
Its not only for playing games, it is a comfortable chair for me as well. As a person who suffers from  lower back nerve damage, I am always looking for a chair that not only gives me comfort but also allows me to lay down when needed. Yes, the Comfort Research FUF Chair is surely that chair.
Comfort Research has so many cool FUF Chairs, even a few cool gaming chairs that is sure to keep you very comfortable as you play. Below are just a few!
 Zeus Neo Gaming Rocker                                                             Zeus Echo Gaming Chair
Experience gaming as it was meant to be played!                    Game in style on the ECHO Gaming Chair.                                                                                   Plug into any game system and enjoy.
I don't know about you but I can see my children enjoying themselves with one of  these cool gaming chairs. The FUF Chair is everything you could ever imagine, it is customized just for you. You can enjoy the comfort of relaxing while playing games or watching TV, or better yet grab your pillow an take a quick nap like I did! *smiling*
It's just not your ordinary bag, one of the great benefits I found with the FUF Chair is they removed the zipper for safety reasons, there not only thinking of there customers comfort they are thinking about safety too..love it!
When your FUF Chair arrives don't be alarmed if you don't see the fullness of the chair fall right out of box, Comfort Research informs you that it will take at least 7-10 days to re-FUF to its full original size.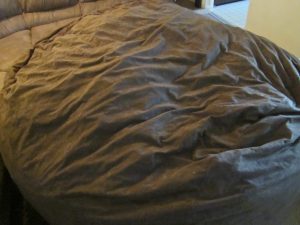 It just looks like a big fur ball lol, but the moment you begin to FUF the chair the faster it will return to size. As you will see, one of the boys just couldn't wait. He kicked off his shoes and stretched out right on the FUF Chair, I couldn't help but LOL!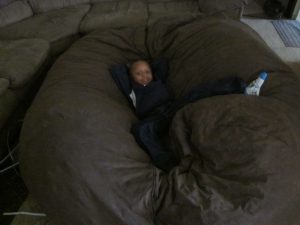 Well there you have it, the Comfort Research FUF Chair! I would have to agree with Comfort Research motto, Awesome Design, Great Comfort, True Value and Product Research daily!
Hold on, Comfort Research has been kind enough to allow one of the Night Helper readers a chance to win one of their FUF Chairs. 4′ Large FUF Bean Bag Chair.