Canvas Print Factory, High Quality Canvas Prints That Will Make Everyone SMILE!
One thing for sure I have a load of digital photos of my kids and my grandkids, so many that I had to upload some recently from my smartphone and camera. Many times, they just sit stored away until I remember I have them and want to share a sweet memory or just to share with friends and family.
Well, since my daughter and son in-law just had a new baby I've captured even more photos and many of them are "Priceless"! So, I thought to myself, what a great Christmas gift one of these photos would make for their home.
But after checking around I found that large prints, especially canvas prints are extremely expensive. More so in the range of $250 or more and just for the size I wanted to have made for my daughters wall.
Well, listen people I have found a canvas site that not only offers great quality canvas prints, affordable large prints, they offer Beautiful high-quality prints that will put a SMILE on anyone's face!
The Canvas Factory offers all the above and much more!! I was able to order a large print (50x40cm (20×16 inch) of my new granddaughter.
When it was delivered, which didn't take no time! I was unsure to be honest as to how everything would look. To my surprise when I opened the canvas and saw how beautiful the canvas print was, I was ecstatic, it was so gorgeous it actually brought tears to my eyes! The print is so clean looking, clear and colorful just like the photo I sent in.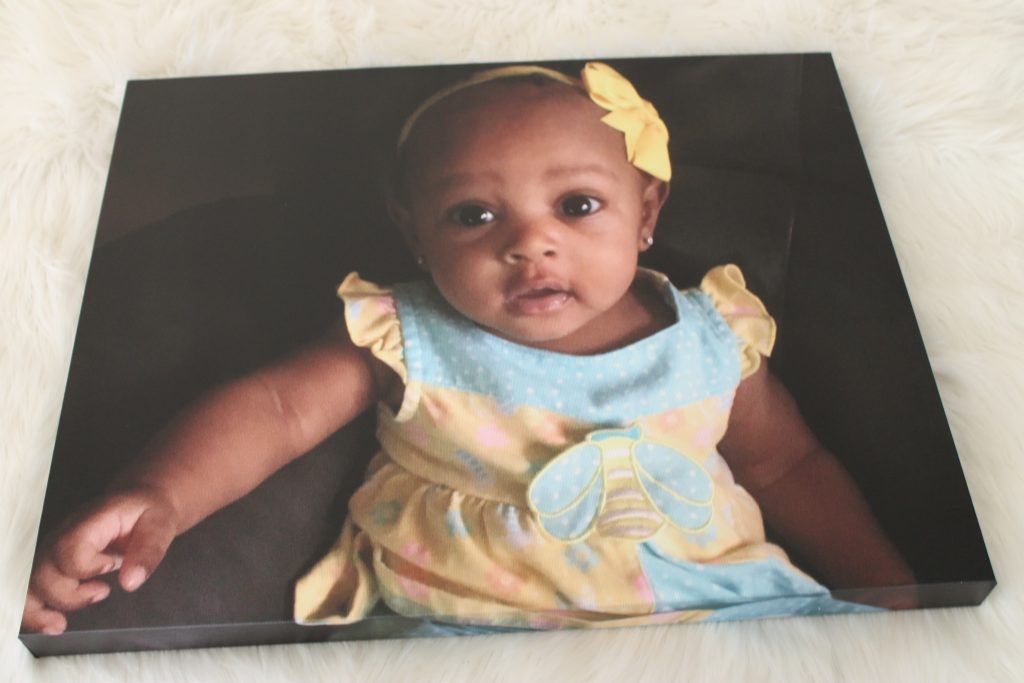 The Canvas Factory makes it very easy for you to create beautiful artwork for any area of your home or office, apartment. My next selection will be something like the below canvas print called the split canvas print, so I can cover more of my living room wall.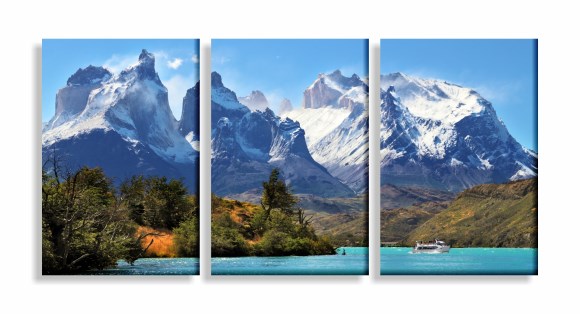 Just think, since Christmas is coming soon these prints would make great gifts for friends, family, BFF's and grandparents. Let me also make something clear, the process is so easy to get your printed canvas ready. Just select 'create your own' if you want to use your own photos. You can also choose 'canvas art' if you want to create something using their 20 million high quality images. Pictures are sorted in different styles such as urban, landscapes , nature, abstract, retro, and different categories such as abstract, nature, and people. 
Next select the material: canvas, acrylic glass, or aluminum.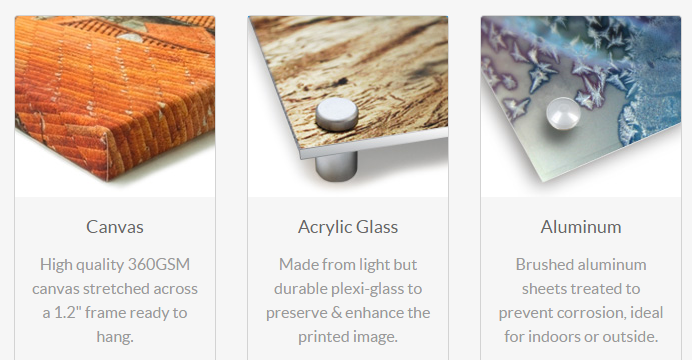 Available to you also is how you would like your photo printed, select single canvas, multiples canvas, or split like the image above to accent your wall with many photos. Select size you wish, no worries Canvas Factory has over 25 possibilities, ranging from 12" x 8" all the way to 50" x 36" in size! You can even select how you wish to have your image wrapped around the canvas, let me also share you can add an effect and with them using a matte cotton that has a GSM count of 360 to which they added a special coating to make it resistant to damage from water, dust, and UV light, your canvas is guaranteed to stay Beautiful!
Trust me when I say the process is simple and very easy. Before long, your Canvas print will arrive to your home ready to be hung in any room. Overall, I am beyond pleased and I'm so delighted to have found a wonderful company like Canvas Factory! Everything about them from the moment you order until your canvas arrives to your home speaks volume of professionalism, quality, amazement, and worthy to order!
Don't forget to connect with The Canvas Factory on Facebook| Twitter |Pinterest | so you can keep up with the latest news.