5 Top Benefits of Using a Heat Pump in Your Home
Have you ever wondered if you're heating your home the best way? It might surprise you to learn that your heating system might not only be changing the temperature of your house but can also alter the quality of the air you're breathing and change the way you sleep at night.
If you want the healthiest, most efficient environment for your residence, think about the benefits you could have by using the right-sized heat pump.
Quiet Performance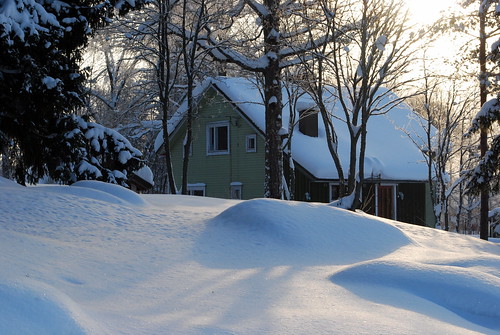 Image via Flickr by David_S
When thinking about the qualities of a heat pump, you'll first want to consider how quietly it operates. While other heating systems can be quite loud, a heat pump's noise level is relatively low, reaching only 40 to 60 decibels, no louder than a typical conversation.
Multi-Purpose Systems
If you're installing any kind of heating system in your home, an important consideration might be the cost. The good news here is that a heat pump serves as a dual-functioning system for both the heating and cooling of your home! Because of this flexibility, you can save money on installing one unit instead of two and you'll have one less piece of equipment taking up space in your home or yard.
Maximum Energy Efficiency
Even after you have installed a heat pump in your home, you might wonder if it is going to cost you more money to run in the hot summer or the cold winter. No need to worry here either, because the best heat pump systems are designed to efficiently bring warm air in from the outside in the winter and cold air in during the summer, both of which save energy compared to other methods of heating and air conditioning.
Cool and Consistent Air Conditioning
Have you ever felt like your appliances are giving you one problem after another? Then you'll be in for a real treat when it comes to having a heat pump in your home. Not only are heat pumps less likely to break down than other systems, but they also cost less to repair when they do have trouble, and they provide consistent quality of air conditioning throughout the year. Owning separate heating and cooling systems, in contrast, could lead to extra problems and inconsistent quality of service.
Improved Indoor Air Quality
While money is always a concern, at the end of the day what you most want to know is if you're going to be comfortable when your heat pump is running. Because they use outside resources to regulate the air in your home, you'll be provided with an improvement in overall air quality, as fresh air will be cleaner and have a purified smell from nature.
Every home has different needs, but every home should make the comfort of its residents a top priority. If you would like to have an all-in-one, efficient heating and air system that can save you money on utility bills and keep you comfortable as well as offer peace of mind, then consider a heat pump for your home.