Omnifix Cubes from Assessment Services, Inc.
Omnifix Cubes from Assessment Services, Inc.

I'm going to come clean and admit that I have a love/hate for math…just leave out the love part.  I'm a relatively smart person, but math has always been a thorn in my side.  I mean an orange is an orange and a horse is a horse (of course of course – oh, did I ever date myself with that), but math concepts, to me anyway, have been somewhat evasive.  I breezed through English and Science, but I didn't think that I would ever pass Algebra and Geometry.
I need a solid grasp of basic math, doesn't everyone?
We use math in our day to day lives.  I don't think that there is a day that goes by, that I don't use math in some way or another. I use subtraction, division, multiplication, fractions, etc. when preparing orders, balancing my accounts, cooking and crafting. Manipulatives are wonderful tools to help with math concepts, and I want to tell you about one particular manipulative, today.
Omnifix Cubes
Assessment Services, Inc. graciously sent me a set of 500 Omnifix Cubes.  They arrived in a see through sturdy plastic bin, with a securely fitting lid.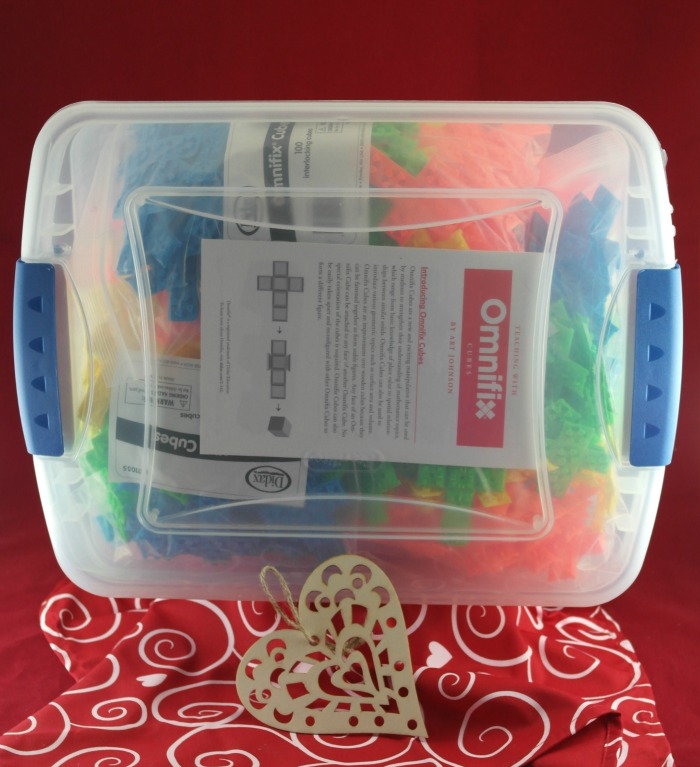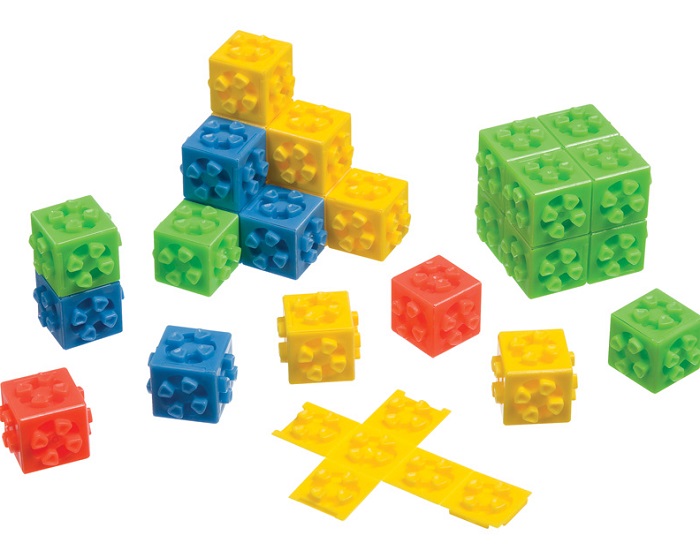 With a connector on all six faces, Omnifix Cubes are joined in any direction to create rods and blocks or geometric and abstract forms. Students in the middle elementary grades and up can explore spacial relationships, number bases, fractions, cubed numbers, tessellations, and more. Omnifix Cubes can be used with any math curriculum that specifies linking cubes. They come in four brilliant colors and measure 2cm. Students snap flat shapes together to form a permanent cube which can then be joined to other cubes. Grades 3-12
I am going to be sending these to my grandchildren out in Colorado.  I know that they will serve them well for many years to come.  Their use and learning with these cubes, will grow with them, as they continue their journey through Elementary, Middle and even High School!
About Assessment Services, Inc.
At Assessment Services, Inc. we believe in the importance of hands on learning. That's why we are one of the leading manufacturers and suppliers of educational manipulatives. Our learning tools are designed with educational enrichment in mind. From math manipulatives like algebra tiles and base ten blocks to reading and science manipulatives, our products help connect children with valuable concepts in classrooms around the world.

If you're a parent or teacher searching for hands on tools to explain complex math, science or reading lessons to your students, our classroom materials can help. Shop today for great prices on geoboards, pattern blocks, magnet sets, unifix cubes, life science activities and more. We're sure our products can improve your lesson plans and make your learning environment even more engaging. We even offer tips and resources for parents and teachers to improve the children's learning habits and help them make learning more fun.
Head on over to Assessment Services, Inc. and check out all the great products that they offer, to help children (and adults) to master these important core subjects.  Be sure to take advantage of the Parent and Teacher Corners, where you can find:
Reading Tips
Math and Science Crafts
Kid's Math and Science Projects
Free Resources for Teachers
Connect with Assessment Services, Inc. : Shop | Facebook | Twitter
Disclaimer:
This product was received from the Company for review purposes only. All thoughts and words in this post is my own and I was not paid to endorse it. I am only voicing my opinion about this product.