2019 Top Holiday Gift Guide! #Part 9 #Holidays #Gifts
Disclosure: Night Helper Blog did receive sample products from the companies to showcase in our Holiday Gift Guide. We're disclosing this in accordance with the FTC guidelines.
Welcome to our annual Holiday Gift Guide Part Two, listed below you will see some awesome gift ideas for everyone. So, grab your pen and paper and jot down these great gifts. Website links will be available for each brand so let's get started.
NewAir Portable Ceramic Tower Heater, Quiet and Compact
This portable ceramic heater is the perfect choice for warming a small room or personal space. The wide-angle oscillating fan quickly and evenly distributes heat across an area up to 110 square feet to combat chilly drafts.
You have the choice to use the quiet fan for a heating boost or to turn it off for total silence. This lightweight heater is easy to carry thanks to its carrying handle, and the compact design allows it to fit neatly in any spot you like.
Safety features include anti-tip and overheating protection. 
Available at NewAir and Amazon
The Dutch Cookware Oven From Sur la table
Recessed lids with stainless steel rim prevent boil overs and provide extra space in covered Dutch oven
Naturally nonstick and easy to clean
Bonded heatproof handles
Incredible performance on induction stovetops
Toxin-free, PTFE/PFOA-free
These heirloom-quality Dutch ovens are handcrafted in Germany in the same tradition as the original enameled models that earned the Royal predicate in 1951. They're built to last thanks to heavy-gauge carbon steel, a thick base and GlazeGuard technology—the unique and durable interior and exterior glaze that's non-porous, non-reactive and resists cuts and scratches. The carbon steel core is molecularly fused with the GlazeGuard interior and exterior for better chip-resistance than cast iron. Celebrated by chefs everywhere, carbon steel weighs a fraction of cast iron and is more heat responsive for faster, more even heating. Thanks to the natural nonstick properties of the enamel, food slides right off for easy cleaning by hand or in the dishwasher. Can be purchased here
BK Black Steel Skillet from Sur la table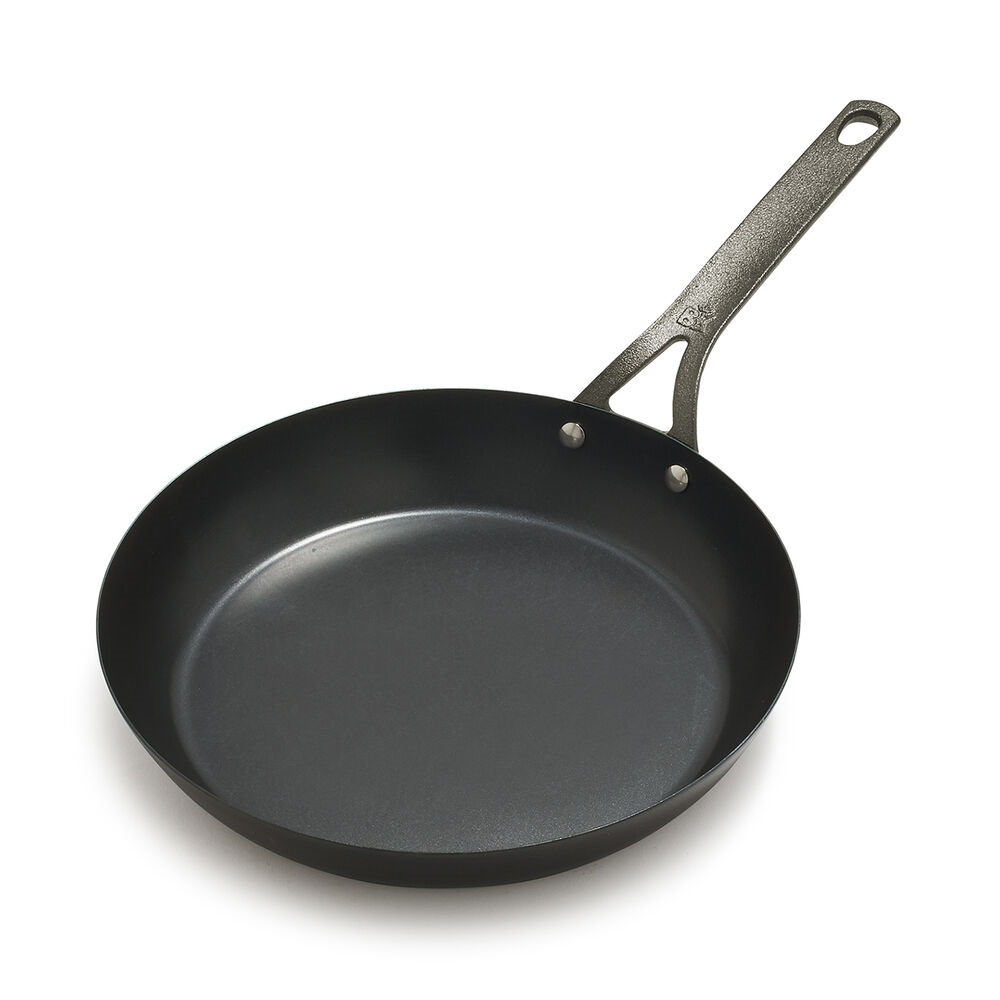 Celebrated by chefs everywhere, carbon steel provides exceptional browning and searing, weighs a fraction of cast iron, is more heat responsive than cast iron for faster, more even heating and, best of all, gets better with each use! Every time you use these remarkable skillets, they become darker, forming a layer of patina, which naturally improves their durability and nonstick properties—they're virtually indestructible. BK Black Steel is tough, lightweight and winner of the 2019 Red Dot Award for design.
Carbon steel weighs a fraction of cast iron and is more heat-responsive for quicker heat-up and cooldown while providing the same great searing results as cast iron
Black iron oxide layer provides superior corrosion and stain resistance, Natural and durable nonstick properties improve with each use; skillet will become darker with each use, building up patina layer proving better release and durability. Naturally pre-seasoned; ready to use after washing, Safe for use with metal utensils. Toxin-free, PTFE/PFOA-free. Riveted and coated cast iron handles shaped for comfort. Can be purchased here
GreenPan SimmerLite Dutch Oven with Lid 5.5QT Slate
Perfect for slow-cooking, roasting, baking and more, GreenPan SimmerLite Dutch ovens offer half the weight of traditional cast iron and even better performance—everything cast iron can do, SimmerLite can do better! Health-conscious cooks will appreciate this completely toxin-free collection that boasts revolutionary Diamond Thermolon Pro 100% pure ceramic nonstick that's reinforced with diamonds to make the coating four times more conductive than copper, giving it incredible searing and browning
This superior nonstick coating makes it easy to cook delicious meals with little oil—and because it's completely scratch-resistant, it's safe for use with metal utensils and in the dishwasher
The SimmerLite collection is perfect for those who love all the benefits of cast iron cooking but are unable to lift heavy pans
SimmerLite is made of hard-anodized aluminum, which offers better heat retention than cast iron and is three times more heat conductive and heat-responsive on all cooking surfaces, including induction, which results in fast, even cooking. The 100% toxin-free ceramic coating on both the interior and exterior acts as a protective armor that keeps this cookware looking great. Available on Amazon at Macy's/ Bloomingdales/ / Food52/ Goop/ Cutlery and GreenPan US
FoodSaver 2-in-1 Vacuum Sealing System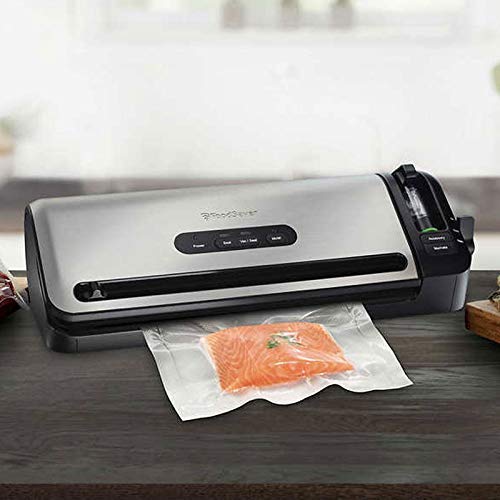 The FoodSaver 2-in-1 Food Preservation System is the solution to all your food storage needs! FoodSaver keeps food fresh in the freezer up to 5x longer, compared to ordinary storage methods. Ordinary storage methods trap air, affecting the food's nutritional value, flavor, and overall quality. But the FoodSaver vacuum system removes most of the air from the sealed container, extending the life of food.
With its sleek space-saving design and user-friendly control panel, the FoodSaver Food Preservation System is the ideal appliance to preserve a variety of foods.
Extra-Wide Sealing Strip, Handheld Sealer , Built-In Roll Storage,  24" long cord , Wipe clean exterior .
Available for purchase here
The CLEAR2O® advanced Water Filter Pitcher (CWS100 – filters 50 Gal.) continues to be one of top favorite filter water pitcher in the market. Our CLEAR2O®   advanced solid carbon block filter has been independently tested on over 200 contaminants to achieve 42 and 53 standards for reduction of Chlorine, Heavy Metals, VOC, and Other contaminants.
The CLEAR2O® advanced filter system surpasses 53 and 401 test standards for removal of Herbicides, Pesticides, Pharmaceuticals, Industrial Wastes, and PFOA's (Perfluorooctanoic Acids), man-made chemicals used in various manufacturing processes. Solid carbon block filter reduces lead, chlorine, VOC's, and other contaminants in your water while keeping beneficial fluoride. Built-in TrueLife indicator alerts you when it is time to replace the filter.Includes a water filter to get you started the moment you receive your pitcher. Available  on CLEAR2O®website here.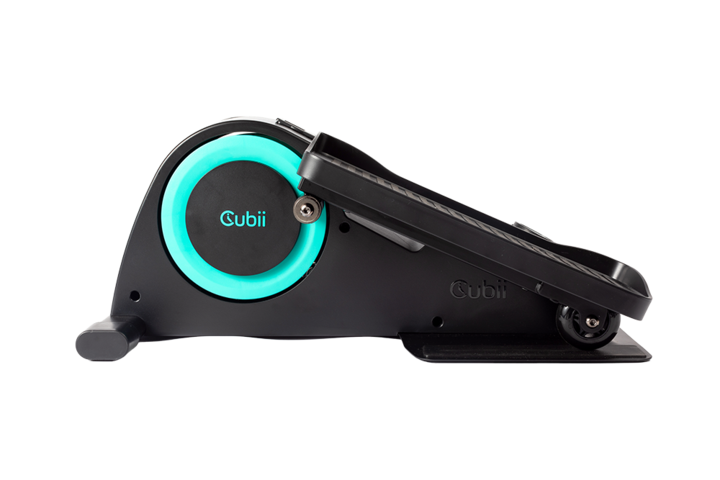 The original compact seated elliptical that lets you work out without sacrificing time. Add more strides to your day, burn calories, lose weight, and boost energy, all while you sit. Track your workouts with the built-in LCD monitor.
Cubii is the leading compact ergonomic elliptical to work out while you sit at home and office
Low impact on joints with 8 levels of resistance to increase your activity over time.
Whisper quiet with a smooth gliding motion. Quick and easy assemble. 4 screws and you are done!
Keep Fit While You Sit, you can multitask with the Cubii to make exercise a breeze. A built- in display monitor tracks real time, calories, RPM, strides and distance.  It's safe, simple to use, stable, smooth, and again monitors your steps. Cubii is avalable at Cubii website, Amazon, and many other retail stores nationwide. Available in Aqua & Purple
Teach My Toddler Learning Kit, Best Gift for 18 Months+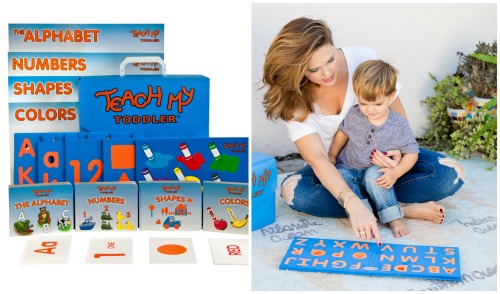 Screen-free, Teach My Toddler contains unique and coordinated tools to teach the alphabet, numbers, shapes and colors all in one kit. Little ones can learn the basics and get school ready in just 20 minutes a day! From puzzles and books to flashcards and posters, the kit is full of learning toys to give your mini scholar a head start. Teach My Toddler promotes kindergarten readiness, fine motor skills, hand eye coordination, parent-child interaction and self-esteem in just 20 minutes a day!
Kit includes 4 board books, 4 posters, 7 puzzles and 55 flashcards. Teach My Toddler is available for purchase online nationwide at Amazon, Walmart and Target.
BuzzBee Adventure Force Max Morpher by Buzz Bee Toys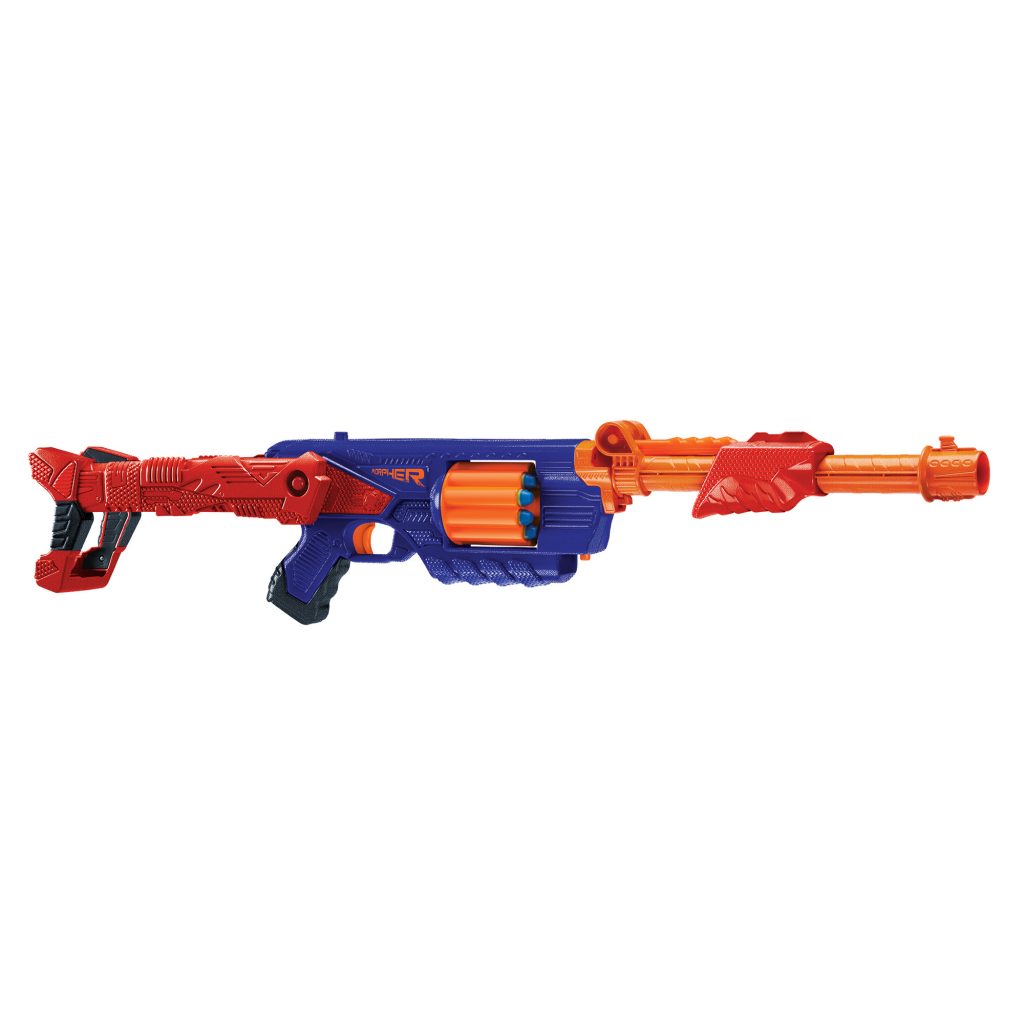 The Adventure Force Max Morpher by Buzz Bee Toys is a 4-in-1 dart blaster that will transform right before your eyes! Fold out the stock or fold out the barrel to use the blaster in either pistol or rifle position. With blasting power up to 100 feet, you can easily keep the competition away!
Item comes with dart blaster and 10 long distance darts that are compatible with all Adventure Force Blasters and most standard NERF blasters. All are gentle enough for kids aged 8 and up. A simple and easy to use, transforming 4 in 1 dart blaster. Available exclusively at Walmart
BuzzBee Air Warriors Mutator Blaster
The Mutator by Buzz Bee Toys offers unparalleled versatility that allows users to expand the barrel, transform the blaster and select distance blasting up to 100 feet or extreme accuracy with PrecisePro darts.
Expand barrel to transform the blaster and select distance or accuracy dart blasting! Blast darts up to 100 feet, Removable stock, PrecisePro darts allow for highly accurate blasting action.
Includes blaster, 10 long distance darts, 10 PrecisePro darts, two 10ct clips and stock. Ages 6+, Available exclusively at Target
When young imaginations move into the Barbie DreamHouse, they turn this amazing dollhouse into a dream home! More than 3 feet tall and 4 feet wide, the Barbie DreamHouse has so many amazing features — three stories, eight rooms that include a carport (car not included) and a home office, a working elevator that fits four dolls, a pool that has a slide descending from the story above, five pieces of transforming furniture, lights, sounds and more for a total of 70+ accessories, including an adorable puppy, that can all be used to decorate, set the scene and play out so many stories. Plug-and-play design helps keep pieces in place as small hands move around (and make clean up easy for adult hands!). Decorations and furniture for indoor and outdoor settings inspire play from all angles, and the transformations provide two-in-one fun while encouraging flexible action — the couch turns into bunk beds, the coffee table flips for a bed sized for Chelsea doll (sold separately), the fireplace becomes a home office, the refrigerator turns into an outdoor food stand and the oven houses a barbecue in back. Valaible in many retail stores  nationwide and at  Walmart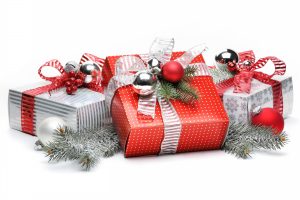 Light the way to active play with the Light 'n Go series of toys, designed to use light to inspire your baby to get moving. The 3-in-1 Activity Walker is a walker, standing activity table, and sit & play activity center all in one. The walker's projected lights encourage your baby to take their first steps as they grow with this interactive toy. Featuring 70+ activities, songs, and sounds, the 3-in-1 Walker and Activity Table provides hours of fun for years to come. Product Features: • 3-in-1 activity walker for baby • Walker: Projects lights on the ground to encourage baby to take their first steps. • Activity Table: Panel slides up to become a table and features • Sit & Play Activity Center: Folds flat for floor play and is also ideal for easy storage • 70+ activities, songs, and sounds • Activity Panel features a Monkey Slider, Peek A Boo Lion, Spinning Toucan ball that make fun animal sounds and noises, color beads, an animal flipbook, jungle spinning drum, koala and parrot clickers and more! • Ages: 9-36 months an available in many retail stores and on Amazon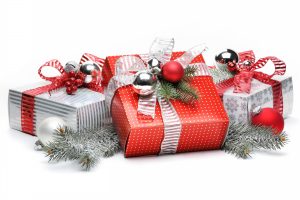 Disclosure: Night Helper Blog did receive sample products from the companies to showcase in our Holiday Gift Guide. We're disclosing this in accordance with the FTC guidelines.