2017 Mother's Day Guide Featuring The SG300 12-Cup Stainless Steel Coffee Maker from Capresso
For the next few days we will be sharing many wonderful "Mothers Day Gifts", we will also share a link to each brand so you can visit them and purchase your own special gift for Mom!
Wow, Mother's Day is this coming Sunday? All this week we will be sharing with you some wonderful gifts that will make any mom happy!
Today we have another great gift which is the SG300 12-Cup Stainless Steel Coffee Maker  from Capresso.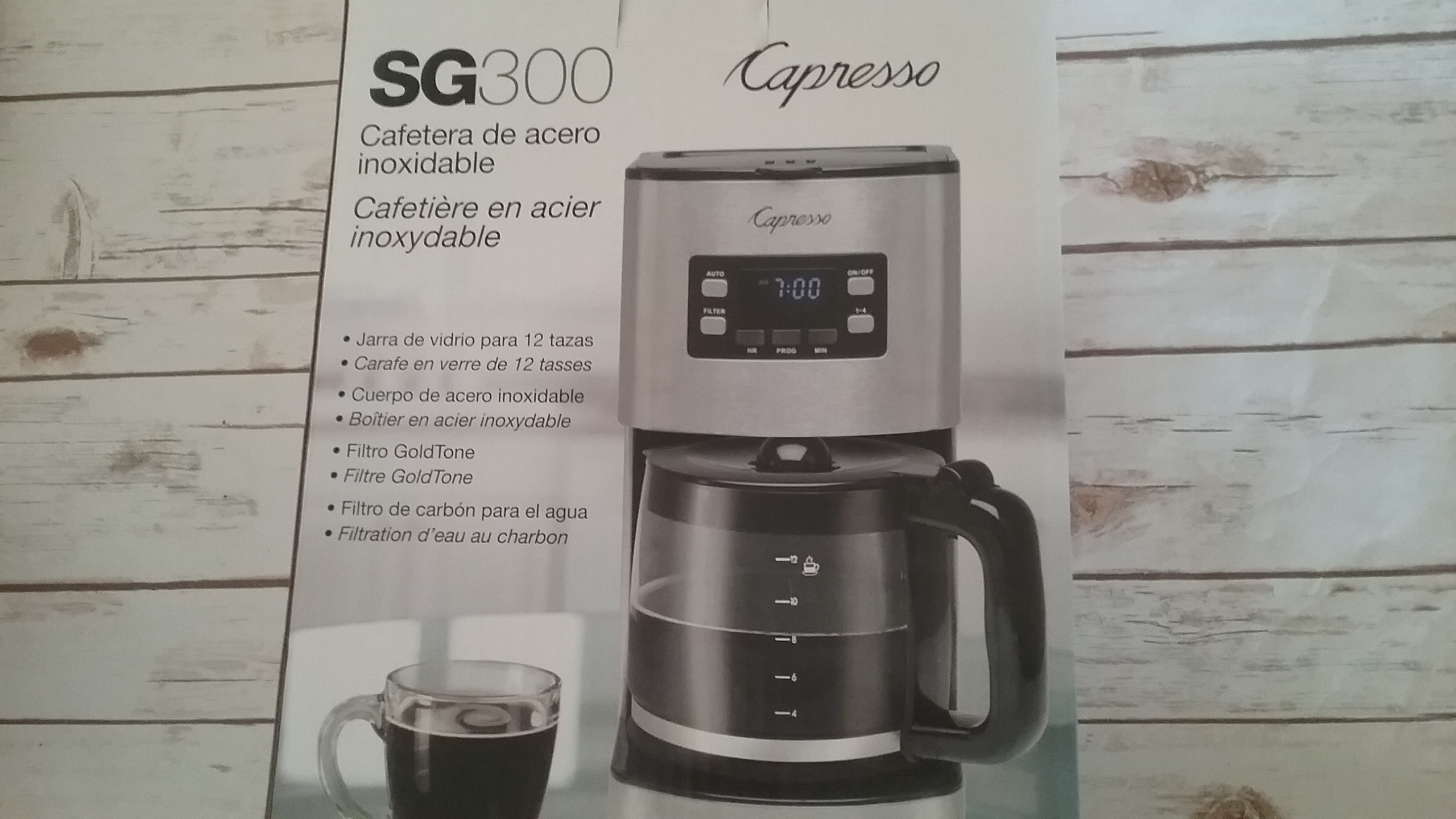 If you're preparing for a nice Mother's Day brunch for mom this Sunday , you'll definitely need to have a good coffee maker on hand. I think this Stainless Steel SG300 12-cup coffee maker will brew up a great cup of coffee for mom. It's compact, programmable and displays a LED display.
The stylish look and settled gray color of the Stainless Steel Coffee Maker is sure to look gorgeous on any countertop.
The coffee maker has an easy-to-read external water level indicator , a reusable GoldTone filter and glass carafe with brew though lid and drip-free pouring spout and yes they are dishwasher safe, making clean-up quick and easy.  The 1-4 cup setting extends the brew time for added aroma when brewing smaller batches of coffee.
The Capresso Coffe Maker brews 12 cups (60-oz) of coffee and has many other great features like:
Dishwasher-safe glass carafe
Reusable GoldTone Filter eliminates the need for messy paper filters
Multiple nozzles spray water evenly onto ground coffee ensuring full saturation of grounds
Drip stop for pouring a cup while brewing
Special setting to maximize flavor when brewing 1 to 4 cups
Charcoal water filter removes up to 82% of chlorine and other impurities from tap water
Coated, non-stick warming plate
2-hour keep warm with auto safety shut-off
External water level indicator for easy filling
Stainless steel housing
With the Capresso SG300 being so easy to operate, you'll be able to brew mom up a pot of tasty coffee in no time. This coffee maker also uses a charcoal water filter that removes up to 82% of chlorine and other impurities from your tap water. The filter and holder are included. You will know when to replace the filter — the SG300 has an electronic filter indicator to alert you when it's time.
So you see, you can't go wrong when you're brewing up a fresh cup of tasty coffee with the Capresso SG300. Hurry now, visit the Capresso website today or better yet, visit Macy's or Office depot to pick up one before Sunday!
Don't forget to connect with Facebook | Twitter | Pinterest |to keep up with the latest
Howdy everyone, I just wanted to inform you that I was not compensated for this post. However, I did receive a product from the company below and the opinions expressed in this post are 100% my own. I am disclosing this in accordance with the FTC guidelines. All prize fulfillment will be provided by Sponsors.* This post also contain affiliate links*.