2017 Mother's Day Gift Guide Featuring Sweet Charm Elegance! #MothersDayGiftIdeas
For the next few days we will be sharing many wonderful "Mothers Day Gifts", we will also share a link to each brand so you can visit them and purchase your own special gift for Mom!
Wow, can you believe Mother's Day is this coming Sunday? I can't wait to share with you some wonderful gifts that will make any mom smile with joy!
Let's not wait, let's get right to our first gift for Mom from the company Sweet Charm Elegance.
Now Sweet Charm Elegance is a wonderful small jewelry company based out of Boston.  This company create and design all their jewelry by hand, no machinery used at all!
Sweet Charm Elegance started out as a company solely based on clay dessert and foods charms. Fruits, candy, cakes, pies, you name it, they created it!. Soon, their handmade Sweet Charms quickly expanded to fashion, foods and animals ( my tea pots charms are one of their my biggest hits!).
 Let me show you what Sweet Charm Elegance sent to me from their Heartfelt Collection , this "BEAUTIFUL" piece of jewelry is called "I love u to the Moon and back "!
OMGoodness is it gorgeous in person. This piece features an adorable eye catching moon crystal, small heart, and an option birthstone. It's the perfect necklace for your wife, mom, or girlfriend, the moment they wear it everyone will be asking where did you get that beautiful necklace?
The "I love u to the Moon and back "necklace will arrive to you in a beautifully wrapped pink pouch and a white box along with the company signature company card.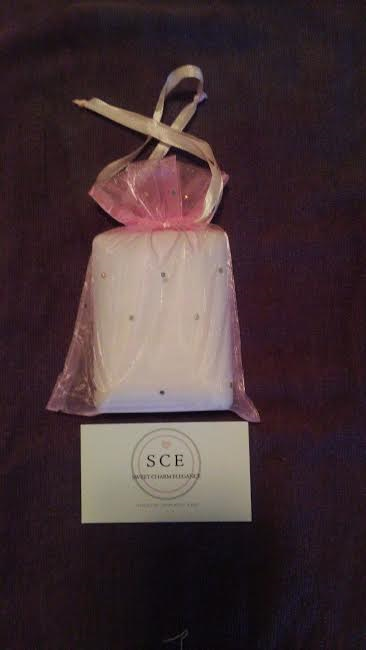 Once you open your box you'll be amazed at the beauty of this awesome necklace. I couldn't believe how beautiful it looked and when I placed it under the light the glare of the crystal moon displayed such a breathtaking luminescence.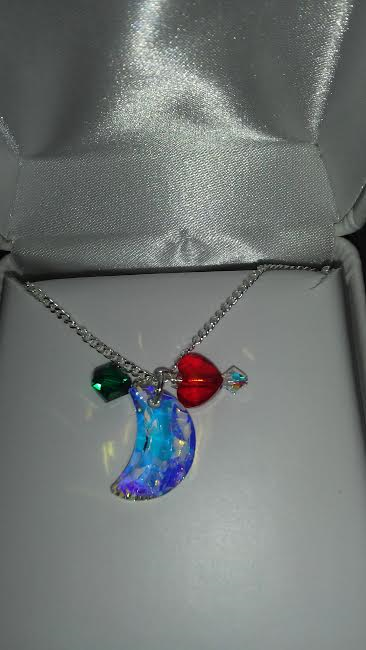 Look how stunning this necklace look and to think it's all handcrafted, wow their crafting skills are awesome! I decided I wanted to add my Mom's birthstone since we both are born in August and since she is no longer with us! I kind of dread Mother's Day coming, but I'm so glad to wear a wonderful piece from the Sweet Charm Elegance collection that will represent my mom!
The "I love u to the Moon and back " necklace has an 16″ sterling silver 1mm chain with 2″ attached extender to adjust to 18″ and retails for $60 dollars which is a great price for such a beautiful necklace!
I'm telling you, if you're seeking to find something unique, well made, and of good quality jewelry pieces for Mother's Day, take a moment to visit the Sweet Charm Elegance website.
 You can check out Sweet Charm Elegance wide selection via  website and connect with them via Facebook | Twitter | Pinterest | ShopSweetCharmElegance
Howdy everyone, I just wanted to inform you that I was not compensated for this post. However, I did receive a product from the company below and the opinions expressed in this post are 100% my own. I am disclosing this in accordance with the FTC guidelines. All prize fulfillment will be provided by Sponsors.