2017 MAZDA MX-5 MIATA RF, Fly Like The Wind! #DriveMazda @MazdaUSA
As you all may know I have shared with you quite a few Mazda automobile reviews and each one has been a wonderful experience. Now, the 2017 Mazda MX-5 MIATA RF  actually took my experience to a whole new level. Just when you think Mazda has done it again, and again, they've upped the game with their new 2017 Mazda MX-5 RF sports car!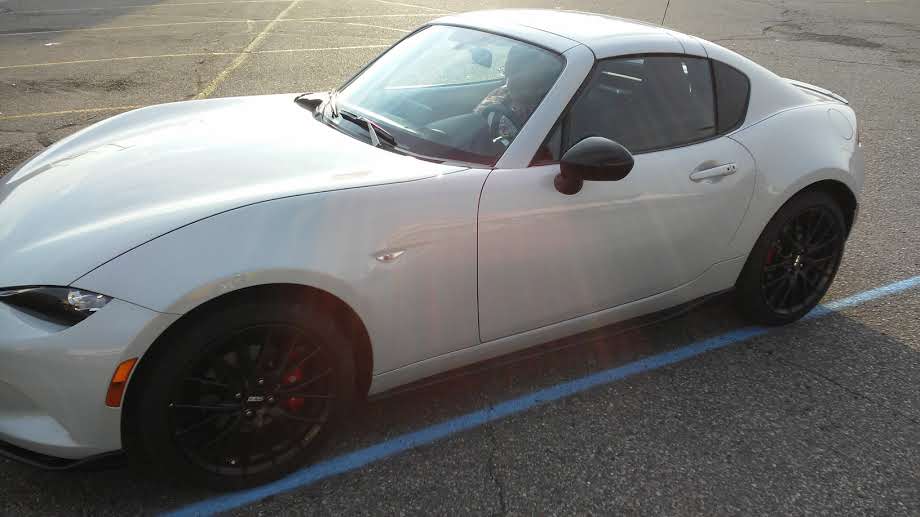 Now the 2017 Mazda MX-5 MIATA RF Ceramic Metallic Black Ceramic color is such a soft tone color with such a remarkable glow in my opinion! From the moment you take a seat in this 2 seated vehicle, you'll automatically get the feel to Zoom, Zoom, Zoom! 
Inside the 2017 Mazda MX-5 MIATA RF you'll find a bold but yet stylish gray and black design accented with red stitching on the seats.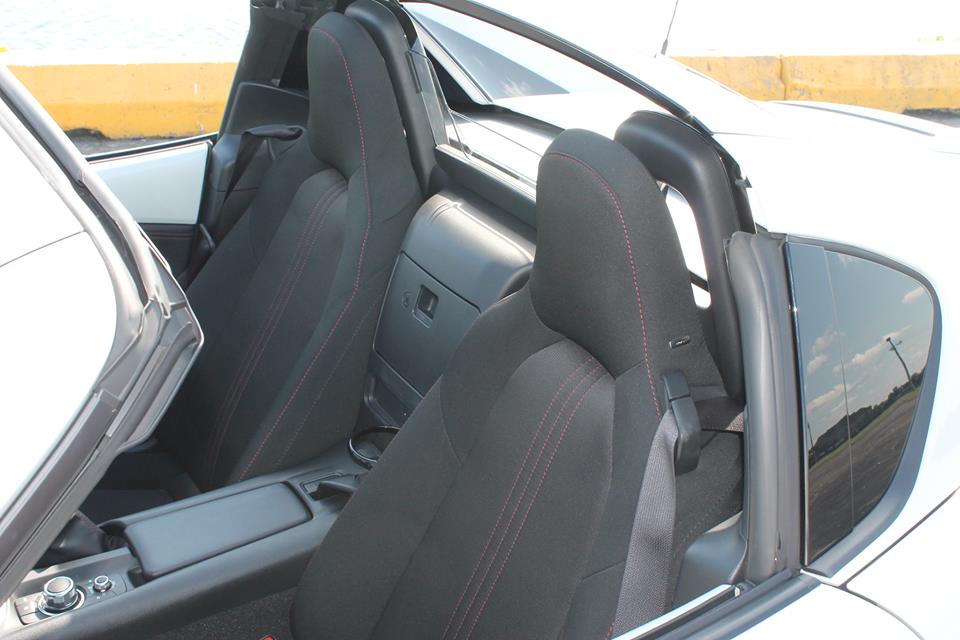 You'll also find so many great features within the exterior and interior . The exterior has a unique look with a beautiful design aero dynamic style! The Mazda MX-5 RF vehicle also features 17″inch wheels with high performance tires.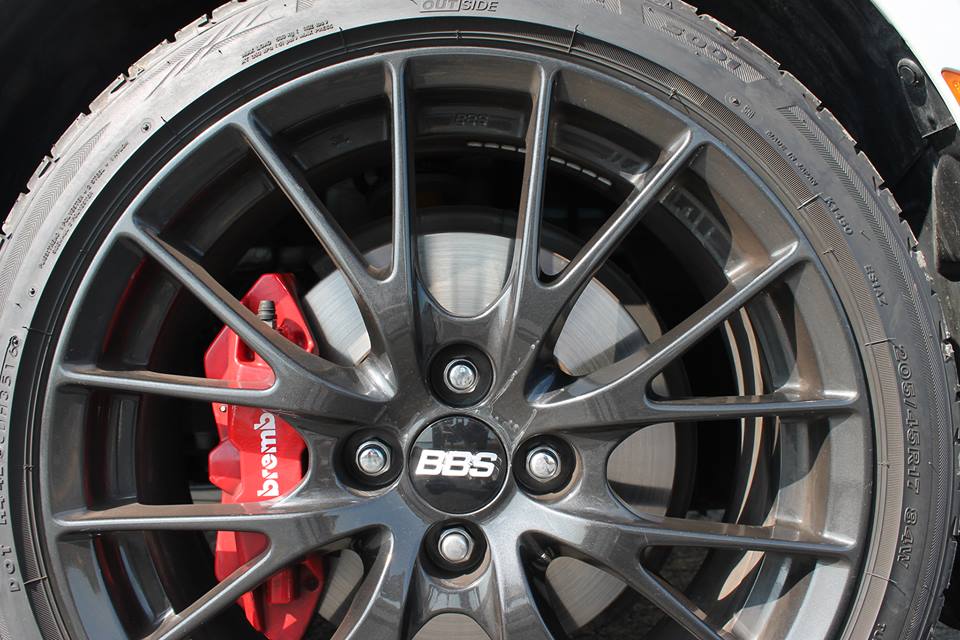 The 2017 Mazda MX-5 MIATA RF comes with LED Headlamps, LED Daytime running light and tail lamps! When I popped the hood to check out the engine I was beyond impressed. I noticed that the engine was the SkyActiv-G2.0L DOHC 4CYL engine with also a SkyActiv manual trans.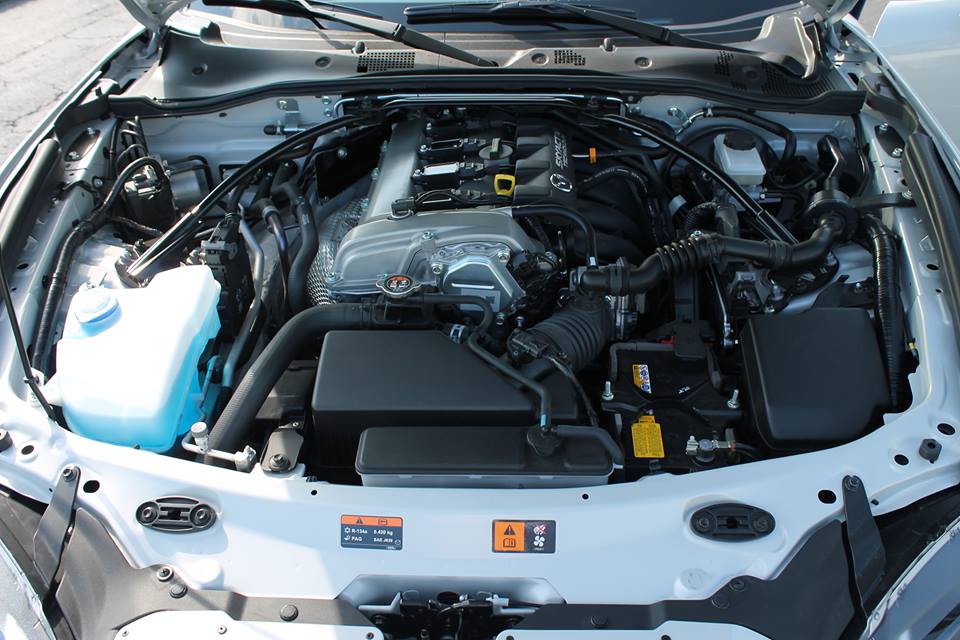 So you know with an engine like the SkyActiv technology you can't help but get the best  performance you've been  looking for in a sporty car like the 2017 Mazda MX-5 MIATA RF ! When I tell you that the 2017 Mazda MX-5 MIATA RF is such an elegant, fun, ride, trust me it's TRUE!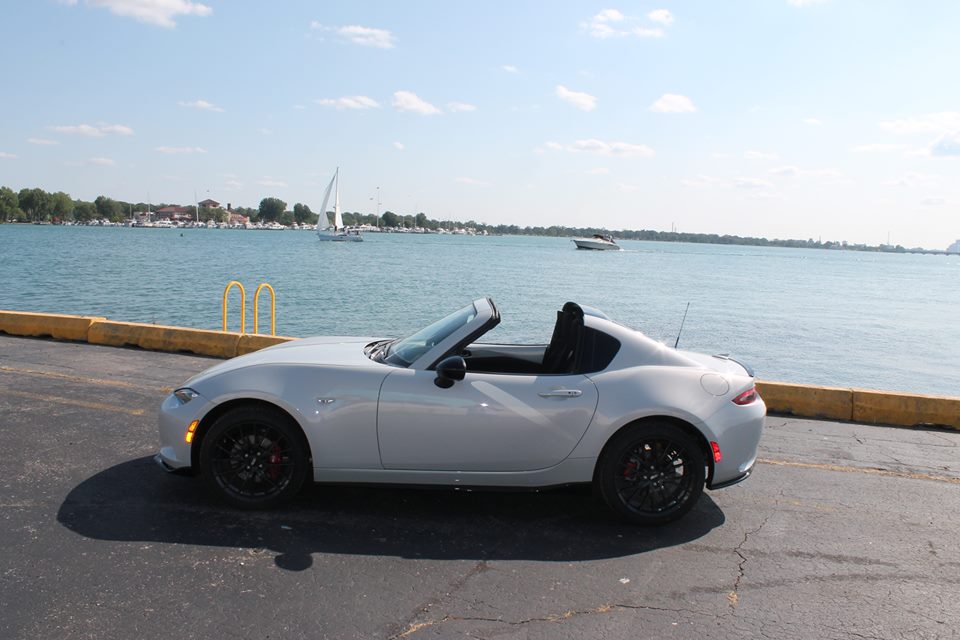 Even though it was only for a little over a week, I had the best time of my life and everywhere my husband and I went people were asking about the Miata MX-5RF! It was the most fun I've had in a long time and this car performance on the highway was even spectacular when we went up north!
Now the 2017 Mazda MX-5 MIATA RF has lots of other cool/ important features like:
Front and rear stabilizer bars
Anti-Theft Engine Immobilizer
Front Side Impact Air Bags
Traction Control System
Front Double Wishbone Suspension
Aluminum Power Plant Frame, Sport Tuned Suspension,
Front and Rear Disc Brakes
24 Hour Road Service
Anti- Lock System
Remote Keyless Entry and so much more!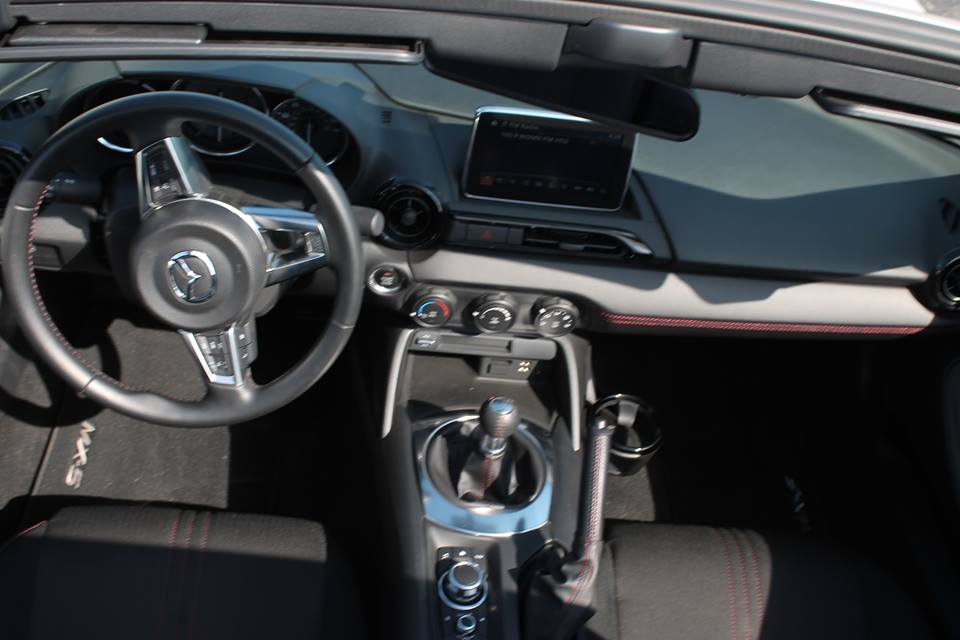 Your interior consists of two cloth trimmed sports seats, carpeted floor mats, leather wrapped steering wheel with audio/cruise/Bluetooth controls. Leather shift knob & handle brake,  power automatic door locks, air conditioning, Bluetooth hands free phone/Audio, Bose Am/FM/CD 9-speakers radio, 7″ touch screen with multi function commander control. There's nothing more I think you could even ask for , this vehicle has it all!
But hold on guys, just when you think you've seen or heard it all, you really haven't. Now the highlight of the 2017 Mazda MX-5 MIATA RF to me was the power retractable roof! OMG, when I saw the roof retract, all I could say was: The Roof, The Roof, The Roof is on Fire! LOL!
The way the 2017 Mazda MX-5 MIATA RF power retractable roof released was OUTSTANDING! I think I was more excited about that featured then anything else. The powered retractable roof hard top is activated with a push of a button and when the cycle is completed, you'll get a noticed on your dash to inform you it has safely retracted and is completed. I was blown away by the powered retractable roof feature so much so I made a video! Check it out:Music Credit: Christopher Cross
See!! Did you see what I mean about how awesome the powered retractable roof  is!! WOW, just WOW  RIGHT! I made sure we traveled everyday in the 2017Mazda MX-5 Miata, I even took it over to my bother in-law home. He is a Mazda employee and has one of the first 2004 Mazda Miata RX8 , I couldn't help but ask him to pull his Mazda out the garage.

Keep in mind that, being that this is a sports vehicle, the trunk space is limited but pretty deep with a tire kit system inside the far back.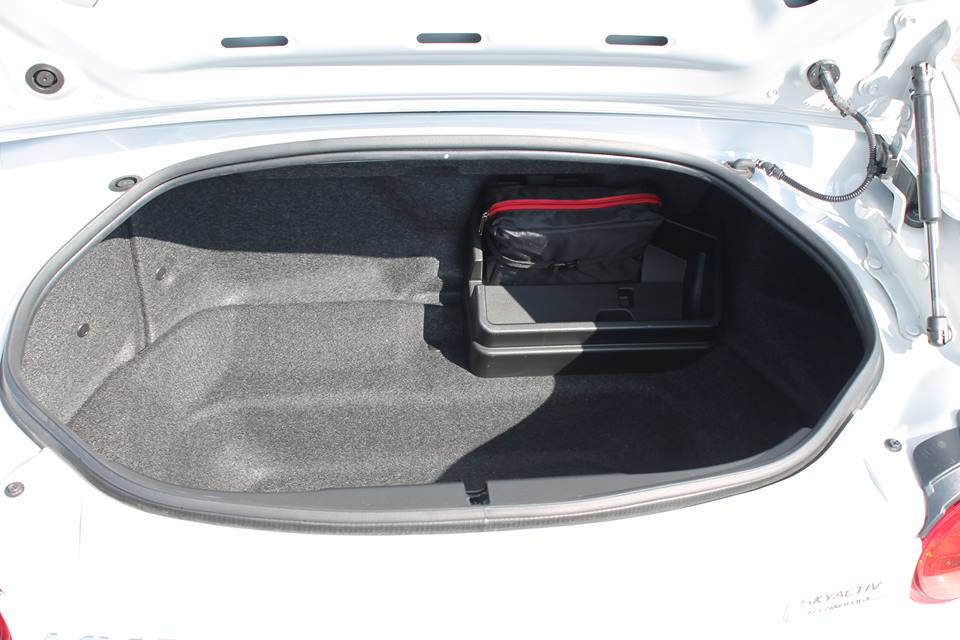 Well, there's so much I can go on and on about the 2017 Mazda MX-5 Miata. At 29MPG and a price tag of $33, 790 I'll definitely invest in the 2017Mazda MX-5 Miata.
Connect with Mazda via Twitter: @MazdaUSA |Facebook: @Madza | Instagram |@MazdaUSA
Thank you so much Mazda for allowing me the opportunity to test out the new 2017 Mazda MX-5 Miata.  To learn more, just visit MazdaUSA.com
Disclosure: Howdy everyone, I wanted to inform you that I was not compensated for this post. However, I did receive the2017 Mazda MX-5 Miata  for review purposes from  Mazda and the opinions expressed in this post are 100% my own. I am disclosing this in accordance with the FTC guidelines.