You may have seen wooden boxes in different designs and storage idea pictures. Wooden boxes are indeed very useful. You can be creative in terms of the number of ways that you can use them in your house or office. What are ways can you use your wood box? Read more to find out how you can be innovative with your boxes through the list given below. 
What are the Uses of Wooden Boxes?
Storage
The first use that probably all of you can think of when it comes to wooden boxes is being utilized as storage. A wood box indeed has space in it. You can stack wooden boxes so that they can save space and, at the same time, organize your things. Wooden boxes can segregate your items so that you can easily get them when you need each of them. You can put jewelry, socks, keychains, and memorabilia in wooden boxes. Large boxes can be used to keep your clothing. You can also use huge boxes for toys and gameboards that your kids may have. Beddings and blankets can also be placed inside huge boxes.
Decoration
Another use for a wood box is as decoration. You can put a wooden box on top of your console table, office table, or even your bookshelf and it will serve as the decoration of that side of the house. You can also purchase wooden boxes that have customized shapes, lengths, and depths. You can even ask the manufacturers to work on the interior of the boxes. They may offer you different designs for your wooden boxes. You can use their suggestion, or you may request a specific wood box that you prefer. 
Cubbies 
You can use wooden boxes as cubbies. Place everything that your kids have on the wooden box. These may be books, school papers, and other stuff that they use in school. Wooden boxes can also give structure to the items that your kids have. You can teach them to be organized with their belongings and place them back in the boxes after use. 
Craft supply area
If you have a small area and you are not able to use big cabinets and drawers for your craft materials, you might as well use wooden boxes them. All your crochet items, knitting tools, glue, yarns, and other crafting materials can now be placed in one single storage. For those who have crafted in their homes, you have always dreamed of a place where they can safely keep your materials and tools. With wooden boxes, you can instantly separate all your craft items. You can also organize them in a way that you use them. You can make sure that your tools and materials will not be lying around somewhere because you already have your craft supply area. 
Centerpiece
You can also use your wooden box as decoration. If you have tables in your home, you can put your vintage wooden box right in the middle of them. Because they have rustic designs, you can have a nice, elegant centerpiece on your tables as you eat. Wooden boxes are truly decorative in nature. The color and wooden feel of these boxes make for a great centerpiece in your home.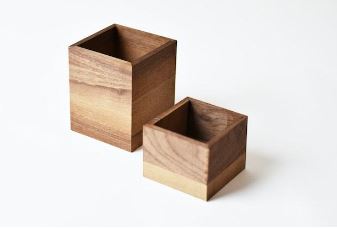 Conclusion
A wood box is a simple device but for someone with a creative mind, it can be used in several ways. As you become innovative with your boxes, you can make sure that you maximize the space that the boxes take. With the number of things that you can use the boxes for, you will find yourself looking for more boxes to use. If you are looking for a wooden box, you can purchase products like these at retail or even lower prices online.