The Day I Toured Downtown Detroit #visitdetroit #sponsored
You know I have lived in Detroit for many years until about 13 years ago I moved away. Back in the day we use to always visit downtown especially during the Christmas Hudson parade. But after moving away I must admit,  I haven't been back downtown until this pass Wednesday when I had the opportunity to tour Downtown Detroit!
Me and a few bloggers were selected to spend a "Day in The D" with one of the Detroit Metro Convention & Visitors Bureau representatives. When I tell you, I haven't had that much fun in years in the "Big D"(Detroit), trust me it's true!
The moment we arrived we were treated like royalty; the Detroit Bureau Representative Deanna had our itineraries ready and we had two of their company companions with us that made sure our travel experience was met! Both Stan and Kayla who were our tour guide drivers were beyond fun, they had us laughing and they also took great care of us and for that, I'd like to say THANKS GUYS!!
Our morning started off with a visit to Detroit's New Order Coffee Shop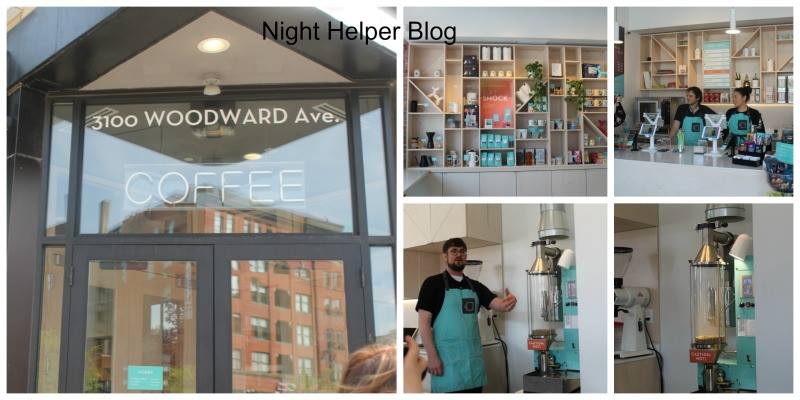 Our visit consist of us learning about coffee and how there are three levels of  roasting, light, dark and medium. We also learned how important the processing method of brewing plays a major factor in making coffee.
Did you know it only takes minutes to roast 4lbs of coffee at a time? Did you also know that New Order Coffee shop receive coffee from Centre America, Africa, and Indonesia? They also have a wide selection of flavors like toffee, almond, spicy, molasses, vanilla, hazel nut and more.
Founded with a gleeful defiance to the status quo, New Order has a singular, dogmatic aim: to delight and energize your everyday life. One things for sure, we had a chance to try out a few different brewed flavors by Patrick and each one had its own distinguished taste.
Now the New Order Coffee shop also offer free monthly classes instructed by Patrick who was phenomenal in teaching us about custom roasting and the history of the company, sourcing, and coffee plus we enjoyed some great tasting pastry samples.
The New Order Coffee shop is located at 3100 Woodward Ave.Detroit, MI 48201. So, the next time you're searching around for a coffee shop, stop at the New Order Coffee location so they can brew you up a fresh cup of tasty coffee!
Next, our tour took us to the  Little Caesar Area which is a multi-purpose arena in Midtown Detroit. This arena not only host our Detroit games, but also many entertainment events with stars like Kid Rock, Bruno Mars, Drake, Disney On Ice, Elton John and many more events.
You know how you see these arenas on TV and you wonder if that place is really like what you are seeing on TV. Well, the Little Caesar was that and much more! I have watched that area from a far many times but honey, I tell you I was blown away at the area and all the awesome structure design work within the Little Caesars Arena. It actually left me speechless!!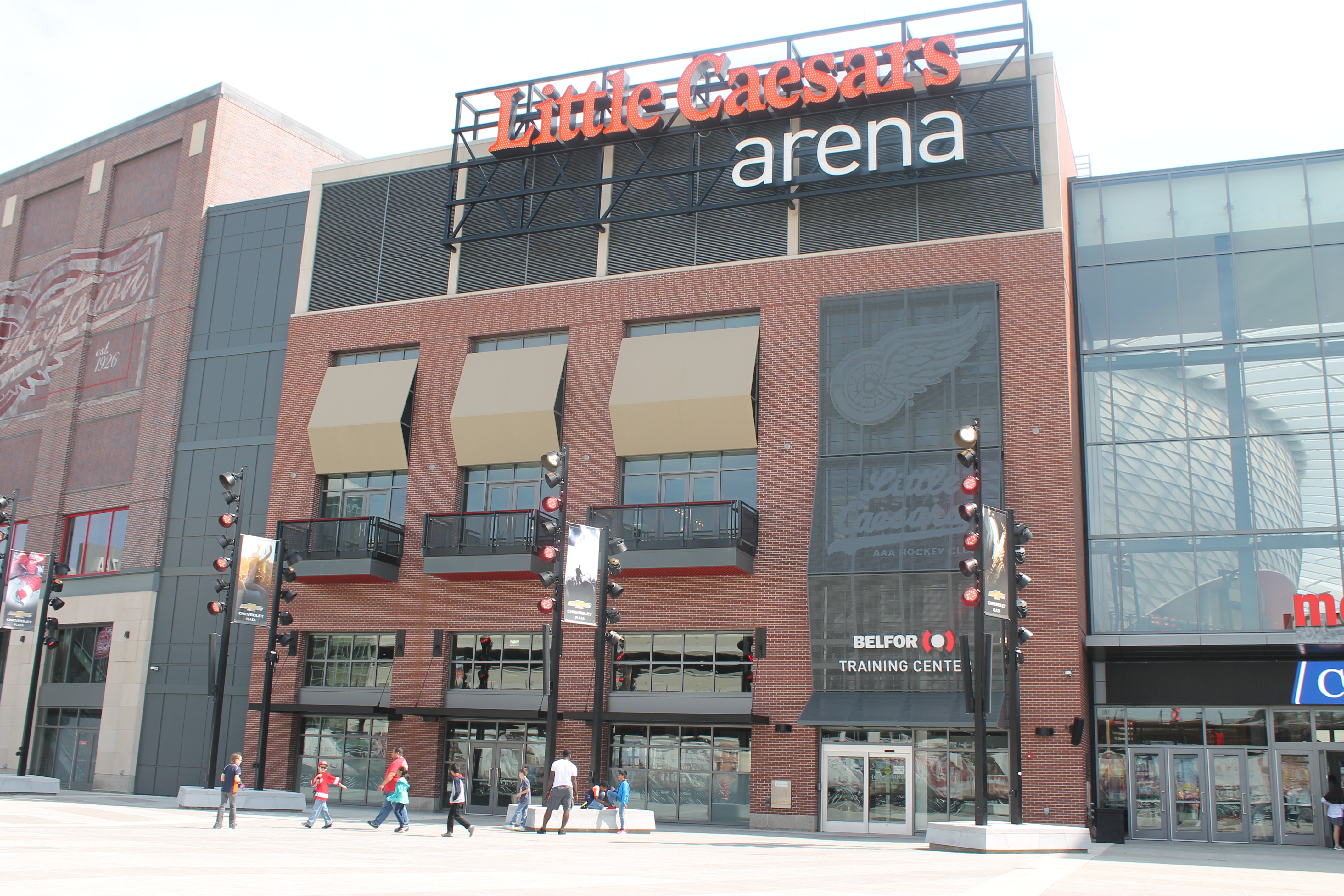 As we began our walk into the area we were greeted by a wonderful gentlemen who was our tour guide for the day.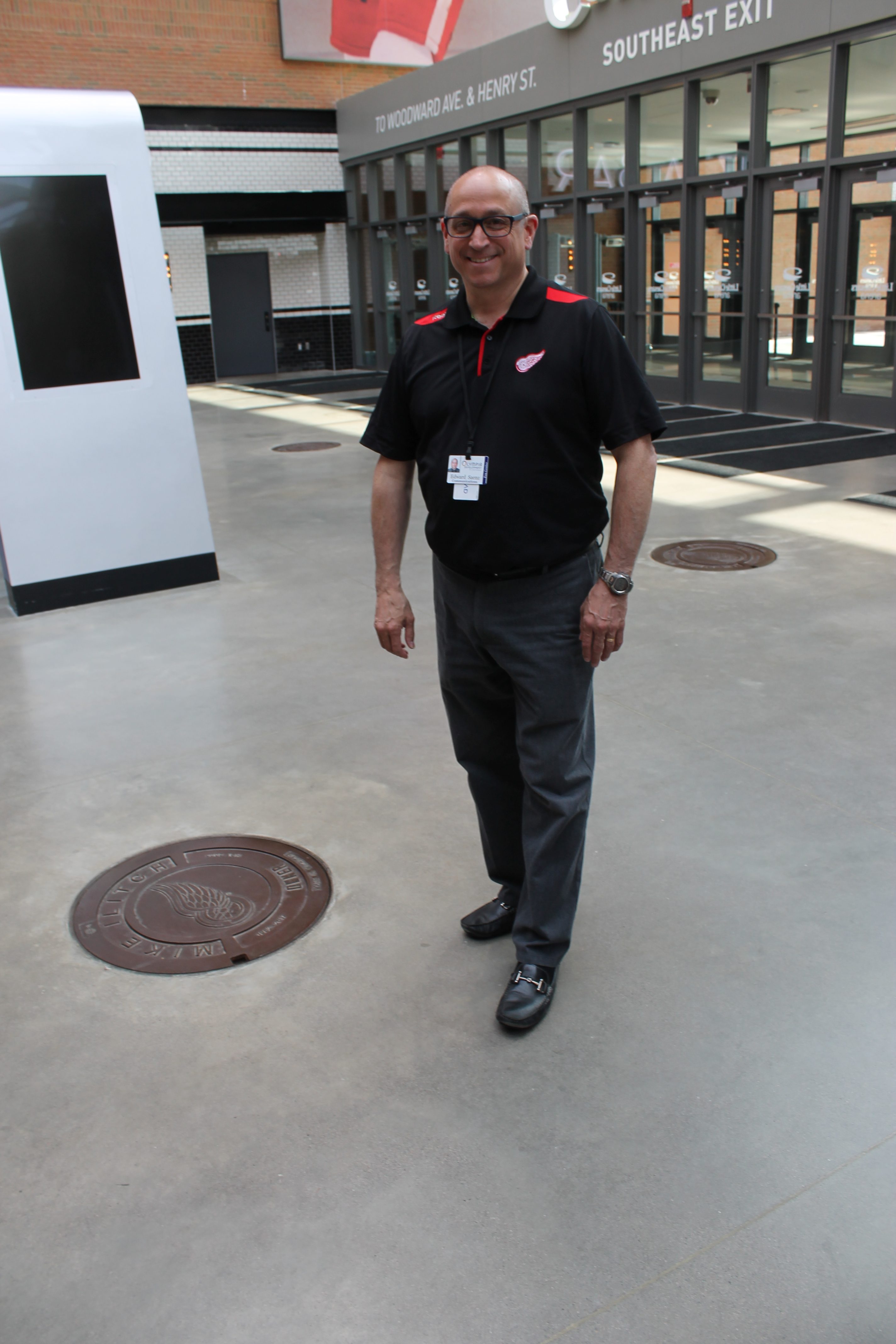 When I say he knew the history and every aspect of this arena, believe me he did! From the moment we walked in until our last view of the arena we learned so much. He shared the history of the arena, we learned about the history about many sport leagues, he spoke about the owner Mike Itlitch, the Red Wings, Pistons, Kid Rock Bar, Blue Cross Blue Shield Lounge Area, the Team Store , News Broadcasting Area for the players , the Food Courts, other Apparel Stores, the Arena Sport Statues, the Seating, Truck Docking area, and so much more.

We even had a chance to see where the players' wives lounge during the game! I had a chance to go all the way to the top of the arena to see another view of the arena from above and wow that was remarkable, unfortunately I was so scared I had to back away and let Kayla take my shots. That's just how high up we were, so high up that we even had a chance to view the arena's organ that is played during the games. You can visit the Little Cesar Arena here Little Cesar Arena here: 2645 Woodward Ave, Detroit, MI 48201
Next we stop to enjoy lunch at Mike's Pizza Bar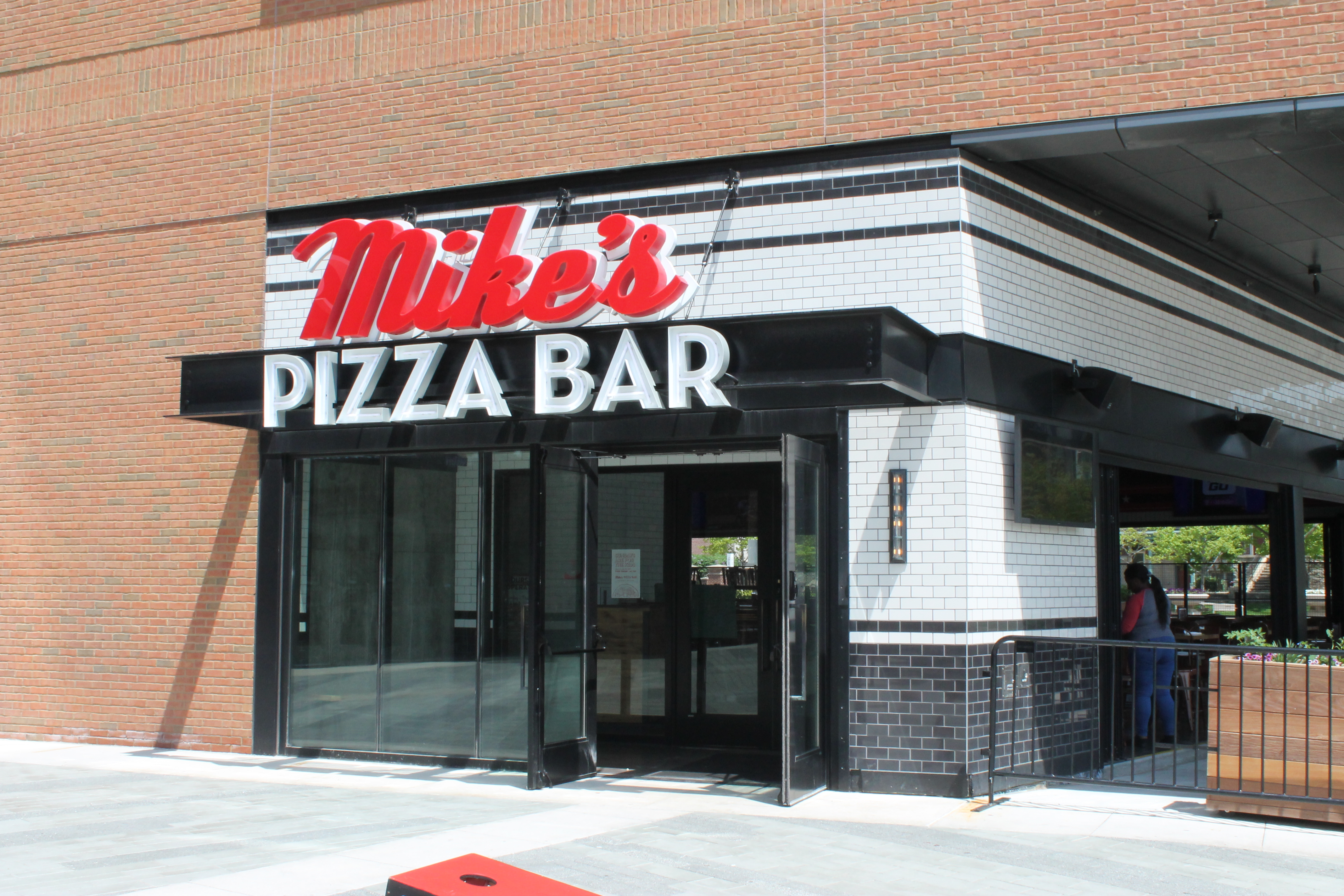 We had a chance to sit outdoors during our visit and man was it a beautiful day to do so. Mike's Pizza Bar is one of DETROIT'S AUTHENTIC PIZZA BAR. With heavy influence of Mike Ilitch's deep roots for Detroit sports, this one-of-a-kind pizza bar is the perfect place to eat, drink, laugh, and love sports. Combining simplicity and ionic quality, Mike's Pizza Bar serves the region's best craft beers, a diverse wine selection and hand-crafted pizzas for all to enjoy.
I would have to agree with their company's statement above, it is a one-of- a-kind place of fun, sports, good pizza and lots of laughter. At least that's what each one of us experienced during our visit. We had at least two tables with nothing but great food. We enjoyed appetizers, tower of meatballs, bruschetta tomatoes, a variety of different custom made fresh pizzas, salads, and soft drinks. You can visit Mike's Pizza Bar at 2515 Woodward Ave, Detroit, MI 48201
The time we spent at the Detroit's New Order Coffee Shop,  Little Caesar Area, and Mike's Pizza Bar was not only fun but quite interesting. We learned so much and you'll be so surprised by all the history behind each place above!
You can view each company link below to learn more about their company and how you too can visit!
Remember you can also follow all their social media networks to keep up with the latest.
New Order Coffee Shop social media: Facebook & Twitter
Little Caesar Area social media Facebook  & Twitter, Instagram
 Mike's Pizza Bar social media Facebook &  Instagram 
Disclosure: Howdy everyone, I just wanted to inform you that I was not compensated for this post. However, all  the opinions expressed in this post are 100% my own. I am disclosing this in accordance with the FTC guidelines.