Simmons Nursing Positioner Pillow, made just right for your little one!
My daughter in-law is expecting their third child and we can't be more excited! Even thought she has some time before the baby is born we've been searching out baby products for the little one. We both wanted to make sure when Jada is born she has everything she needs to making baby and moms life easier.
One item I know my daughter in-law needed was a good supportive nursing pillow since she plans on breastfeeding. So when I received the BeautySleep Nursing Positioner with the Soft Knit Cover from Simmons, I was delighted to pass it on to her.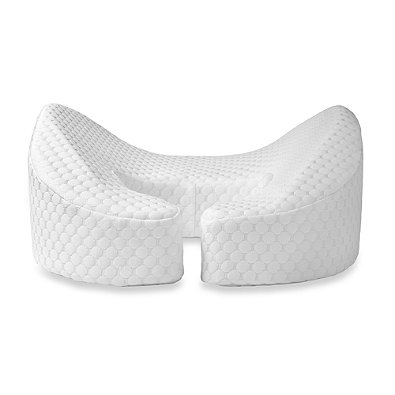 This nursing pillow is shaped like a U and sits directly on mom's  lap and it wraps around her sides for support. It's soft and will allow your baby to rest comfortably on top of the pillow for breastfeeding. You can tell that it's a quality memory foam nursing pillow as soon as you touch it.
One thing I love about it is, it's unique shape and softness and how it contours right back into shape. Mom can sit comfortably in a chair and hold baby with ease. She will be able to transfer baby from side to side which will make baby feel relaxed and comfortable during feedings. It's not a heavy or bulky pillow either plus it comes with a removable quilted cover that has an easy on/off zipper closure. You can toss that cover into your washing machine to keep it clean and fresh when needed.
I can't wait for my daughter in-law to get great use of this pillow with baby Jada, its so important to make sure you have a god support breastfeeding pillow for baby. After all you want to make sure baby is properly digesting their milk.
So if you're looking for a great Nursing Positioner Pillow for you or that new Mom friend, take a moment to visit Simmons Kids so you can find the right pillow for you and your baby!
It is the perfect gift for any new expectant mother I highly recommend it!!
Howdy everyone, I just wanted to inform you that I was not compensated for this post. However, I did receive a product from the company below and the opinions expressed in this post are 100% my own. I am disclosing this in accordance with the FTC guidelines. All prize fulfillment will be provided by Sponsors.