Packing for a Move: What You Need to Know
It's estimated that 35.5 million people in the U.S. move each year. If you have never moved, then there is a good chance you will in the near future.
However, if you have moved before, then you know what one of the most stressful and tedious parts of the entire process is – packing. While you can hire professional moving services to handle the actual "move," it's up to you to ensure everything is packed safely and securely in boxes and crates.
If you want to ensure that your move is successful, regardless of how far you have to go, then use the seven packing tips found here.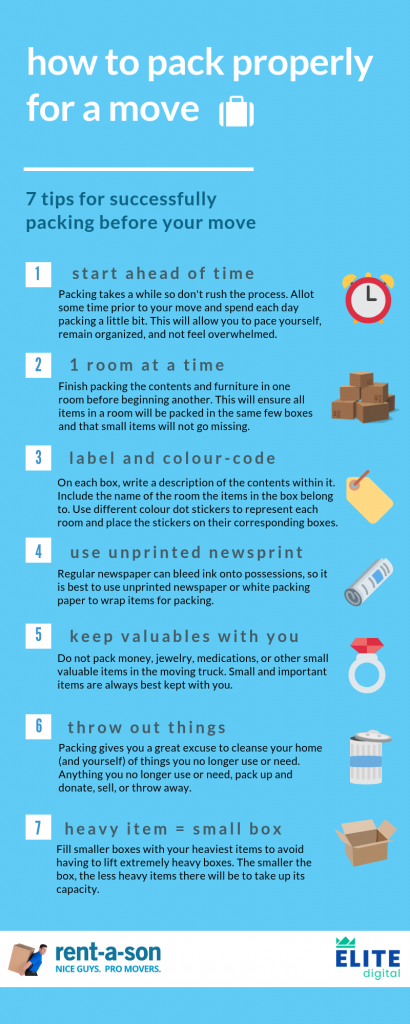 1. Start Ahead of Time
The last thing you want to do is to wait until just a few days before your move to start packing. It's a good idea to give yourself a full six weeks to pack up everything in your home.
As you begin packing, start with the non-essential items. This includes records and books, pictures and décor, and other items that you don't absolutely have to have on a day to day basis. The earlier you get started, the less stressful the move is going to be.
2. Pack a Room at a Time
It may be tempting to float from one room to another packing odds and ends; however, this isn't a very efficient packing method. Instead, pack everything in one room before moving to the next. This will also help you keep boxes together for when you arrive at your new house.
3. Label and Color-Code Everything
Don't assume you are going to remember what is in every box once you arrive at your new home. There's no reason to take this kind of chance.
Instead make sure to label each box with what is inside and, if necessary, color-code items as you go. This will make organization at your new place easy.
4. Use Unprinted Newsprint for Packing
When it comes to fragile items, there is no question you want to protect them for their journey. However, don't reach for the morning newspaper. The fact is, the ink on these papers can actually transfer to your possessions.
It's best to use white packing paper or unprinted newspaper. It is going to eliminate this issue completely.
5. Keep Your Valuable Items with You at All Times
Don't pack items like medication, jewelry, money, or anything else that has significant value in the moving truck. It's always best to have a box you keep with you at all times. This will ensure these items aren't accidentally misplaced or lost.
6. Throw Away Unneeded Items
As you are packing up your home, you have the perfect opportunity to get rid of items you don't want or need. Don't take everything along with you – take this opportunity to cleanse your home and your life. You will feel better and have less to move.
7. Put Heavier Items in Smaller Boxes
Find smaller boxes for the heaviest items you have to move. This will help prevent you from having to lift extremely heavy and large boxes. Your back is going to thank you for this little packing hack.
Packing Pointers: Now You Know
If you are planning a move, then the pointers here can help you make short work of the packing and ensure everything remains safe and organized. While hiring the professionals to actually move your belongings from one location to another is best, you should handle packing. After all, no one knows how to safeguard your items better than you.