METRICS TO INCLUDE IN AN SEO REPORT
An SEO report is vital for keeping track of your SEO efforts and evaluating how your website is performing on various search engines. Ideally, an SEO report should give you an in-depth insight into your ranking through metrics such as the volume of your organic traffic. Search engine metrics refer to measurable aspects that determine your website's performance. 
An SEO report helps you determine whether you should continue your search engine optimization efforts, what you need to improve on, and so forth to achieve your desired goals. Therefore, a good SEO report should contain the website's progress since the last report, a quantitative representation of the domain metrics, and a plan for the subsequent implementation.
Let's discuss the key metrics to include in an SEO report.
Organic traffic
A goal of search engine optimization is to boost the organic traffic a website attracts. Therefore organic traffic must appear on an SEO report. This indicator helps you know how many people visited your website based on organic search results or unpaid sources such as organic results and back links. It can be in the form of a visualization showing the traffic volume for a domain over a specific period—for instance, the organic traffic triggered by SEO on a news website.
Conversion rate
The conversion rate is the volume of visitors who completed a call to action, whether buying a product or service or signing up for email updates. One of the goals of SEO is to convert leads into sales which is why this metric matters in an SEO report. Remember that attracting more traffic is no use if there are no conversions. 
Visitors become leads and prospective customers if they initiate a conversation with your business, for instance, by signing up for service updates. Eventually, they become customers who generate revenue for your business. Knowing your conversion rate lets you structure your SEO efforts to boost conversions.
Keyword rankings
One of the SEO objectives is ranking for the relevant keyword in your business and industry. This metric helps you know which keywords your website ranks for to inform your next SEO strategy regarding keyword optimization. For example, if your page is not ranking for a keyword with high search volume, that means the organic traffic to your website is low. 
In that case, you should focus on creating or modifying the content on your website to include keywords with high search volume. This metric may be presented with the relevant keywords your website ranks for alongside the search volume and how it has progressed over time.
Source of traffic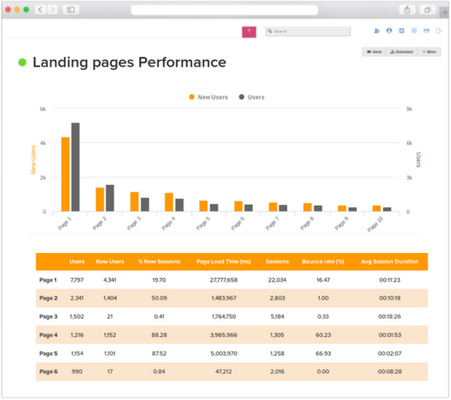 The traffic source is another valuable metric in your SEO report. Knowing your website's traffic volume is helpful. But it is more beneficial to where that traffic comes from and evaluate which strategies are performing well and which are not. This metric helps you plan your future SEO strategies to improve the performance of the channels that are not doing well and ensure the effective ones continue to grow.
Page speed
Page speed is the time it takes for your web page to load fully. Today, internet users have very short attention spans, so a user is likely to click the back button if your web page takes more than a few seconds to load. A fast page speed is critical to a good user experience, one of the factors search engines utilize to rank websites. If your web page is slow, it will not provide more user engagement, thus lower page ranking. 
Organic click-through rate (CTR)
The organic CTR refers to the total number of people who clicked on your website out of the total number of viewers who viewed your website on the search engine results page. If you have a low CTR rate, your content doesn't match most users' search intent, which is why they don't click on your website. Consequently, you may need to improve your title tags and meta descriptions since it is what the user sees when your page appears on the search engine results page.
Bounce rate
The bounce rate is a critical metric on search engine ranking reports. It refers to the percentage of visitors that click the back button without taking action on your website. What does this mean? A higher bounce rate means that what users find on your website doesn't meet their expectations. For instance, low-quality site content and misleading meta descriptions are some of the practices that contribute to a higher bounce rate. The goal of your business is to have a lower bounce rate as possible.
conclusion
These are some of the key metrics to include in an SEO report. Others include back links, domain authority, crawl errors, and monthly/yearly comparisons. Generating SEO reports regularly is essential to understanding how your website is performing.