How to Keep Your Home Safe While You're Traveling
Even though you might not be home when it happens, a home break-in can make you feel violated and shatter your sense of security. Most home burglaries happen while you're not at home, because burglars don't want to cross paths with an irate, and possibly armed, homeowner. But that means thieves pay attention to which homeowners have left town for vacation, business trips, and other excursions.
Of course, thieves aren't the only danger your home faces while you're away. Pipes can burst, power can go out, and mother nature can wreak havoc in the form of flooding and storms. Squatters can even move into your property if you're gone long enough, and you might even end up having to formally evict them.
Whether you're going out of town for a week, a weekend, or a year-long sailing trip around the world, you need to keep your home safe and secure while you're away. The trick is to make it look like you're still at home, living your normal life – and to make sure that others are keeping an eye on your property and can reach you in case of an emergency.
Put Your Lamps on Timers
Burglars know very well how to spot the signs that a homeowner is out of town: packages and letters piling up on the front porch, lights that stay off at night, and overgrown grass or un-shoveled snow. Don't just leave all the lights on before you leave – that will drive up your power bill and won't do much to deter thieves, who will notice that you aren't there to turn said lights on and off as you move from room to room in the house. Use timers to turn lights on and off at pre-set times of the day. You can use them to turn TVs, radios, or other electronics on and off, too, to give your home an even more lived-in appearance.
Arrange for Outdoor Maintenance in Your Absence
As mentioned above, an overgrown lawn lets everyone who passes your home know you're not there. If you have a lawn, get a neighbor, friend, relative, or lawn care company to take care of it for you in your absence. Ditto for snow removal in the winter.
Get Someone to Keep an Eye on Your Property
One great reason to get friendly with your neighbors is that they can help keep an eye on your place when you're not home. They're right there, and they'll notice if something is amiss, whether that's a stranger peering in your windows and looking under the flowerpots on your porch, or a tree that's fallen on your roof, or a steady stream of water that has begun to flow out from under your kitchen door. Because they're right there, it's usually not too much trouble to ask your neighbors to do small chores while you're away, either – they can feed the cat, water the plants, and take your trash out for you if necessary.
Ideally, you'll want someone you can trust to actually go into the house and make sure everything is okay. If it's winter, ask them to turn on the taps to make sure your pipes haven't frozen. For extra protection, call your local police department and ask about having an officer patrol your neighborhood while you're away, to establish more of a police presence in the neighborhood.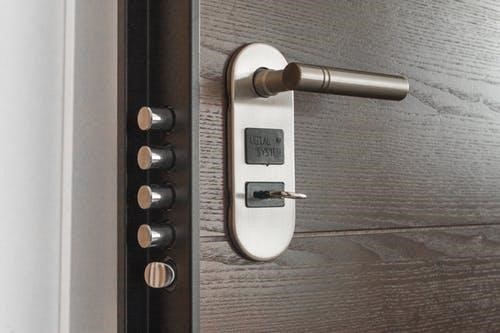 Lock the Place Down
If you can afford it, alarm systems and security cameras are great for keeping your place safe while you're away. Even if you can't afford it, you can secure your home before you leave by locking every window and door, even – especially – those you don't normally lock during your day-to-day life. Make sure to lock your deadbolts, too. Add extra security to sliding doors and windows with a metal or wooden bar inserted into the track or otherwise wedged into the frame to keep the window or door from sliding open completely. Install a deadbolt-style garage door slide lock on each of your garage doors.
While you're at it, before you leave, collect any spare keys you might have hidden outside. Burglars know all the most common hiding places homeowners use for their spare keys, and you aren't likely to outsmart them with a hiding place no one has ever found before. Plus, they know they have plenty of time to find your spare key if you're not coming home any time soon.
The thought of having your house burglarized while you're away can be anxiety-inducing, but you shouldn't let it keep you from traveling. Just follow these tips to keep your home safe and secure, so you can come back and find everything just the way you left it.