Its all about the Cats & Dogs……review!
This past Holiday Season it was not all about the kids, It was all about the Cats and Dogs!
Last month we received some great products for our little fellows. Both for the cat and dog. Let's say it was a late Christmas present for them but one they both really enjoyed.
First we received the Espresso Bella Bowl from Loving Pets!
Loving Pets is a wonderful pet site that has it all for your special animal. Dog Bowls, Special treats, Pet Accessories and more. This cute bowl is made of stainless steel and comes in a variety of sizes. The cute little customized paw print and bone design is so cute. It has a removable rubber base that helps to prevent spills and eliminates  noise and its dishwasher safe.
Next we received the Hear Doggy Flat,
This is just to adorable, I have purchased many dog toys for my daughters little doggie and many are very loud but this one is just right. Its the Hear Doggy Flats toy that is made just for the ears of your doggie. Hear Doggy! toys gives your pet the same sensation and enjoyment of traditional squeaky toys without the irritating noise!
The science behind Hear Doggy!: Dogs can hear sounds at a higher frequency (0 to 45KHz) than humans (0 to 20 KHz). Tuned to an ultrasonic range in the 24-28 KHz frequency, each Hear Doggy! squeaker is out of human hearing range, but still fun for your four-legged friend.
But wait there's more, it was Christmas in January for our little fellows. We also received the Sunbeam Heated Pet Mat.
This Mat is just what the veterinarian ordered, it provides comfort all year long to your pet and can travel anywhere your pet goes.
My daughters dog Royal  really loves this Sunbeam Heated Mat, he would run around and play then the next thing you know he was resting on his heated mat. He sat a long time too…lol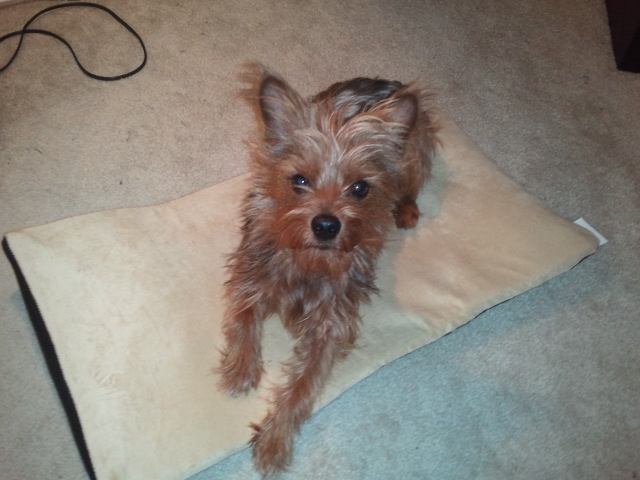 Its the right type of heating pad for any dog.
Soft durable fleece cover is zippered and machine washable
Internal thermostats regulate the heating system to the veterinarian recommended level of 102.5F degrees.
Anti-skid grips on bottom of cover are great for any floor
Great for providing targeted therapeutic heat where your pet needs it most.
Our dual zone heating system is designed to use power only when your pet needs the warmth and many other great features!
Last is the Sunny Seat
This product is sooooo cool. Our cat really loved it, its a seat that attaches to the window to allow your cat to seat comfortably while looking outside. Your cat can now have the option to lay down or just sit right in the window. Watching everything and everyone going by. It held our little cat pretty well, she is around 20lbs. It was sturdy and she didn't move for hours. I know where she will be for the summer…getting her tan on in the window this summer…..LOL!.
Its easy to assemble, just put the PVC pipes together with the material included and thread the wire through the suction cups and Walla you have your seat.
So that's it! It really was Christmas in January for our little fury friends. They received some pretty awesome items from Sunbeam, Quaker Pet Group, Sunnyseat and Loving Pets….wouldn't you agree?
Disclaimer Statement
I was not compensated for this post, however I did receive a product sample from all the companies listed above for the review and the opinions expressed in this post are 100% of my own and any product claim, statistic, quote or other representation about a product or service should be verified by the above mentioned store, PR,or product designer.