Italian summer destinations you must add to your itinerary this holiday season
Traveling during the summer months is ideal, as the weather is ideal and there's an endless amount of opportunities for fun and entertainment. Before you leave, you must make sure to pack everything you need for your trip, including an esim, so that you can enjoy seamless connectivity regardless of where you are.
One of the best places for traveling is Italy. Since it's such a popular tourist destination, you must be prepared to face some large crowds, but if you enjoy the hustle and bustle of busy streets, you'll absolutely adore Italy. Here are a few of the landmark destinations you'll want to visit during your trip.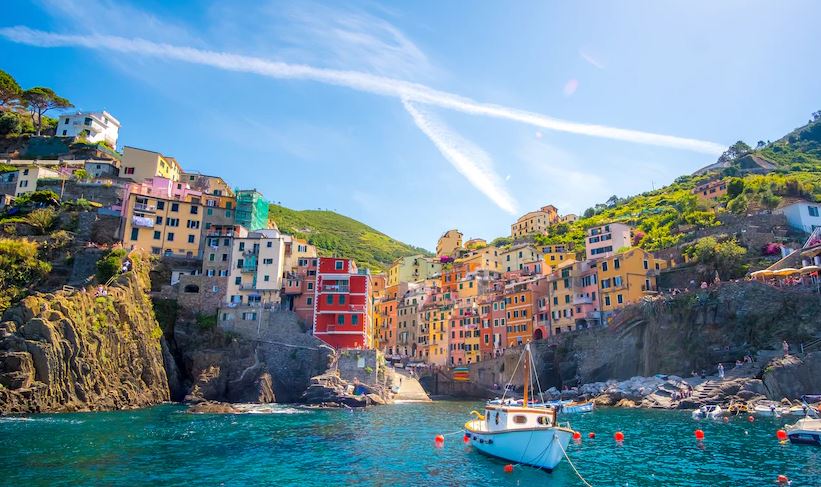 Cinque Terre 
The "Five Lands" refers to a coastal area comprising five small towns: Manarola, Riomaggiore, Vernazza, Corniglia and Monterosso al Mare. Together with the surrounding hills, they make up the UNESCO World Heritage site of Cinque Terre National Park. Overlooking the Ligurian Sea, these towns started as fortified settlements during the Middle Ages. Back then, their spectacular positioning wasn't just to admire the beautiful views but also as a way to guard land against Saracen raiders. Since then, they have become popular tourist destinations.
The unique architecture, featuring colorful houses and streets, vineyards, hiking hills and harbors, will take you straight into an atmosphere perfect for holiday relaxation. There are also many beaches where you can lounge in the sun or try swimming and other water sports. Each town has several beautiful churches and chapels that visitors can have a look at, while in Corniglia, you can see the ruins of a Genoese stronghold dating back to around 1556.
If you're traveling with kids, they'll be happy with the location and might even recognize it as the setting of the 2021 animated Pixar film "Luca." Make sure to activate a google fi esim on your phone before you leave so that you can use different networks interchangeably.
Puglia 
Located in Italy's southern peninsular section, Puglia is a popular destination among tourists. It has the longest coastline compared to all other Italian regions. Surrounded by the Adriatic and Ionian seas, you can be sure you'll get a lot of seaside time here. 
The medieval city of Ostuni is a must-see. The region has been inhabited since the Stone Age and was already a city by the time Hannibal destroyed it during the Punic Wars. The Ostuni Cathedral is one of the city's most noteworthy landmarks, featuring a blend of Gothic, Romanesque and Byzantine styles. The architecture is stratified, exhibiting different layers added following each civilization that left its mark on Ostuni.
Puglia is one of the best places to experience traditional Italian cuisine. Most restaurants cook with fresh, regional ingredients, so the food is tasty and healthy. Taranto, Gallipoli, Mola di Bari, Molfetta, Manfredonia and Castro are some of the most important fishing ports, hosting numerous boats. Taranto is also the largest producer of farmed mussels in the whole world. There's also a wide variety of fish and shrimp you can try. Tomatoes, grapes, olive oil, almonds, sweet potatoes, capers. Oranges, peaches, lemons, artichokes, lettuce, borage and brassieres make up the local produce.
Sicily 
With charming towns and villages, ancient ruins, as well as wide beaches and plenty of entertainment opportunities, Sicily is one of the world's most vibrant spots. When you visit Sicily, you might feel like you won't have enough time to visit all the places you want to see, as there are so many interesting things you can explore.
There are several World Heritage Sites in Sicily for history lovers. The Valle dei Templi is one of the most outstanding examples of Greek art and architecture. It is one of Sicily's main attractions and a national monument in Italy. The Villa Romana del Casale, built in the early 4th century, contains the most elaborate mosaics of the Roman Era found anywhere in the world.
The Val di Noto, with buildings built in the Sicilian Baroque and Renaissance styles, is one of the most famous spots in the region for sightseers. There are several municipalities here, including Catania, Modica, Noto, Scicli, Caltagirone and Militello in Val di Catania. And if you love castles, there are several in each province. The Castello Ursino, Castello di Lombardia, Schisò Castle, Zisa and the Castle of Calatubo are among the most popular. Built as fortresses, these imposing buildings are still standing today, several centuries after they were born. And while a few of them are not open to the public, you can still enjoy the views regardless.
Amalfi 
The Amalfi comune, situated in the Salerno province, is surrounded by cliffs and sprawling coastal landscapes. Since the 1920s, it has been one of the most popular tourist destinations for the British aristocracy. The area is well-known for its Limoncello production. A special type of lemons in Amalfi known as "sfusato amalfitano" is the main ingredient. They're significantly larger and sweeter than the usual lemons and have a thicker, wrinkled rind. If you travel to the area, you can see them growing in terraced gardens.
Amalfi is the ideal holiday destination if you want to spend your days wandering around and taking in picturesque views. There aren't a lot of must-see attractions here, so if you don't want to feel like you're in a rush to see as many things as possible, visit Amalfi. Taking in the natural beauty of your surroundings will keep your heart full and make for an unforgettable experience.
Italy is one of the most popular destinations in the world, and many tourists choose to spend their summer holidays here. Some start enjoying the Italian atmosphere so much that they become regular visitors. Some tourists begin planning to move to Italy after retirement or consider purchasing a holiday property in the region.
The country's appeal is unlike anything else, but you'll have to see it to believe it. So, if you haven't been to Italy before, consider it for your next holiday destination. You won't regret it.