How to upgrade your home sound system if you have only $200
Upgrading your home sound system when you are limited in a budget may seem like an impossible task. Of course, the top-quality audio equipment is quite expensive and may cost you thousands of dollars. However, what if you have only 200 bucks, but still want to upgrade your sound system? Fortunately, there are some ways on how you can do that without breaking the bank. Read the next paragraphs, and determine which one of the next methods is the most suitable for you.
Get a turntable
If you have always been using digital sources, a turntable may literally open a new world for you. The turntables are known for providing an exceptionally natural sound, giving you the feeling that the music is not coming from the speakers, but performed live right in your room. The prices for turntables start at about $40, so the best turntables under 200 dollars are able to offer you quite a decent sound quality, you only need to check some reviews before buying. You can either connect it to your sound system or listen to music via the turntable's built-in speakers.
Find a decent receiver
In the case if you don't feel like spending your money on vinyl records, think about buying a receiver. In order to improve the sound, you will need an audio receiver — a unit that will allow you to control all of your audio devices. For example, switch between CD and DVD player with ease. There is a wide choice of receivers on today's market that you can get for 200 dollars or less. Just ensure that you are getting a unit that has enough connectors for all of your equipment.
Buy a new pair of speakers
Buying new speakers is, perhaps, the most obvious way to upgrade your home sound system. There are so many really cheap models on the market that finding a couple of speakers at about $200 is not an issue at all.
However, replacing your old speakers with a pair of new ones is not the only way to go. You also can connect them to already existing ones, creating a much more volumetric sound. This will work especially great for cinema lovers, as more speakers mean a more cinematic sound. In addition, this will add much more loudness to the overall sound. So, if you have always felt like your audio system lacks in terms of volume, by adding a couple of new speakers to, you can fix this problem. However, of course, it will be possible only if you have enough space.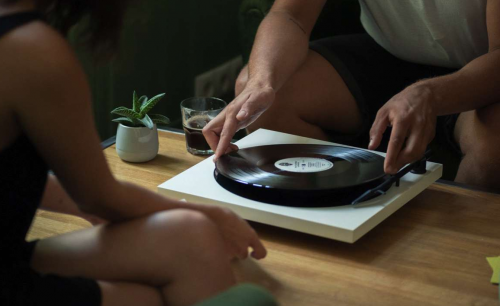 Highlight low frequencies with a new subwoofer
The pronounced low frequencies mean more bass. The subwoofer will give you a boomy, powerful sound with mighty bass. Most speakers have inbuilt subwoofers, but, obviously, they can't be as powerful as dedicated subwoofer. Thus, if you don't have one, you may spend your 200 dollars on one big subwoofer or on two or more smaller ones.
Upgrade your cabling
Most people think that any cables will do the job and there are no reasons to spend money on newer ones. However, the difference in performance between different cables is quite hearable. I'm not trying to say that some new high-quality cables will do the magic improving the sound quality of any sound system. The good-quality cables performance will depend on the rest of your equipment, but it will definitely improve the relationships between various components of your system.
Get a stand for your speakers
It may be surprising for someone, but proper speakers' placement is extremely important. Even the speakers of the highest quality won't sound as they should if you place them wrong. This way, if you tend to place your speakers on the floor, or hide them under the desk, you may get a significant benefit by simply placing them on a special stand. There are a lot of such stands on the market. You can choose from those that should be placed on the floor, mounted on the wall, etc. In addition, when your speakers are placed on the floor or on the desk, they aren't protected from vibrations, but the stand can fix this problem.