How Online Casinos Work in the U.S. – Key Aspects
Online gambling or casino games can be incredibly entertaining. Depending on where you live these games can be a regular pass time, or they can be a forbidden fruit that you cannot touch. That's because every state handle casino's, betting, and internet gambling in a different way. In order to have any of these, you need to have a legal infrastructure or regulatory body that manages all of the operators. So, each regulatory body categorizes these activities in a different manner and has separate licensing protocols for each category. Here we will mainly focus on online casinos and how they work in the U.S. 
Are Online Casinos Legal in the US?
The United States doesn't have a federal law that prohibits gambling, which means that it's up to each state to autonomously decide how they wish to regulate this activity. As you probably know already, some states prohibit this activity, some allow it. However, only a few states allow all forms of online gambling, and you can find several online casinos legal in us and fully regulated. This means you can get welcome bonuses, no deposit bonuses, and free spins, just like you would expect from this business. Of course, leaving things like this could cause confusion and create a wrong impression so let's deal with specifics. 
Federal Wire Act
The Federal Wire Act is the reason why you can't simply place bets or gamble online in the US. This is a federal law that essentially prohibits you from placing wagers outside of your own state. In other words, the online casinos you plan to use should be based in your own state, otherwise, you might get into trouble. On top of that, there is also the Unlawful Internet Gambling Enforcement Act, which basically prohibits any US citizen from operating a gambling site. So, the sites that accept wagers from Americans are located overseas, and they are available to those players who live in states where internet gambling is legal. 
The interesting thing about the Unlawful Internet Gambling Enforcement Act is that it doesn't affect fantasy sports. So, some of the most profitable US operators are those that offer DFS content. At the end of the day, it's not so bad, after all, fantasy sports are really fun, and you still get to gamble and even compete against other players.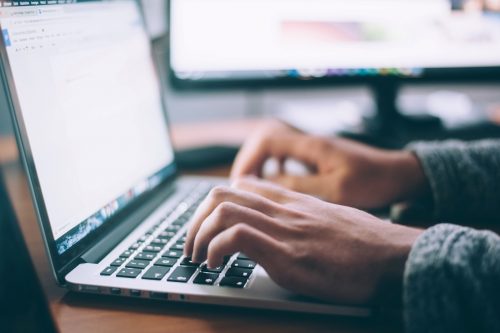 States Where You Can Gamble Online 
There are only a few states where you are allowed to gamble online and get a full package of casino games. These are:
New Jersey

Michigan, 

Pennsylvania

West Virginia

Delaware
If you are surprised that Nevada isn't on this list, don't be, as it doesn't make sense for them to legalize online gambling. Their main source of revenue is land-based casino resorts, having online operators running around would just be unhealthy for their economy. That being said, online poker is legal in Nevada, as casinos don't really earn directly from poker. Furthermore, it's easier to organize tournaments if you allow users to qualify online. 
As far as internet sports betting goes, the US laws are not as restrictive. In fact, more and more states are legalizing online sports betting, and these decisions have led to the rise of the iGaming industry in the US. This might lead you to believe that the US has something against casinos, but that's definitely not the case. Land-based casinos are still a thing, they just don't want people to run online casino businesses. 
Is the US Going to Change Its Position on Online Casinos?
It's difficult to say at this point, but unless the federal law or the Internet gambling changes there are not going to be US online casinos. It's difficult to say the type of effect this might have on the US economy. Online casinos are cheaper to run, they don't require as much staff, and they don't need a physical space in order to operate. These things could endanger land-based establishments and result in multiple layoffs. So, it's understandable that they are cautious about it. 
Conclusion 
Hopefully, you've learned something new about how online casinos work in the US. There are a few states where it is allowed to gamble online, but you are not allowed to maintain this type of business anywhere. For most people in the US, online gambling activity is limited to sports betting and fantasy sports, and those who wish to play real money casino games need to go to a real casino. That being said, there are lots of apps that don't require payment and that allow you to play slots, poker, and blackjack. 
If you really want to play slots using a site or an app, and it's unavailable in your state, then just pay Canada a visit. Their provinces are way more liberal about this stuff and you can find all sorts of sites that will gladly accommodate your request.