Hairstyles for Women Over 50 to gain on Style and Save up on Maintenance
Some ladies still think that their age is what dictates their style. We say that as long as you feel gorgeous and confident with the look, you sport – age remains a plain number. It is true that in order to come up with a personal style, there is a list of factors to consider, and your hairstyle is one of the vitals.
When browsing through hairstyles for women over 50 presented by LoveHairstyles, we figured that short cuts are among the prevailing ones. There is nothing strange about that since the shorter the hair – the easier it is to look after. However, what we are going to try to prove is that the range of short cuts for older ladies is almost unlimited, and there are true style gems to be aware of!
Choppy Pixie
We are going to start with the shortest cuts on the list and then gradually move to longer hairstyles that still fit in the category of short haircuts. Surely, when you think about a pixie in its classy meaning, you may imagine the ultra-short cut that suits neither your face shape, not your style in general. Well, let us tell you something – times have changed, and so has the pixie universe. These days there are super-short styles, mid-pixies, and even longer variations to experiment with. Due to the variety of cutting techniques as well as dyeing trends, a skilled master will certainly find the one that will enhance all your best features and will complement the style so that you stand out from the crowd in a way that is comfortable for you.
Elegant and Classy Bob
If there is anything classier than a bob – we know nothing about it. However, modern hair fashion hasn't passed by the bob world. There are countless options to choose from and experiment with. If you want to keep your hair a little longer, then a well-chosen bob is what you should consider. It is true that most bobs are quite universal, and they can be easily fitted to any hair type. Besides, in their majority, they are utterly versatile and pretty simple to manage.
Another variation of classy bob is a curly one. It is a lot like the universal notion of the bob as we know it, but the curls are always interpreted in a slightly different way than a mere straight cut. Those of you longing for a romantic and feminine look should definitely pay attention to the variation. It may be a little more time-consuming when it comes to styling, but the end result will always be worth it.
The Lob
The longest option on our short haircuts list is undoubtedly the lob. In case you wonder what the name stands for – it is the shortening for a long bob. The truth is that lobs are incredibly versatile, and they belong to the category of cuts that offer you a seamless transition from short to long cuts while staying in the middle. It needs to be added that usually cuts like that require some more time and effort when it comes to daily maintenance, but the variety of styles to experiment with is merely captivating.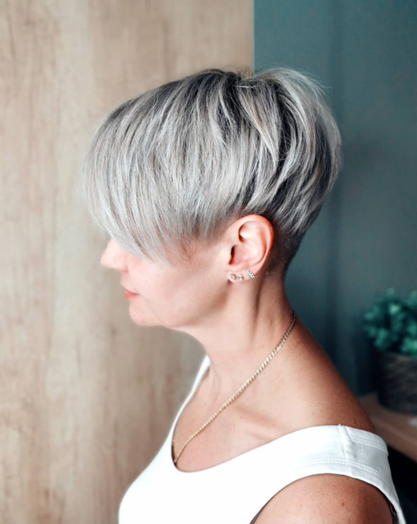 Chestnut Pixie Bob with Wispy Layers
Ladies with thicker hair find it a bit challenging to dedicate to a shorter cut since they are afraid of it affecting the appearance, not in the best way. A wispy pixie like that can certainly remove the unnecessary weight while keeping the volume in perfect balance. If you are a little more conservative than the rest, such a pixie bob should help you find the compromise between the strict dress code and modern trend. 
Mid-Pixie with Platinum Blonde Balayage 
Keeping up with the trends means experimentation. You do not need to opt for neon colors and a buzz cut to show off your perfect taste and innovative approach. All you need is a well-cut medium pixie with a stylish balayage to it. Layering, as well as the undercut, will reduce the maintenance time significantly too. Active women will certainly appreciate the bonus.
Copper Stacked Pixie for Vibrant Look
Looking vibrant does not require pastels and neons when you can play around with such a wonderful copper hue. Stacked back and light layering will open the vast horizon for quick styling while altogether, the look will remain bright and feminine. 
Source: LoveHairStyles