Early Man Rolls onto Digital on May 15 & Blu-ray™ Combo Pack and DVD on May 22 @EarlyManUS
Get ready to bring home this hilarious family movie
Early Man would make a great DVD to collect for the kids. You see, A plucky cave man named Dug, his sidekick Hognob and the rest of their tribe face a grave threat to their simple existence. Lord Nooth plans to take over their land and transform it into a giant mine, forcing Dug and his clan to dig for precious metals. Not ready to go down without a fight, Dug and Hognob must unite their people in an epic quest to defeat a mighty enemy — the Bronze Age.
The animated world of Early Man has extensive special features including never-before-seen featurettes that reveal the love, passion, hard work, and magic that goes into creating an Aardman Studios animated film. Early Man will be available on Blu-ray Combo Pack and DVD for the suggested retail price of $24.99 and $29.99, respectively.
BLU-RAY/DVD SPECIAL FEATURES
"Before the Beginning of Time: Creating Early Man" Featurette
"Nick Park: Massaging the Funny" Featurette
"The Valley Meets the Bronze" Featurette
"Hanging at Aardman Studios: A Workshop Exploration" Featurette
Now you and the kids can create your own EARLY MAN Claymation creation with this cool new kit.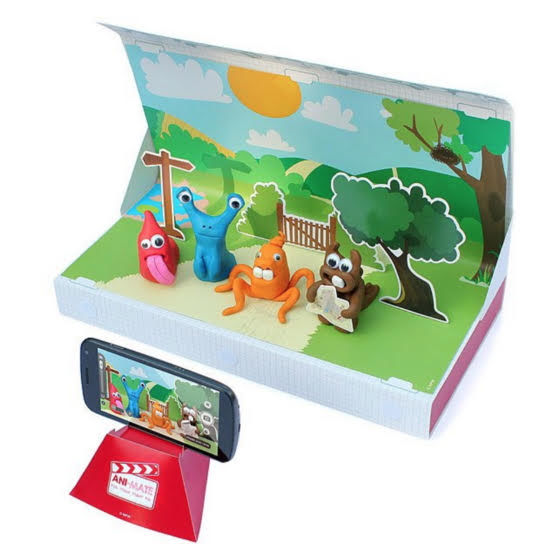 This kit allows you to create claymation videos using your smartphone. xplore the amazing art of DIY animation with this creative claymation kit. Claymation combines principles of stop-motion animation with the fun flexibility of clay modeling for an easy introduction to movie making.
The kit includes creature-creating clay, a miniature stage, interchangeable backdrops, props, detailed guidebook, and a phone stand. Just add your own smartphone with a stop-motion app of your choice, and practice saying "action!" Made in China.
WARNING: CHOKING HAZARD – Small parts. Not for children under 3 years.
Don't forget to connect with #EarlyMan via: Facebook |Instagram| Twitter