Capture Groundbreaking Changes At The 2019 Detroit Auto Show! #NAIAS2019
WOW will be the first word that will spew out your mouth when you visit the 2019 Detroit Auto Show! Or you might just find your jaw dropping after viewing up close at every car and new concept. This week we had the opportunity to cover the 2019 Detroit Auto Show and let's just say all the above happen to us, jaw dropping, and WOW's were mentioned too! The excitement kicked off early when Ford unveiled their new 2020 Ford Explore at Ford Field.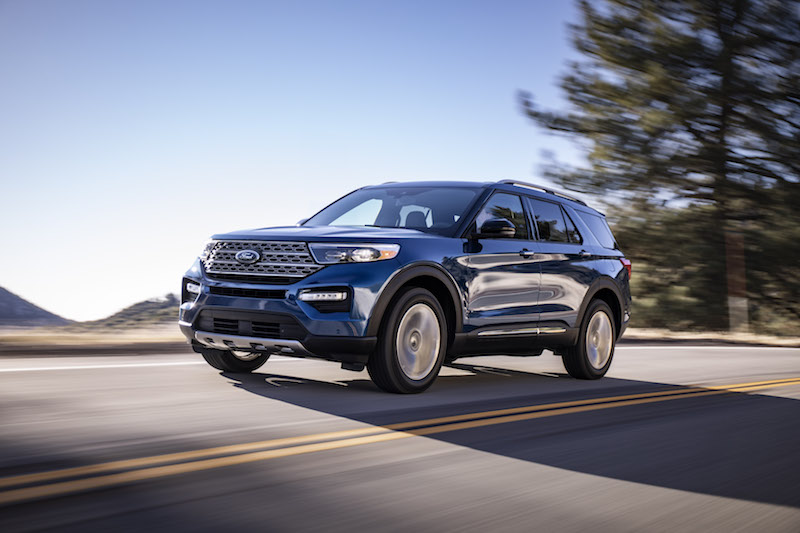 This beautiful, yet stylish vehicle has so much to offer and I'm sure will be one of the hottest vehicles purchased this year. Especially since it is equipped with so much and price tag only exceeds $400 more. Learn more here
Now, keep in mind that the North American International Auto Show has an enormous number of vehicles that you can touch, view latest technology within and under the hood, plus you'll see the latest design for the interior and exterior in the 2019 vehicles and latest 2020 concepts.
It's a lovely way to learn more about your dream car/cars hands-on!  So, if you're seeking to find that aha car, look no more I'm sure the NAIAS will have something you'll love and dream to have! When I tell you the technology within these new vehicles are mind-blowing trust me, they were that and much more!
We wanted to narrow down our 5 Top Picks to share with you. Let's start with the 2020 XT6 Cadillac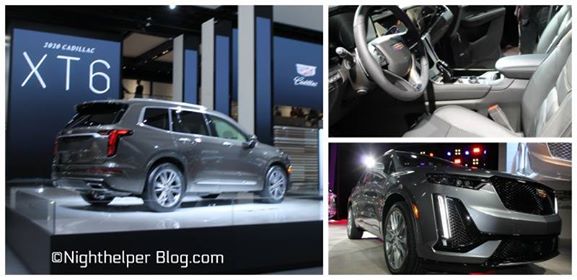 2020 XT6 Cadillac
Get up and personal with this luxury, stylish, chic ride. The interior is that of a soft leather with lots of advance technology and plenty room! This Cadillac Crossover offers three rows of finely crafted seating. That's room for the entire family and then some. The XT6 puts safety first with a full array of available driver assistance and safety technologies† that can help drivers be more aware of their environment. Check out the sophisticated grill! Take a moment to stop by the exhibit to see this beauty for yourself!
Our next pick that was launched at the Auto Show was the 2019 Jeep Wrangler Rubicon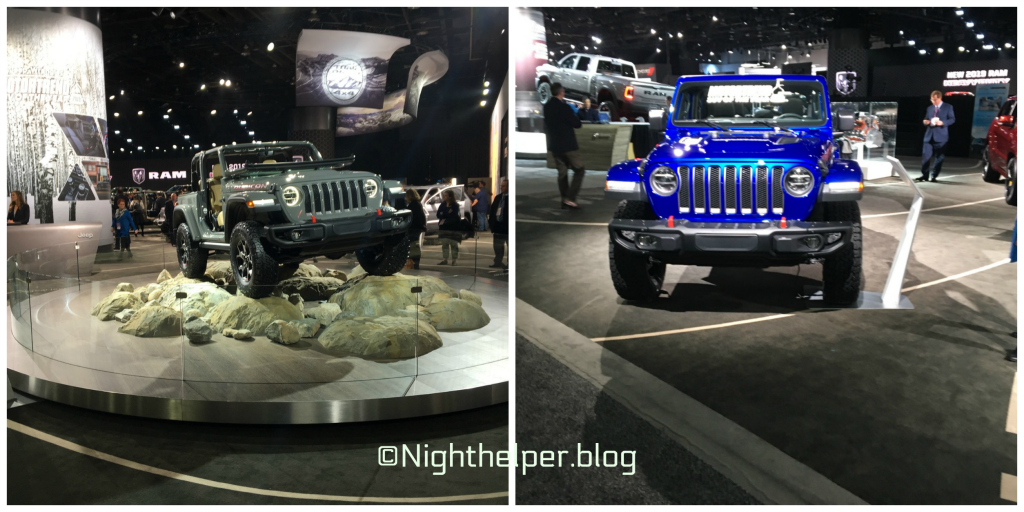 The Jeep Wrangler Rubicon has a rugged yet distinctive look that can conquer any terrain! Get ready to experience an adventure with the new 2019 Jeep! The Wrangler can trace its lineage back to the original Willys MB vehicle. Today, the 2019 Jeep Wrangler builds on those traditions of exceptional 4×4 expertise, traction and maneuverability to deliver incredible off-road and all-weather capability.
While exploring the auto show we also came across one of my favorite brands that I love working with KIA! I must say KIA has really upped the game with their new TELLURIDE SUV!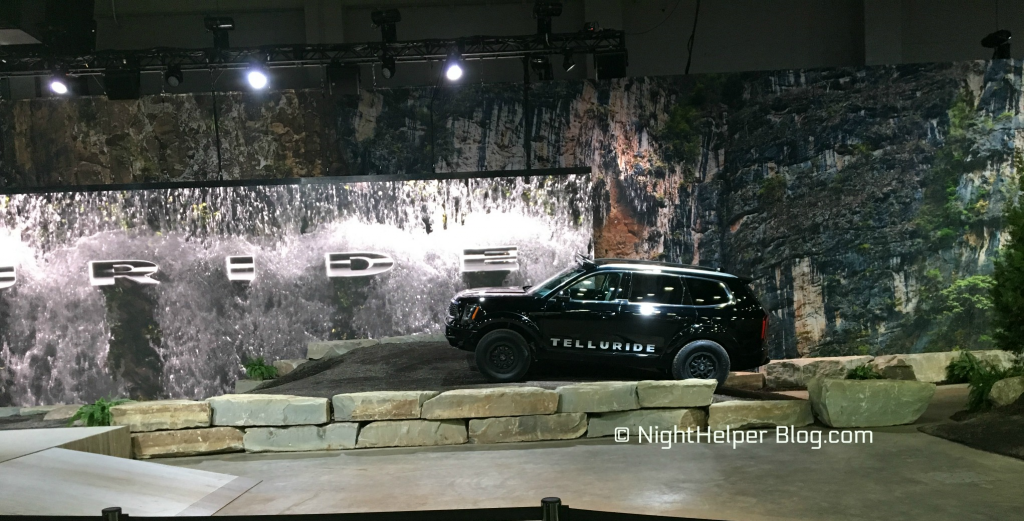 The transformation of the new 3 row KIA TELLURIDE is not like any other SUV! One thing I can say is the TELLURIDE looks much longer and wider than any of its predecessors. Transporting up to eight it's sure to make a perfect ride for any family. So much technology within and of course it has the 3.5-liter V6 hybrid electric and offers an incredible 400 combined horsepower and 30 mpg highway.
From the grill all the way to the rear-end you can surely see a big difference compared to their standard SUV design.  I'm sure this vehicle will market well with American consumers.
Now on the other hand, we also found ourselves checking out many sports cars.
Toyota Gazoo Racing
Toyota states: Evolution is all about pushing the limits. Because "roads build people, and people build cars, we push the limits in motorsports events around the world.
Last of our Top 5 Pick is from the brand LEXUS. I will have to say Lexus really out did themselves with their new concept cars #Lexusrcf track and #LexusLCC .

Lexus states; Buckle Up and get ready for a ride to remember with this new line. The RC F Track Edition and the Lexus LC Convertible is sure to have heads turning and everyone talking at the Auto Show! They will make their début in 2020 and the American market will be ready to invest!
Overall, the North American International Auto Show is a great way for those car enthusiasts to check out their dream car or for anyone who is seeking to purchase, or those who just love to see something new in the automotive industry. There's so much to see and so much amazing technology. I will go on record to say a lot has changed though since my last visit, I noticed some major manufactures did not participate this time , many virtual reality rides and fun events weren't there, fewer concept vehicles , and even one of the Top Analyst from  AutoTrader said it was a little skimpy because many manufactures are preparing for the new outdoor event for NAIAS in 2020.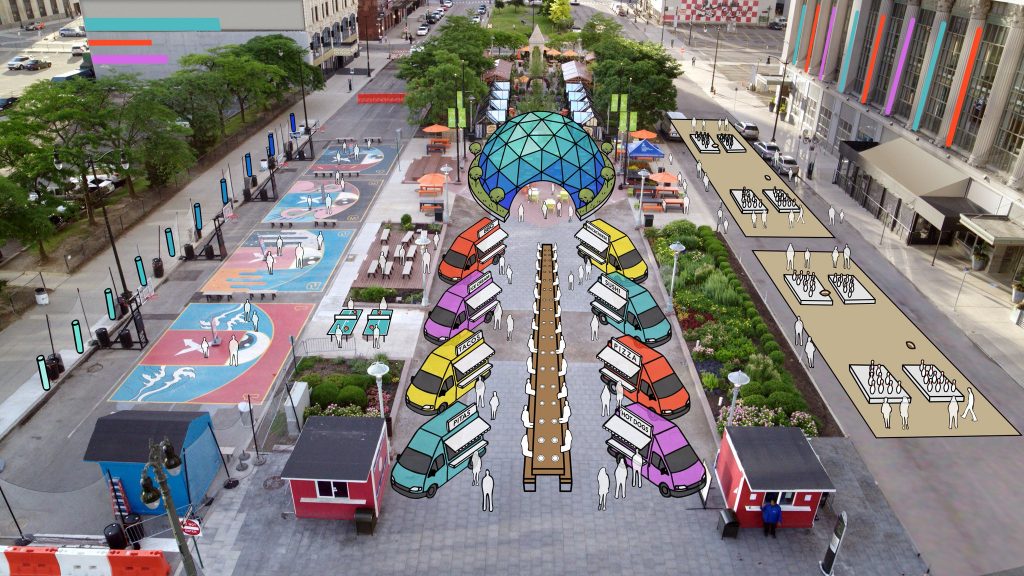 I hear it will begin sometime in June making it to be a more enjoyable Michigan event alongside Cobo Hall  with lots of festivities, fireworks and much more!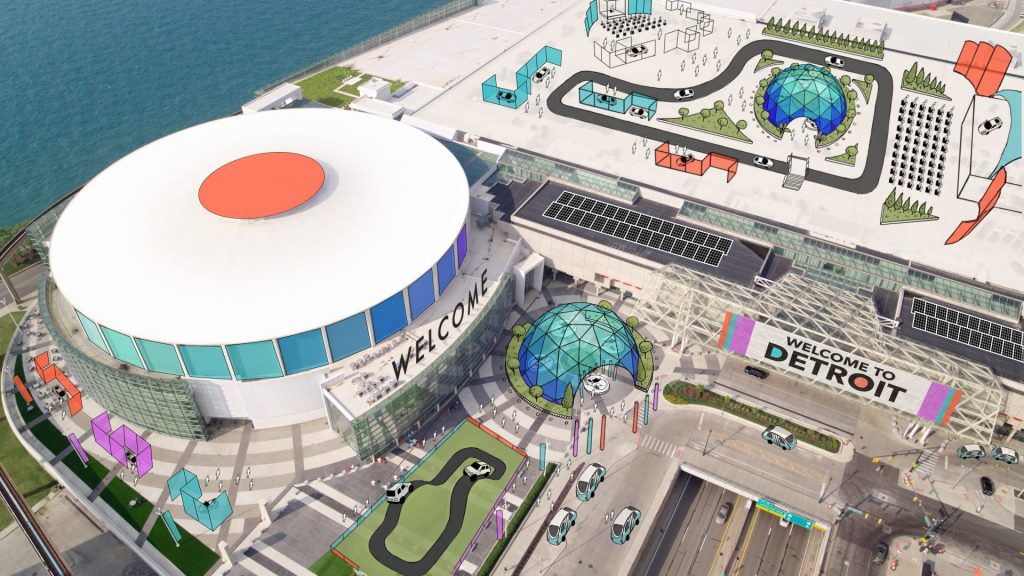 No more dealing with the cold weather……..say hello to summer! I can't wait to see how this new outdoor exhibit will affect the auto show next June. I'm thinking it will make many memorable memories for the auto industry and families who attend!
Here's more about the 2020 North American Internal Auto Show: 
North International Auto Show (NAIAS) announced that starting in 2020 the show would make a transformational move to June and will start the week of June 8th. The ability for participating brands to deliver dynamic exhibits and experiential opportunities outside of the show's four walls for attending journalists, industry members and consumers, will provide new avenues to showcase the products and technologies on display. Delivering greater ROI through reduced costs and dynamic opportunities will be a key aspect of the future show.
"Our show is undergoing its most significant transformation in the last three decades," said Rod Alberts, Executive Director, NAIAS. "Detroit will continue to be a global stage for some of the world's most significant and iconic vehicle reveals and host an unparalleled international audience of media and key industry influencers."
NAIAS is one of the most influential global auto events, touching all facets of the industry and attracting the largest concentration of the world's top industry leaders – from automakers and suppliers, to tech startups and venture capitalists, to universities and policymakers.
The North American Internal Auto Show is open to the public starting Saturday, January 19.
Disclaimer: This post is sponsored. I have been compensated by A Girls Guide T Cars and all images shared & opinions are that of Night Helper Blog!