Ambi Cool Relief, the electronic ice cube cooling device!
Disclosure: I was not compensated for this post but I did receive a sample product for review, however all opinions expressed in this post are 100% my own.
As a parent I am always looking for products that can help make a difference one way or another for my kids and I! So when I was contacted by a company to share a product called AMBI by Blue-Tec, which is a electronic ice-cube device I will have to admit I was a little skeptical at first.
So many brands claiming to do this and that and some do neither. Well this device peeked my interest the moment I received it. I charged it up just to see how it works and if the claims of cold therapy would produce a smooth sensation of cold therapy to me aching back. Before I tell you my opinion let me tell you about the device.
First let me share the device and its purpose:
Ambi Portable Electronic Cooling Device is simply an electronic ice-cube… without the mess! The ambi cooling device has a smooth, contoured metal plate designed to be applied to the back of the neck, forehead, and or other locations on the body to provide cold therapy when and where you most need it.
The device is about the size of a smartphone and provides safe non invasive relief anywhere, anytime no matter where you are. I like that its my own personal cooling device that instantly delivers cold therapy without any gel or messy creams. Very easy to operate, uses 4 AA batteries or the plugin adapter cord, within 25 seconds of pressing the start button the Ambi plate will cool to 10 Celsius (50 Fahrenheit).
This device has a light indicator which lets you know when it is ready for use. Red means cooling period and solid blue ambi is ready for use!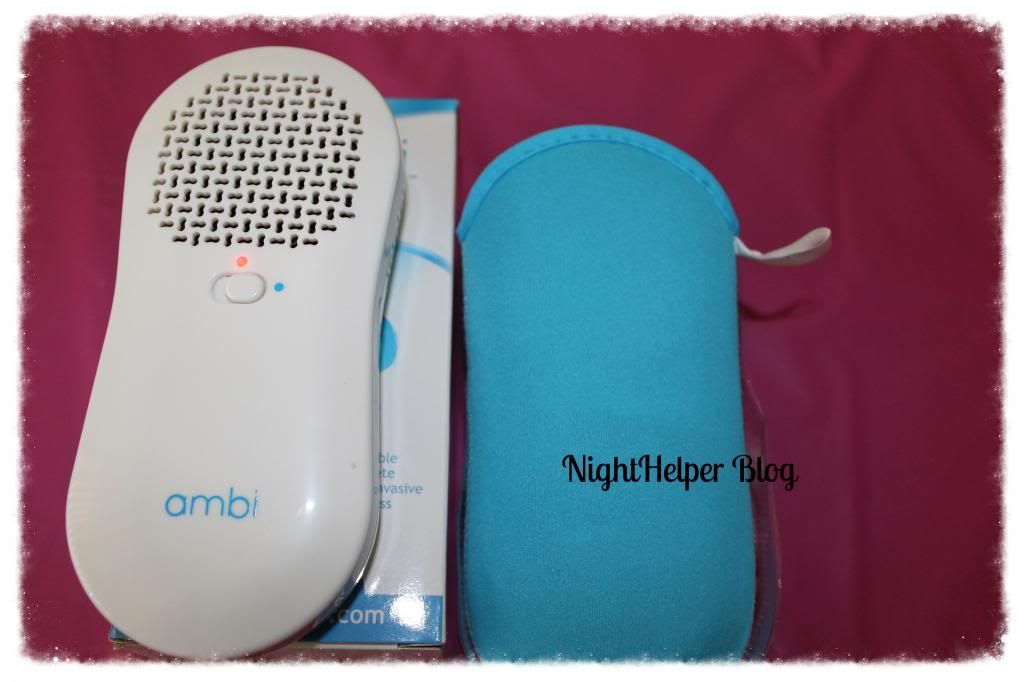 It is said that it works well with providing relief for women like me with hot flashes and migraine symptoms, as well as bumps and bruises and those nasty itchy insect bites we all deal with in the summer, all at the touch of a button.
I can't wait to use it on the kids, for I know this summer will bring lots of bruises and insect bites. Once the kids see the device I think they would be quit comfortable with mom using it on their bumps and bruises unlike some methods I have used where they look and reacted with fear.
The Ambi is a one (turn it on), two (apply it to area), three(get relief) process!! Its a must not leave home without it device for sure!!!!!! I gave it a shot today, I was experiencing bad hot flashes this morning and I placed the device on the back of my neck and within a few seconds I felt the cool therapy assisting to help reduce my hot flashes, actually it felt pretty good.
I can truly say, this product stands up to its claims of offering cool therapeutics relief for those discomfort areas and I think it would be good to have this device on hand. It is safe, functions well, reliable, serves many benefits, can be applied to any area and its small enough to travel with you anywhere.
So don't get caught this summer without the Ambi cool electronic ice-cube device, let the cool, smooth, relief of Ambi, take that discomfort away! Please remember this device is good to have on hand but if your child experience severe reaction to insect stings, or have a sever injury Please seek medical attention ASAP!! Even though there is a fan inside the device beware that the device heats up upon long use!
Now you too can try out this device, the company has been kind enough to offer one of our readers a chance to try out the Abmbi cooling device so you too can get the feel of cool comfort relief!
Coming soon.
Connect with Ambi via Facebook & Twitter
Disclosure: I was not compensated for this post but I did receive a sample product for review, however all opinions expressed in this post are 100% my own.