6 Tips for Choosing the Perfect Gate for Your Home
(Photo by Kindel Media from Pexels)
Many people believe it is essential to make a good first impression and pick a gate that reflects their sense of design. Because it is such a good financial investment, the choice is really important. When selecting the ideal gate for your property, there are several factors to consider. 
Some of these factors include maintaining your privacy, a safe environment for children, enhancing the aesthetic value of your property, and fitting in with the rest of the homes in your neighborhood. The correct gate can do wonders for the exterior area of your house, providing an element of flair while also creating a statement and keeping your property safe.
That being said, whether you're looking to buy or replace an old one, here are the things you should consider before buying or hiring a professional gate installation service in Launceston, Sydney, Melbourne, or wherever you are. The guidelines provided here will assist you in selecting the ideal gate for your house.
Consider the Gate's Purpose
If you're unsure what will pass through your gate, ask yourself that question. Consider varieties of gates you can easily automate in the future if you anticipate having cars in that particular area of your property.
If you select a gate with the incorrect shape for the function you need it to serve, you will find that it does not function in the way it is intended to. Because of this, you might need to either rebuild the gate or figure out a way to make it function properly in your location. 
Having a clear idea of why you want to choose a certain gate for your property might eliminate the need to worry about these issues and make it simpler for you to move on to other aspects of the decision.
Choose A Style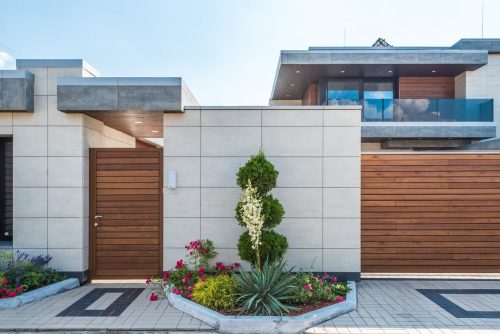 (Photo by Max Vakhtbovych from Pexels)
Your house's design significantly impacts the type of gate you select for your property. Galvanized steel gates, for example, are appropriate for a contemporary or ultra-modern home. On the other hand, ornate points and exaggeration make tubular the most effective style.
The kind of gate you choose should complement the rest of your home's design. Your gate will be in your face every day, so you want to be sure you like how it looks before you buy it. In addition, this is a wonderful method to make your guests feel at ease when they come to your house.
Select A Type of Gate
There are many different kinds of gates that might be an excellent fit for your house. If you plan to install a regular gate, see that it is painted the same color as your fence. 
If you live in a place that sees a lot of footfall, you might want to consider installing a gate that is concealed from view so that you can reduce the amount of noise that comes from the street, which is likely to be stressful for you.
Sliding and swinging are the two primary movement options for gates that may be purchased. It can look not very easy, but you can choose the opening action according to how much area you have.
Sliding Gates
People with restricted space yet require big gates for their driveways may want to consider installing sliding gates instead. If you choose the manual option, the movement of sliding it open may also make it simple for anybody to do so. There are affordable driveway gates that not only slide but also open and close automatically.
Swinging Gates
The swing gate is available in both manual and automated varieties. You can select a single swing that only moves in one direction or a double swing in both directions. Additionally, the majority of residences have it.
Consider The Level of Privacy You Want
Unwanted visitors will be discouraged from entering a home if the gate is strong enough to prevent them from being bypassed.
Gates are used by many individuals, especially those who live alone, to keep undesirable visitors out of their homes and restrict outsiders from seeing their homes from outside. Simple or see-through gates will not give the same level of heightened security.
Certain gates are better at fostering privacy than others, so homeowners should consider how much privacy they need in their gates.
Consider the Maintenance Cost
It's necessary to consider how much your new gate will cost in terms of upkeep before making a final decision. The cost of a new gate is often the main consideration for many homeowners. Unfortunately, gates will require maintenance for the duration of their useful life to maintain their optimal performance and aesthetic appeal.
You should only use wood gates if you don't mind maintaining them regularly. Wooden gates must be treated or stained regularly. 

The oxidation of iron gates, for example, needs regular maintenance. To avoid corrosion, they must be sanded and repainted regularly.

Low-maintenance aluminum gates are easy to care for. It's ready to go after a coat of paint or powder coating.
Picking The Gate's Material
You have your choice of the following materials for the gate that best suits your needs:
Wrought iron
A gate made of wrought iron has the appearance of being exquisitely hand-crafted. It is the ideal match for homes with historic architecture or an aesthetic leaning more toward grandeur. There is a growing trend toward using wrought iron for single and double swing gates.
Steel
Steel's tensile strength is unrivalled by any other material. It is strong, long-lasting, and requires little care, and it is a fantastic alternative for any gate.
Aluminum
Aluminum is robust, durable, and simple to maintain; nevertheless, its strength is not nearly comparable to steel. In addition, aluminum gates are more cost-effective than steel gates and are more lightweight.
Wood
An old-world beauty emanates from wood gates. They offer the greatest level of seclusion due to their robust construction. Wooden gates require more maintenance than metal ones since they must be stained more frequently and are more vulnerable to weather and pest damage.
Glass
Gates made of glass have a contemporary look and allow maximum light and sight. However, because the glass needs to be cleaned more frequently, they are more work to maintain. A glass gate is also less long-lasting than those made of metal or wood.