5 Best Beginner-Friendly Cameras for Photography Newbies
When it comes to photography, the first thing you need is the appropriate equipment – whether you're looking to do phone or traditional photography. Because cameras don't come cheap most of the time and there are a lot of different equipment needed for professional photography, photography beginners typically get intimidated even before they start. If you're a beginner and you're planning on getting a new camera to start off your new interest, we've listed down a few beginner-friendly cameras you can choose from, some of which may be easier to buy with a limited budget. 
Should You Choose a Mirrorless or Digital Single-Lens Reflex (DSLR) Camera?
But before we get into that, let's first discuss the two different types of cameras you can choose from: mirrorless and digital single-lens reflex cameras, or better known as DSLRs. Both types have their fair share of pros and cons, from their customizability to their overall build, so it's worthwhile to be familiar with both.
Let's start off with mirrorless cameras, the more compact of the two. Mirrorless cameras are lighter and smaller, making them great for people who are always on the go. Their compact build is thanks to the absence of some components, such as the reflex mirror. With mirrorless cameras, the system of mirrors needed to direct light into the viewfinder is removed. Instead, it is equipped with an electronic viewfinder that reflects what the imaging sensor is "seeing." Therefore, mirrorless cameras show the image that you'll be capturing without minimal changes to the final product, but with a possible delay. 
For beginners, this may make photography a bit easier since you'll be seeing images based on the settings you've already set, which minimizes the trial-and-error part of learning to photograph your subjects. For more experienced photographers though, the delay may cause some type of disconnect between the camera and what they're trying to capture. 
As for digital cameras or DSLRs, while they are bulkier and heavier than mirrorless cameras, they boast a highly customizable frame. You can easily change up their lenses, components, and accessories depending on your preference. They also pack longer battery lives, so you won't miss any photo opportunities that may arise. DSLRs are also designed to have faster autofocus speed and a direct connection between the lens and the viewfinder, showing you the image without any delays. 
Betsy McCue boudoir photography shares that whatever you choose, both types of cameras have their own strengths and weaknesses. What we suggest is you try to get the feel of both so that you'll have a better understanding of handling and operating a camera. Check out the specs, consider the pricing, and get ready to be on the journey to taking great photographs.
5 Best Beginner-Friendly Digital Cameras for Newbie Photographers
To lend you a hand in finding the perfect camera, whether mirrorless or DSLRs, we've compiled some of the best options you can choose from. We have included a variety of mirrorless and DSLR cameras, so you can choose what would be best for your photography needs.
     1. Panasonic Lumix G100
If you're looking for a travel-friendly, compact camera, the Panasonic Lumix G100 mirrorless camera would be a great photography companion for you, especially for beginner documentary photographers. Equipped with a 20.3-MP resolution and 4K video recording, you can easily capture photographs in high definition. What's also great about this camera though is that it's also designed for vlogging, with a dedicated microphone and advanced facial recognition technology. So, if ever you want to dedicate your time to learning photography and documenting your skills progress, the Panasonic Lumix G100 should be at the top of your list.
     2. Fujifilm X-T30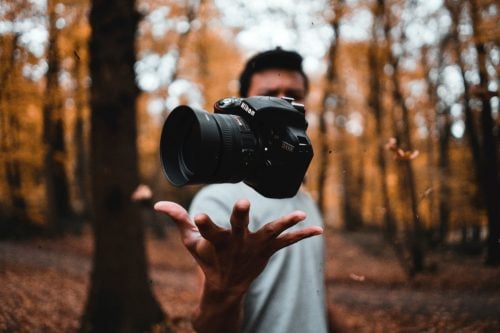 Planning on taking up street photography where you'll need to navigate through crowds of people and outdoor streets? You'd need a light camera option for that, like the Fujifilm X-T30.  Considered as one of the best mirrorless camera options equipped with intelligent controls, the X-T30 packs a solid build with a 26.1-MP resolution. It's also considered as a perfect all-rounder camera for beginners, especially when they're still trying to get the ropes of tweaking camera settings. For a more up-close look at what the Fujifilm X-T30 camera can do, you can visit the photo stream of documentary and nature photographer, Nadav Berenstein.
     3. Nikon D3500
When it comes to beginner DSLR cameras, there are a few options that have been around for years but are still recommended today. These include the Nikon D3500, an entry-level DSLR that packs impressive battery life and excellent image quality. Unlike other DSLRs, the D3500 has a pretty straightforward approach when it comes to camera settings, allowing beginners to easily get the hang of navigating through the controls. In addition, it also has a guide mode where beginners are given a "tour" of the camera's specs and settings so that they can start taking photographs without tiptoeing around the camera's features.
     4. Pentax K-70
Released in 2016, the Pentax K-70 remains to be one of the top contenders in beginner DSLR cameras, thanks to its durable build and the great value it gives as a beginner camera. For photographer newbies, it's worth noting that with photography, you will be exposed to inclement weather, which may cause a few damages to your camera if not effectively waterproofed or protected. With Pentax K-70, you won't have to worry too much since this camera is essentially weatherproof and dust-proof. Aside from these impressive features, the K-70 also offers a 24.2-MP resolution, giving you high-quality images and considerable videos.
     5. Canon EOS 90D
Lastly, the Canon EOS 90D is a DSLR that can play alongside some of the top-tier mirrorless cameras out there, thanks to the superb image quality it offers and its impressive 4K video capturing capabilities. Like other DSLRs, the EOS 90D's battery life allows it to shoot almost 1,500 images with every charge, giving beginners enough time to master the controls and the settings before it needs to be hooked up again. With an impressive metering system, this camera can allow you to shoot subjects in different situations and lighting without distorting the color too much, giving you the ability to document scenes as close to reality as possible. 
Be Patient as You Start to Learn About Photography
As with any other skill acquisition, beginner photography takes a lot of patience and motivation for you to master and capture impressive photographs. While it might be overwhelming for some, especially if they've never handled a DSLR or a mirrorless camera before, all you need is time and an openness to explore the world so you can document scenes, situations, and different subjects according to how you see them. We hope that you find the best digital beginner camera for your needs and goals, and we'll see you out there.