Welcome to RoyalNote Giveaway…two $50 Visa GC!!!!
                                      Welcome to RoyalNote.COM
I'm sure you are asking what is RoyalNote.com?  RoyalNote has built a great platform for everyday consumers like you and I to express our thoughts and opinions with many brands via of short on-line surveys. It's an elite website and is accessed by invites only. Its not the normal survey site that I myself have seen or used before. You can only access this site again by invites only which makes it a site exclusively just for you and your invited friends!
RoyalNote believes everyone's thoughts and opinions are valuable. Working with top brands  and many others who are simply waiting to hear what consumers have to say. The more surveys you take the more great discounts you will receive on on-line shopping.
I have to say the name RoyalNote fits them just right. The website is very interesting and is well designed and quite easy to navigate through, but most of all it is FREE!!
I was even given a royal vote upon signing in but wait there's  more! I also received
a $2 voucher for PaperCulture.com. PaperCulture was one of the promotional surveys  available to me when I signed in.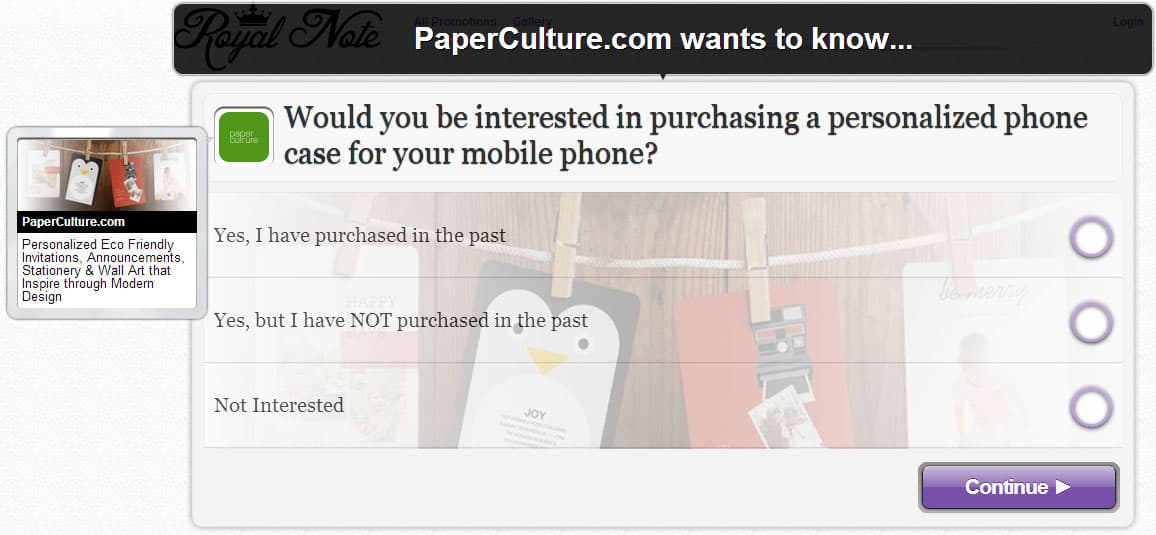 When you sign in you will see your name displayed along with your Royal Dollar amount on right top side. On the top left side you will see ALL Promotions and Gallery, as soon as RoyalNote has a promotion with one of their selected brands. You will be alerted by email or via social media, this will mean a brand is ready for you to take part in answering a short multiple by choice survey.
So you see , this is a great site to gain rewards and redeem them for some great gift cards but more importantly, its a great site that allows you to save money on everyday products that we buy.
RoyalNote works hard to make sure your time and consideration is rewarded by seeking everyday to work hard to find business partners to present you with exciting opportunities.
I like this site and I'm very impressed by it! I think RoyalNote has taken doing surveys to a whole new level. Its simply easy and done all with a click plus again the navigation around the site is awesome and its quite rewarding knowing that they work with many great brands.I know I'll be back and I'm sure to share it with all my social media friends as well.
RoyalNote.COM has been generous enough to offer my readers and fans a chance to gain access at first hand by clicking here, don't wait sign up today its free too!!!
Not only is it free but RoyalNote is giving my readers a chance to win not 1 but 2 $50 Visa Gift Cards, now you gotta love that!!
Enter below and GOOD LUCK!!
Disclaimer Statement
I was compensated for this post, however  the opinions expressed in this post are 100% of my own and any product claim, statistic, quote or other representation about a product or service should be verified by the above mentioned store, PR,or product designer.