Purex "Crystals" for Baby Laundry review/giveaway! (3 coupon winners)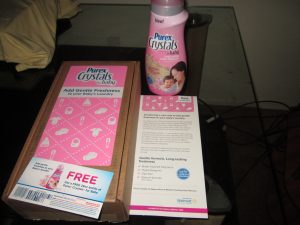 There is nothing like freshly clean smelling clothes!
Seems like every year Purex rolls out new laundry detergents or fabric softeners.If it's not their new liquids its their new Crystal Softeners that can add that pleasant smell to any laundry.
Last time I was invited to try their Purex Crystals which came in a variety of scents. The smell of my clothing was fantastic!!
This time Purex has taken their wonderful Cystals to another level creating a formula of Crystals just for babies, yes you heard me babies! I simply love the smell of good fabric softeners on my children's clothing.
Let me introduce to you the new Purex Crystals that is made just for your little ones!
These wonderful crystals add gentle freshness to your Baby's laundry. It can be added to the beginning of your wash cycle.
It is safe for your children's clothing, 87% natural ingredients, eliminates static cling and leaves clothing fresh!
It is the perfect laundry fabric softener for your child's laundry. Everyone knows that Purex is known for producing innovative products to help us with our daily laundry.
Just start your washer, add your detergent and pour in your crystals and let them take your laundry away to a clean and fresh world.
No need to wait like those other fabric softeners where you have to wait until a certain cycle to add your softeners.
I can't wait to share my Purex Crystals with my little niece, she was just born in December 2012
Now you to can try these wonderful crystals, just enter below. Three winners will be chosen, will it be YOU!
Disclaimer Statement
I was not compensated for this post, however I did receive a product from Purex. The opinions expressed in this post are 100% of my own and any product claim, statistic, quote or other representation about a product or service should be verified by the above mentioned store, PR,or product designer.