Potty Training with #PampersEasyUps Pants!
 "This review and giveaway was made possible by Double Duty Divas and Pampers. I was compensated for my participation in this campaign, but all opinions are 100% mine."
Well its time, time for me to get Quincy ready for potty training! He just turned 2 and I feel this is the right time to start. Now he is one heck of a smart kid, he can work electronics like a 15 year old so I know he shouldn't have any trouble learning to potty.
Quincy will catch on real fast for he is one little independent toddler. Whenever  anyone reaches out to assist him he always say, I can do it! I'm so ready for him t learn how to potty and think Pampers Easy Ups potty training pants will be perfect for him.
The first day we we tried Pampers  Easy Ups it went pretty well but of course he is no expert just yet…lol. After a while he got tired and feel a sleep on the couch.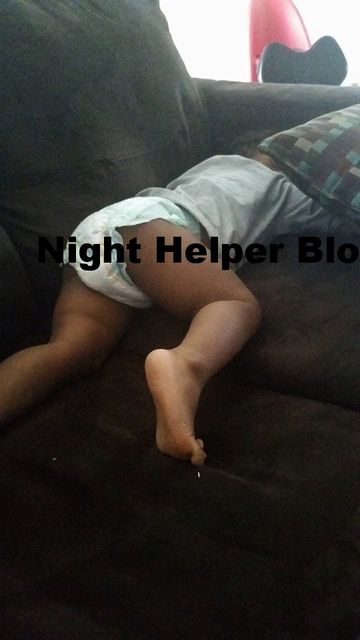 As a parent I think in order to help my child get ready to transition to potting training, I think investing in a few boxes of Pampers Easy Ups is the best way to go. I don't want Quincy to be confused during his potty training journey. Sometimes it can be confusing to toddlers  when you switch between diapers and training pants throughout the day and night.
Pampers Easy Ups can help the diaper-to-underwear transition by allowing potty-training toddlers to stop wearing diapers and wear something with more of an underwear-like design that still helps keep accidental messes off clothing, bedding and other surfaces no matter whether they happen at home, on-the-go or overnight.
Check out why I'm selecting Pampers Easy Ups to help Quincy with his potty training:
Pampers Easy Ups have fewer leaks than the other leading training pant to help simplify and improve the overall potty training experience.
Pampers Easy Ups have an absorbent core that holds 25% more than the other leading training pant to help ensure little ones remain dry.
Pampers Easy Ups provide up to 12 hours of protection.
Don't let the potty training blues get you down, grab your pack of Pampers Easy Ups and get your toddler trained. Its an transition that will become easier for you both!
Now, come Join the Pampers Twitter Party!!
Pampers is hosting a Twitter Party on April 21st from 9-10pmEST.  Dr. Laura Jana, pediatrician, award-winning parenting book author and potty training expert who co-authored to Its You and Me Against the Pee…and the Poop, Too! will be joining the party and sharing her tips to help simplify and improve the potty training experience for little ones and their parents. RSVP here: to join the fun!
And yes, its a "PAMPERS POTTY TRAINING GIVEAWAY"!
Pampers is offering a great potty training themed prize package to one of my readers!  This prize package includes the following items:
Pack of Pampers Easy Ups
Little Looster Step Stool
Potty Ring
"It's You and Me against the Pee… and Poop too!" book
$50 AMEX gift card
This giveaway is open to US residents only and will end at 11:59pm EST on April 26 2015.  Good luck! CLICK THE GIVEAWAY LOGO, WILL TAKE YOU RIGHT TO GIVEAWAY!
You can always connect with Pampers to via Facebook| Twitter| to keep up with the latest.
"This review and giveaway was made possible by Double Duty Divas and Pampers. I was compensated for my participation in this campaign, but all opinions are 100% mine."