Petmate,the right place for your dog,cat and bird too!
I was not compensated for this post, however I did receive a product sample from Petmate for purpose of review, all opinions expressed in this post are 100% my own.
I don't know about you but my cat and dog deserves the best of everything and Petmate has it all for them. If you have not had the pleasure of visiting Petmate, then you are missing out.
Let me tell you a little about the Petmate Company: Petmate, with its family of brands, is the trusted authority in smart pet care solutions. As the first to provide a safe and comfortable alternative to wooden travel crates, Petmate has gone on to introduce smart solutions for every stage in a pet's life. At Petmate, we believe in what we do, because we have pets too! Check out all of the other great brands and products in the Petmate family: Bamboo, Fat Cat, Booda, Petmate and Aspen Pet.
Petmate is your pet's Christmas store, I say that because everything your pet needs is there, toys, kennels, food dish, collars, beds and more. Such a wide selection for all your pets. Whether its for your dog, cat or bird they have it. The kind people at Petmate sent my little guys quite a few things for them to review. Yes, my animals do reviews too…LOL!
When the box arrived I was overwhelmed with joy as to seeing all the wonderful products Petmate sent for our cuddly friends.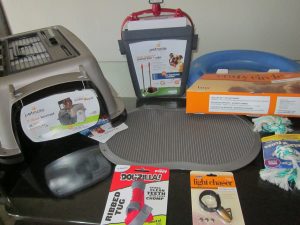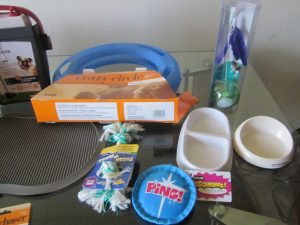 Listed you will see:
(2) dish bowls, Fresh Flow 4.5oz and  7oz, BigSqueaks Sm Ping, Crazy Circle , Balance Call Green /Purple, 2 -Door 24″Top Load Kennel, Replendish Mat, DGX Ribbed Tug For dog, FNF 2Knot Bone 4pk, Booda Light Chaser and the Clean Response Swivel Bin & Rake set.
They sent so many wonderful products that will surely make any dog or cat happy! Everyone knows when it comes to our animals we want nothing but the best for them after all they too are our children. I know for me, I am always seeking to find and share nothing but the best products for my pets..
You can even find great products for your birds too! This is the BYRDY BUSH
The Byrdy Bush provides your feathered friend with hours of enjoyable preening. The vibrant, multi-colored rope easily attaches to any cage and helps to brighten your bird's home. The tasseled end helps to prevent feather plucking and keeps your bird entertained.
Petmate works with many brands that provide your animals with everything they may need. Brands like, Aspen Pet, Bamboo, Fat Cat and others. Not only do they work with a wide selection of brands, they even offer tips from experts. Articles and advise you can enjoy reading that will assist you with your pet concerns.
The most important thing I found with Petmate is they are geared to making sure your pets are Happy from the time they are born until they become older. Petmate products are protected from microbes such as odor and stain causing bacteria, mold and mildew.
Well, I think Sparkles has found her new toy, wouldn't you agree?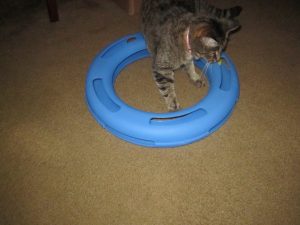 I was kind of surprised to see her even come close to the Crazy Circle, she sometimes just looks at her toys and walks away but this time the Crazy Circle kept her entertained for hours. I was shocked to see her playing that long. She was captivated by the circle and ball, she was like a kid with a new toy….LOL!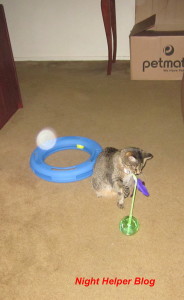 We also have a new little dog named Sandy, she played for a minute with the FNF 2Knot Bone but she was a little scared to take a photo. She didn't want to come out from behind the couch. I think all the noise scared her a little so she hide from us all. LOL! I know once she gets a little older she too will have the pleasure of enjoying her new toys from Petmate!
We are so Thankful to Petmate for allowing us to review all these wonderful products for both of our animals.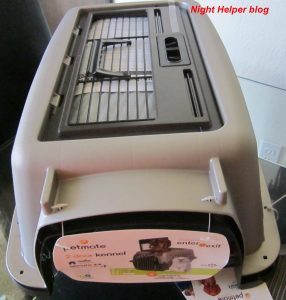 Now we will be able to carry Sparkles or Sandy to the vet with ease when needed! Well there you have it, A Friendly Pet Store that carries everything your pet would need plus offering you expert advise for your furry friends when needed.
Thanks Petmate,  you make our family pets "Happy"!
You too can enjoy one of the Petmate products, they have been kind enough to offer a giveaway the kennel listed above.