MAVEA Water Purifying Pitcher review/giveaway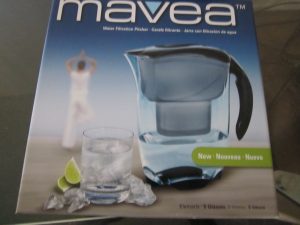 I'm excited to share with you the Mavea Water PurifyingPitcher!
Mavea Water Purifying Pitcher caught my eye the moment I opened up the box. It's sleek modern design is very different from many other water pitchers I've used. Its very easy to use, the automatic pour lid of the Mavea opens and closes automatically, it has a handle that is very easy to grip and a non-slip base. The new Mavea Meter with the intelligent indicator which measures water hardness, volume and time!
The Mavea is sure to fit into any refrigerator without taking up much space. My last water filter pitcher was extremely big taking up lots of space in the frig. I have never been a tap water person for everyone knows tap water contains small amounts of bacteria.
Most of these bacterias are common ones and they are generally not harmful. Chlorine is usually added to drinking water to prevent bacterial growth while the water streams through pipelines. Sometimes many contain substances will effect taste, smell, appearance and quality of your water.
This is where the Mavea Water Purifying Pitcher comes into place, you see this awesome filter helps to reduce odors,chlorine taste and reduces bacterial growth. Giving you not only fresh clean water but good quality drinking water. Now you can use it for any purpose, how about a good cup of tea. Its BPA Free, The Mavea is very attractive and comes in many pretty colors like eggplant, ruby red, sage green, white and black. Filters are a %100 recyclable . Have the capacity to hold a large amount of water
How does the MAVEA filtration system work?
The MAVEA filtration technology is an optimal mixture of activated carbon and ion exchange resin beads that work together with the unique cartridge shape to improve water taste and reduce limescale and other contaminants (e.g. cadmium, copper, mercury, atrazine, simazine, benzene and tetrachloroethylene).
I adore this water filter!! With all the great benefits who wouldn't…..Tap water, whilst safe to drink, may contain substances which affect its taste, smell, appearance and overall quality. MAVEA filtered water significantly reduces chlorine taste and odor making your drinking water clearer and refreshingly delicious. MAVEA filtered water:
As stated above there are some great benefits in using the Mavea Water Purifying Pitcher and I'm pleased to say I like my Mavea , the taste is fresh, clean and again odorless.
You can learn more about Mavea Water Purifying Pitcher here
Now you can try the Mavea , they have been generous enough to allow one of our readers to win one. Let them take your water to another level of freshness with their great Mavea Water Purifying Pitcher.
Enter below and Thanks Mavea!!!
Disclaimer Statement
I was not compensated for this post, however I did receive a product. The opinions expressed in this post are 100% of my own and any product claim, statistic, quote or other representation about a product or service should be verified by the above mentioned store, PR,or product designer.