Lugz, will make your feet HAPPY! (Giveaway)
Once again we bring to you Lugz, the shoes that will make your "Feet Happy"! I truly love me some Lugz and so do my kids. They are comfortable, fashionable, reliable and will add class to any outfit.
LUGZ
Lugz updates their selection of shoes often. Not only are they updating but they have great sales for everyone. If you are seeking to find that great pair of men boots, don't worry they have them in all sorts of sizes, styles and colors. These are the new Men Drifter Ripstop Boots!
Are you asking about the kids? Don't worry about that either they have something for the kids too.The Drifter for Infants are so adorable, see even your little one will be in style too with these cute boots.
Infant's Drifter Fleece Boots
They also come in Brown and Wheat and will look good with a nice pair of jeans wouldn't you say?
Oh but wait, there is more! Let's not forget Mom and daughter. Lugz even have some cool shoes for us too.
How about a pair of slip on shoes, these Laurel Slippers look so comfy. Easy to slip on and off with a super soft lining for warmth and comfort too.
Lugz Laurel Slippers
You can always look to Lugz to bring you the latest fashion in gym shoes also.
I was happy when I received the ZROCS.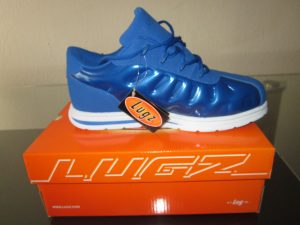 These Blue ZROCS are just what the Doctor ordered for my feet. LOL!
They are so cool and very fashionable. I love the color blue. making a statement isn't all they do, they are sure to glam up any outfit with their great support, Perma Hide upper, Padded tongue & collar, Cushioned insole plus Perma Hide upper and TPR outsole. Everything your feet needs to be comfortable and fashionable. They come in a few other selected colors also.
I'm ready to show off my cute ZROCS, I just brought me a royal blue sweatsuit to match my shoes. I can't wait to wear the whole set together.
I'm sure my LUGZ will have heads turning and people asking….where did you get those shoes?
As always Lugz can bring out the joy in everyone with all their section of cool footwear.
Now its your turn, yes that's right your turn. Lugz has been kind enough to offer one of the Night Helper readers a pair of ZROCS, whether it be the Blue or red.
ZROCS POSITE Blue Lugz ZROCS POSITE RED
You can always visit Lugz website to view more of their shoes. You too can win a pair of ZROCS POSITE gym shoes, just enter below to win.
Dislcaimer Statement
I was not compensated for this post, however I did receive a product sample from Lugz. The opinions expressed in this post are 100% of my own and any product claim, statistic, quote or other representation about a product or service should be verified by the above mentioned store, PR,or product designer.