Introducing the Rollie Eggmaster Cooking System, giveaway!
Have you ever saw a product that left you puzzled and saying……what in the world is this? Well I will confess, the Rollie had me saying more then what in the world is it. It also had me saying I doubt if this product will provide me with the results it claims.
Well, let me just pick up my face from the shame of prejudging this Awesome product. The Rollie is so cool and very unique.
First let me tell you about the Rollie Eggmaster Cooking System, it is a new innovative grill that is an easy and simply appliance to use. The Rollie Grill unique design cooks food with minimum counter space required and has the ability to be used anywhere.
The Rollie Grill can and will cook eggs and other foods in a variety of ways. Whether you are seeking to cook breakfast or a healthy snack the Rollie Grill will do the job.
When I received my Rollie Grill I was eager to see what it could do. I took it out the box and placed it on the table while I read the manual.
Included in the package was the:
Rollie Grill Cooking Chamber with power light indicator for the on & temperature mode, Cleaning Brush, Wooden Skewers, Packer that is used to pack food products in the cooking chamber plus it has a UL power plug.
After reading manual I was ready to give it a try. First thing first, you want to make sure surface is clean before first time use. Don't be alarmed if you see smoke appear, it is noted that the protective coating might burn off. It is said that the protective coating is not harmful and will disappear after a short time which it did.
I place my Rollie Grill on my kitchen top, which was so easy to do since they recommend you using this appliance on a flat surface.I plugged the Rollie into my electrical outlet and waited for the red indicator light to show it was on. As I waited I grabbed a egg, fresh bacon, cheese and placed it in a bowl right on the side of the Rollie.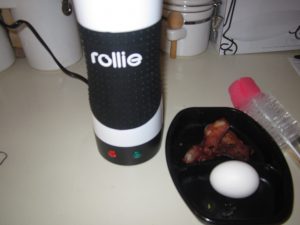 The green temperature light indicator will stay off, this will indiacte the Rollie Grill is warming up. Once the unit is ready to be used the green light will stay steady.
Ok, lets see! The unit was ready and so was I. I'm like I know this unit will not give me the results it claims. Can we say "WRONG"!
I sprayed the Rollie Chamber with non-stick oil spray(Pam),cracked my egg right into the chamber, crushed my bacon and added my cheese. I use the Packer to make sure my my bacon and cheese was pushed down far enough. I waited the required 6-8 minutes and Viola……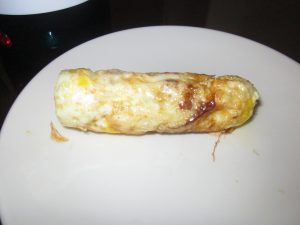 Here is my egg and bacon roll. All I had to do was pour it out of the chamber. Not only did it cook my egg and bacon, it was done within minutes.
I wanted to see what the inside look like so I cut open the egg roll,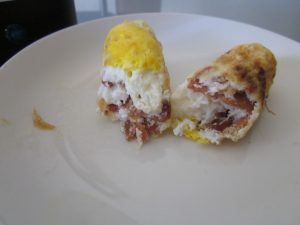 I must say I am impressed, truly impressed by the Rollie Grill, its the prefect kitchen appliance that every household needs. Their are so many quick meals you can make. The taste of the egg and bacon roll was very tasty and it was moist. I toasted me some bread, grabbed my Rollie egg and set back and enjoyed it.
Rollie is the coolest kitchen gadget to have, you can make so much. No mess, or butter just a healthy egg that's ready to be eaten. But hold tight, you can clean the Rollie within a matter of minutes with just a damp cloth. So you see this wonderful product gives you everything you need within minutes.
Take a moment to watch the Rollie Commercial.
Don't take my word for it, enter to win your own today! You can also purchase the Rollie here
Win yours today enter below
a Rafflecopter giveaway

Disclaimer Statement
I was not compensated for this post, however I did receive a product sample from Kalorik . The opinions expressed in this post are 100% of my own and any product claim, statistic, quote or other representation about a product or service should be verified by the above mentioned store, PR,or product designer.