Innovia Automatic Paper Towel Dispenser, every home needs one! #giveaway
I was not compensated for this post, however I did receive a product sample from InnoviaHome for purpose of review, all opinions expressed in this post are 100% my own.
This is the INNOVIA autonomic paper towel dispenser that can help reduce cross contamination and germs. I'm sure your children come in and out of the kitchen daily like my children. Rather it is coming from the living room, the bedroom, or even coming from outside, you are always coming in contact with germs.In my home, a roll of paper towel does not last a week! The kids are constantly pulling off way more then needed.
When I was given a chance to sample the
Innovia
Hands-Free Paper Towel Dispenser in my home, I was excited!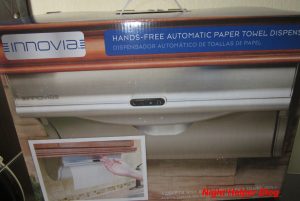 First let me tell you a little more about this awesome dispenser.
The INNOVIA Automatic Paper Towel Dispenser: Helps to keep your kitchen germ free, the INNOVIA Automatic Paper Towel Dispenser gives you the exact amount you choose, for every job, every time, hands free.There is no other device like this that i know of. It is equipped with a Smart Dispenser that has a senor that enables it to learn the perforated length of each towel, thereby allowing it to accept nearly all household paper towels regardless of sheet size and thickness. If extra towels are dispensed, simply tear off what you need and the excess is retracted automatically.
The Innovia Automatic Towel Dispenser is very easy to assemble and takes no time at all. Everything you need to complete the installment is included. It is best to make sure nothing is blocking the sensor so make sure you place your dispenser low enough so you can get the full use of the product.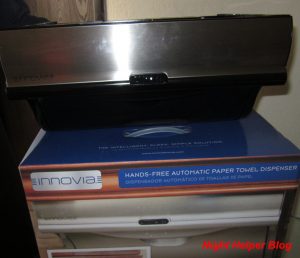 The Innovia dispenser will fit under any cabinet as long as it is placed near an electrical outlet since it is powered by electricity. Once it has been installed, you can then add your full roll of paper towel but make sure to expose some of the paper towel in order to get the dispenser started properly per directions. Once the green light flashes, your on your way…just wave your hand over the sensor and POOF!
Now that's cool, wouldn't you agree? As a plus, if you do not rip off the paper towel within three seconds, the machine automatically retracts the paper towel back inside. No worries about paper towel being exposed to airborne germs.
If you need more than one paper towel just hold your hand steady in front of the sensor and multiple towels will dispense.
Well there you have it, I think one of the coolest inventions for our kitchen that will save us a lot of money and will keep the kids from wasting paper towel rolls. I can not wait to have mine installed! The Innovia Automatic Paper Towel Dispenser will add a modern feel to my kitchen and it will also help to reduce germs.
It is a great product for  housewarming gifts or wedding gifts!
Thanks Innovia for allowing me to share your wonderful product with my readers.
By the way, Innovia has been kind enough to offer one of the Night Helper readers a Automatic Paper Towel Dispenser. Will it be you?  US ONLY–ends 5/18 check emails!
Contest is over and Congrats to the winner.