Happy Holiday from Hallmark, review/giveaway!!
 Hallmark Interactive Story Buddies!
I don't care how old you are Hallmark always knows how to put a smile on everyone's face. Let's get ready to make some great memories this Holiday Season, no matter how near or far.
Hallmark brings to you their
Recordable Storybooks:
Record a story for loved ones no matter where you are this season with the help of
Hallmark Recordable Storybooks
. With fun illustrations and music, you can add your voice to a holiday story that can be replayed time and time again with a special child in your life. New titles include All I Want for Christmas, Jingle's Magic Christmas and Rudolph, the Red-Nosed Reindeer. This is so precious and just right for everyone. Just think, you can record your message and share it with Mom or Dad that is away serving in the military or record a special message to share with your new born baby. 
Now how cute are these three Recordable StoryBooks, just a voice away from making your children happy. Hallmark has always been known for bringing the Holiday Cheer and Joy to you. They are making this Holiday even more special with their cute  "A Snow Day for Jingle" gift set!
Jingle is a loyal, helpful pup. So when his friend's cat, Mittens, goes missing, you can bet Jingle will come to the rescue. Hear him add to the story as you read key phrases from the book.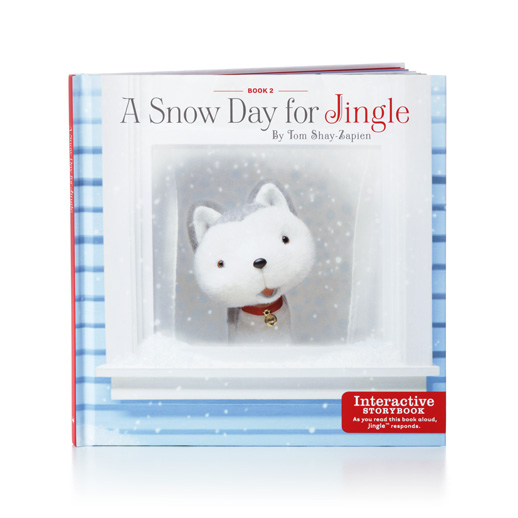 but hold on, Hallmark keeps getting better and better with this Awesome Hallmark Gift Set, you have the interactive Recordable Storybook, The cute Stuff Animal Jingle and his book plus you get two of Hallmarks newest Signature and Interactive Greeting Cards.
So sit back and let Hallmark bring Cheer and Joy to you this
Holiday Season with this wonderful wonderful gift set. It's sure to bring many smiles and priceless memories to you and your family.
You can visit Hallmark to learn more!
WIN Your own Hallmark package :
An Everyday or

Holiday Interactive Storybuddy

One of Hallmark's Recordable Storybooks  
A selection of the newest Signature and Interactive Greetings from Hallmak
       
        …..but wait you can also win one from my BEST FRIEND blog Angies Angel Help Network
Don't forget to connect with Hallmark on Facebook & Twitter
Enter here and remember, you must do all entries to win!  a Rafflecopter giveaway
Disclaimer Statement
I received one or more of the products mentioned above from Hallmark at no charge for review purposes only. All opinions expressed are 100% my own and were not influenced by any other source. I am disclosing this in accordance with the FTC.