Gorton's Seafood Challenge & Giveaway!
When it comes to Gorton's Fish my family and I simply love it.It is always fresh, tasty and very good. So when we were asked to take part in the Gorton's Seafood Challenge I was excited.
Gorton's has rolled out their selection of 20 scrumptious seafood options with 200 calories meals or less per serving. They were kind enough to send us full-value product coupons so we could sample a few of their 200 calories or less fish.
But wait, we not only received a few coupons we also received a Gorton's branded apron, 2 Gorton's branded oven mitts and 1 Gorton's branded spatula to help us get prepared for our cooking adventure.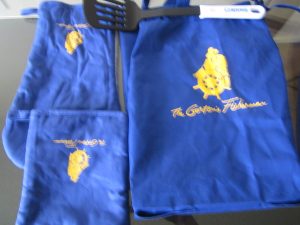 Now I'm not the greatest cook so this challenge was right up my alley. It is quick, healthy and easy to prepare for the whole family. We went over to my oldest daughter's home so she could assist me. We chose to cook the Skillet Crisp Talipia which was seasoned with their signature seasoning and also with a touch of lemon.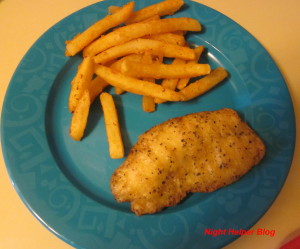 Yeepee, here is the first plate. My daughter made her dad a small plate of fries and a nice piece of talipia. If you could have been at her home you too would have enjoyed their meal. The smell of the lemon season filled the whole house. My husband said the talipia was scrumptiously delicious. Very  favorable, fresh and had an overall great taste. He has now become a real Gorton's Talipia lover…*Smiling*
I myself chose to have the Gorton's Fish Sandwich Fillets. I have always loved the fish sandwich fillets, they remind me of the fish sandwiches we use to have in school many years ago.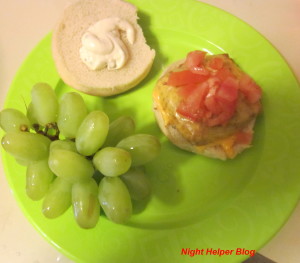 I added a few tomatoes, cheese and tarter sauce. I wanted to add bacon but I didn't want to rise my blood pressure since I had a few slices earlier that morning. So I added grapes instead to add that extra healthy snack to my meal.
All I can say is every meal my daughter and I prepared today was Magnificent! The seasoning and lemon flavor from the talipia was very good and the portion size and calories were even better.The fish sandwich fillets were just what the doctor ordered, again looking at the calories and portion size made that meal just right. Especially if you are watching your weight.
We were able to enjoy a few of Gorton's meals without feeling guilty. I would recommend Gorton's 200 calories to everyone, they are well portioned, great taste, healthy and very fresh.
Now you too can enjoy Gorton's 200 calories or less fish. They have been kind enough to offer one of the Night Helper readers the opportunity to win the Gorton's branded oven mitts, spatula, apron and 5 product coupons so you too can enjoy their tasty fish!
You can connect with Gorton's Seafood's on Facebook, Twitter and Pinterest
Enter now
a Rafflecopter giveaway

Disclaimer Statement,
I was given samples from Gorton's to facilitate this review, however the opinions expressed in this post are 100% of my own and any product claim, quote or other representation about a product or service should be verified by the above mentioned store, PR or product designer.