Getting ready for Spring with Yonanas" Frozen Fruit Treat Maker" review/giveaway!
Welcome to
The website that has good quality products and top-rated customer service. The Problem Solvers catalog was first distributed in 2001 with a selection of tools for the yard, home, and garden, and useful accessories for wood burning, cleaning, storage and more.
No matter what you may looking for whether its for the kitchen, outdoors, travel, organization, pets and more….they have it! Problem Solvers can and will make your life much easier with all their great selections of products.
I was fortunate enough to have the opportunity to review the Yonanas Frozen Fruit Treat Maker.
Let me tell you a little about the Yonanas Frozen Fruit Maker, it is 7-1/2″ x 6″ x 14″ in size, has been featured on the Dr. Oz show, yes that's right Dr. OZ! Yonanas also has partner with Weight  Watchers. Comes apart easy for quick cleaning
It's a cool healthy frozen fruit maker that allows you to transform your fruit into a delicious treat. You can indulge in your favorite treat without the feel of guilt, no more spending extra money on those expensive ice-cream snacks. Just grab your favorite fruits and customize your own treats. The kids will love it, it will bring the whole family together to enjoy some fun treats.
I can't wait to try mine out this week, I have not been to the store yet to grab all the fruits we need but I'm sure when I do the Yonanas Frozen Fruit Maker it will be used more than once. We love to enjoy a cool snack while watching movies, you can either grab a ice-cream cone to add your frozen fruit or better yet pack your frozen treat between two waffles, YUMMY! Don't forget you can even make popsicles for the kids.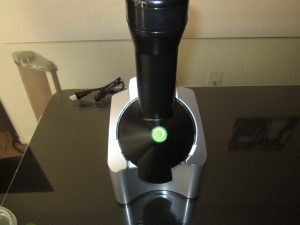 The Yonanas Frozen Fruit Treat Maker Kit includes storage container with lid, 4 piece popsicle maker, a recipe book and user manual.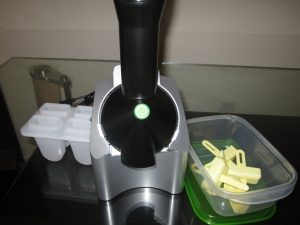 Wash your fruit, place it in the hole of the Yonanas and prepare to enjoy a sweet healthy fruity treat.
Yonanas will be a "HIT THIS SUMMER" in my home for sure!
I'm telling you when you have a moment visit Problem Solvers website, so you can see all their useful and much needed products.
In need of a organizer for your shoes, how about this Over The Door Shoe Rack.
What about your little furry friends, don't worry they have something for them too. The Igloo Pet Bed is sure to have your cat relaxed and comfy!
There's so much to Problem Solvers site. But wait, you didn't think Problem Solver forgot about you, did you? Not at all, they too want you to enjoy Spring time with the wonderful Yonanas Frozen Treat Maker……enter below to win your own.
You can also connect with  Problem Solvers on Facebook & Twitter.
US ONLY ends 4/06
Disclaimer Statement
I was not compensated for this post, however I did receive a sample product from Problem Solvers the opinions expressed in this post are 100% of my own and any product claim, statistic, quote or other representation about a product or service should be verified by the above mentioned store, PR,or product designer.