Its a EVRIHOLDER giveaway!
I was not compensated for this post, however I did receive a product sample from EVRIHOLDER, all opinions expressed in this post are 100% my own.
Many of you may or may not remember but about a month ago I shared this cool company called EVIRHOLDER. They have so many unique products that everyone will want and can us also. From Bath, Kitchen,Cleaning and much more.
Their selection of  innovative products are useful, fun, cool and very unique. The work hard every year to provide their customers with 30-50 new products. Their license portfolio ranges from brands like  Campbell's, Crayola, Hostess and a few others.
I'm sure when you visit them you will find a multitude of brands you will love. When they gave me the option to work with them again it took me a while just to find  what I wanted to showcase to me readers.
Here is what I picked out to showcase, the Hog Slic'R, Blizzard Blast, Gel-A-Mold.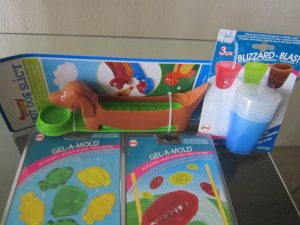 The Hot Dog Slic'R is just what my kids need!
I like how everything is contained right in the holder the hot dog and the ketchup. All you have to do is place their hot dog on the base, place the dog-slicer over the hot dog and push down and there you have it bite size hot dogs with  your own private dipping bowl. There are no blades, its safe and is designed to fit most standard hot dogs and sausages. BPA Free and  top dishwashers safe. You won't go wrong with this doggie..LOL! "No more Hot Dogs on your floor"!!
We have the Blizzard-Blast next, I like these for myself! They are cool little glasses that allows you to freeze your favorite beverage. They are great, reusable and will create a favorable icy cold drink that everyone will enjoy.
Last we have the Gel-A-Mold,
now I don't know about your children but my kids love Jello. No matter what flavor gelatin you purchase the kids will love these Gel-A-Molds, here's why! They will be the life of any party, they are cute and very different, they are convenient, fun shaped to adding that uniqueness to your gelatin and pops out easy. They too like all the other products are BPA Free. Don't hold back use these cool Football & Fish Gel-A-Molds to spruce up your party.
Its so much to see when you visit EVERIHOLDER website, I think I have just found the right site for me, my family and friends.
Take a moment to visit them today, I know for sure you will find something you like too. But wait, you didn't think EVRIHOLDER would forget about you did you…….*smiling*! One lucky winner will receive all these products from EVRIHOLDER just enter below.
Night Helper is not responsible for shipping and winners must claim prizes within 48hrs or another winner will be chosen. Good Luck!