Blue Steel Beautiful Eternity Ring review/giveaway!
Blue Steel Eternity Ring.
 I'm a women who loves jewelry and so does my husband. I'm always on the lookout for astonishing pieces of jewelry that captures my eye, rather than silver or gold. It amazes me to see the creativity that many jewelers use in creating beautiful pieces.
Blue Steel jewelry is one of those companies that create gorgeous jewelry for everyone and for every occasion. They custom make all their jewelry with the finest 3161 stainless steel which is known for its durability and beauty from the
Blue Tungsten Spinner                  to the                         Gold Striped Groove.            
Looking for something special for him or her, how about this pretty set named
Eternity and Evermore Matching Wedding Set for both. Its a lovely set that is made
from Surgical Grade Stainless Steel! Its the same material the Doctors use! Both are  100% Hypo-Allergenic. Who knew this type of stainless steel jewelry could look so elegant.
Blue Steel jewelry is elegant, classy and very sophisticated and will set off any outfit you have on. You can dress to impress, or just be causal and Blue Steel Eternity ring will still turn heads.
            I was sent the Eternity ring for review and wow it's beautiful!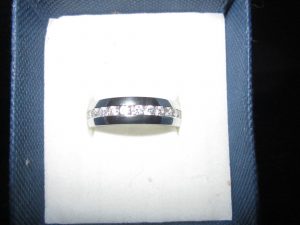 It's made from stainless steel and has beautiful CZ stones all around it. What surprised me the most is the finishing soft rounded edges, they are very smooth, so smooth that the ring is so easy to slide on and off.
There is so many wonderful unique jewelry pieces from Blue Steel all at a price range that is unbelievable. They have so many selections, it was very hard to actually chose something.
Tri-Color Heart Necklace                         Zeus
I even adore these pieces too.Their prices are just right, great price for good quality jewelry and style.
Engraved Heart                                                         Gold God
So you see you can just visit their website and place an order of whatever jewelry piece you wish to have and sit back and watch how fast they deliver to your door and how beautiful your Blue Steel selection will look.
Hold on now, they have been kind enough to offer one of our readers the chance to win their elegant, smooth Eternity ring. "Watch the heads turn when they see your wonderful Blue Steel jewelry"!
You can always connect with them on their social sites to keep up with their latest trends and jewelry lines.
Facebook:  Buy Blue Steel 
Twitter: @BuyBlueSteel
YouTube:  Buy Blue Steel 
Enter below to win, please makes sure you check your spam folders and reply back within the time frame of 48hrs. We hate to see our readers miss out on their prize!
Disclaimer Statement
I received one or more of the products mentioned above from Blue Steel at no charge for review purposes only. All opinions expressed are 100%my own and were not influenced by any other source. I am disclosing this in accordance with the FTC.