Baroni Jewelry Review/ Giveaway!
Hello and welcome to Baroni Jewelry Review & Giveaway. Are you lover of unique jewelry? Well move over because I'm that person too. I love jewelry whether its very expensive or just cosmetic jewelry. I love it!
I'm happy to be able to share with you Baroni Jewelry, a place where you can find good quality handmade jewelry to jazz up any outfit. I was given the opportunity to sample a few pieces of jewelry from Baroni and all I can say is her pieces are Beautiful!!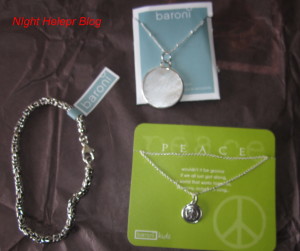 I bring to you the first piece which is called  the Shalimar Lotus Necklace
This wonderful piece was designed to be a constant reminder of beauty, this  gorgeous lotus blossom on the face of this mother of pearl pendant.
The designed details of this necklace is flawless, you can see the love that was created on this piece. It is sure to complement any women's outfit!
Next we have the Kids Peace Necklace
It's just the right size necklace for any kid and the message behind the Peace Necklace is a message we all need to share with our children. (Wouldn't it be groovy if we all just got along, a world that works together, harmony, outside a song.) Love it and so did my daughter!
This is a very nice bracelet, it is hand woven in a hefty sterling chain. I like it because its not bulky and can be worn with any attire.
There you have it, a few wonderful pieces from the Baroni Collection. I love every piece and so does my daughter and husband. Each of them display their jewelry daily.
Here's a little bit about the creative/designer/artist Sara Baroni:
She is the designer and artist of Baroni and has always believed that jewelry and adornments are more than just external trappings. Since its inception in 1991, Baroni has made it their passion to create designs in jewelry that reflect who we are at our deepest level, pieces that are created not only as beautiful adornments but also as testaments to the spirit of the wearer: fearless, vulnerable, wild, free, serene, rebellious, kind, nurturing…and deeply, marvelously human.
Personally I feel her handmade jewelry creations will forever speak to any heart, her passion and love for her work is well noted in her designs. I was floored when I received a few of her pieces as to the elegance and deep thought within her designs. Her jewelry speaks with passion and care.
You can always connect with them on Facebook, Twitter and their Website.
Baroni has been kind enough to offer one of our readers a chance to win a piece of their custom made jewelry.
Enter below
Disclaimer Statement
I was not compensated with products for this post, however I did receive samples and the opinions expressed in this post are 100% of my own and any product claim, statistic, quote or other representation about a product or service should be verified by the above mentioned store, PR,or product designer.